The Most Memorable Moments & Films at Cannes (So Far)!
Written by Ali Shannon. Published: May 18 2018
The 71st annual Cannes Film Festival, held in Cannes, France, and regarded as one of the biggest moments in film, fashion, and status, is in full-swing and already has tongues wagging. The invite-only festival previews new films of all genres in the hopes of being snapped up and bid over by major studios for rights. With so much going on, here is a look at some of the highlights so far at the festival, which is held from the 8th until the 19th of May.
THE WOMEN'S MOVEMENT
                                                                                                                                                (

Antony Jones/Getty Images)
Even if you're not paying attention to the happenings at the festival, it's hard to not know about the women-led protest that took place at the beginning of the week. In a place so set on tradition and strict rules, Cannes had its own women's march as 82 women marched up the red carpet, locked arms, and faced the crowd. The 82 members represented the number of films by female directors that have premiered in the festival's entire 71-year history. By contrast, 1,645 films directed by men have premiered in the same amount of time. Organized by the French movement called 5050x2020, they demand 50x50 gender equality in the French film industry, and so brought it to the country's biggest film festival. Among those in the crowd were Cannes jury members Ava DuVernay,Kristen Stewart, and Marion Cotillard.
Another profound moment was when the Film Festival's artistic director,Thierry Fremaux, signed a pledge in solidarity vowing an increase in transparency and promotion of gender equity at the event. Titled "Programming Pledge for Parity and Inclusion in Cinema Festivals", Fremaux promised to be more engaged in creating opportunities for gender equality.
THE FILMS
                                                                                                                                                                                 (

LOIC VENANCE/Getty Images)
DirectorSpike Lee received an 8-minute standing ovation for his debut of BlacKkKlansman, which follows Ron Stallworth, who becomes the first African-American detective in the Colorado Springs Police Department and sets out to expose the Ku Klux Klan as an undercover operative.
Meanwhile, writer/director Pawel Pawlikowski's Cold War merges politics with passion in a doomed love spanning two decades and set in the period of, you guessed it, the Cold War. Shot in black and white, the premiere was well-received and has been described as the best filmed premiered so far!
Solo: A Star Wars Story also had its moment at Cannes, but was apparently met with a tepid response. This comes to no surprise as this festival is a high-brow event and the film is the single studio entry. It's also the first film of the Star Warsfranchise in a decade to be screened at the festival, the only other two being Attack of the Clones in 2002 andRevenge of the Sith in 2005.
Jessica Chastain's female spy thriller355 caused a bidding war, resulting in Universal winning for domestic distribution. Chastain plans to create a franchise similar to the Bourne Identity thrillers, though hers revolves around five female secret agents from different countries overcoming political differences to work together. The trend of female spy flicks (soon-to-be-released Ocean's 8, for example) is too exciting, so I am here for it!
Annapurna has picked up U.S. rights to Destroyer, a crime film starringNicole Kidman, Tatiana Maslany,Sebastian Stan, and a number of other heavy-hitters. Kidman stars as a Los Angeles Police Department detective whose work as a younger undercover cop causes serious ramifications in her life later.
THE FASHION
                                                                                                                                                                            (

Pascal Le Segretain/Getty Images)
Cate Blanchett practically makes every best dressed list and this year's event was no exception. She came to win in every ensemble, including and a sleek black Givenchy jumpsuit at the premiere of the drama piece Capharnaum, a fading optical illusion dress of the same designer, and a pastel pink Stella McCartney suit at the jury photocall. But wearing bold looks isn't Blanchett's only intention this year, as she has thoughtfully chosen to highlight other issues through the outfits she chose. She has worn pieces from young designers, giving their work a huge boost of support on one of the biggest red carpets of the year. Her fashion choices also reflect the growing concern with sustainable pieces. Blanchett is also this year's Jury President, so it's safe to say she's killing the Cannes game. 
                                                                                                                                                                                 (

George Pimentel/Getty Images)
Love or hate the Kardashians, Kendall Jenner's two extremely sheer outfits were hard to miss this year on the carpet. She pried herself away from the yachts to bare it all at the premiere of Girls of the Sun in a belted and tiered white floor-length dress. She gave major swan vibes while also freeing the nipple, and again at the Chopard Secret Night party in a sparkling mini dress.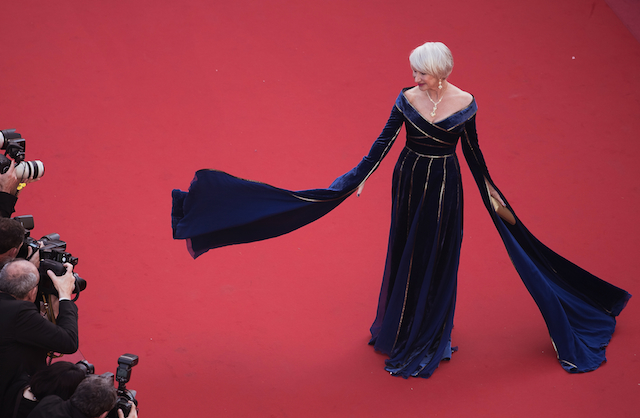 (

Francois Durand/Getty Images)
DameHelen Mirren's presence at this year's festival is a present to us all. She rocked a Burberry electric purple trench coat and zebra flats (before taking a bit of a fall!) while taking interviews, and, never to shy away from glamour, chose a stunning blue velvet piece. Her being there proves yet again that she can rock just about any outfit better than us.
THE CONTROVERSY
                                                                                                                                                                                    (

Andreas Rentz/Getty Images)
Cannes has always held one of the strictest red carpet guidelines of any event, but this year, one of its jury members, Kristen Stewart, went barefoot in an act of rebellion against the fest's heels-only policy. The strict rule has been criticised in the past profusely by actresses after a 2015 screening of Carol saw a group of women wearing flats being turned away. Stewart kicked off her heels on the carpet for BlacKkKlansman and voiced her opposition to the outdated rule immediately after.
Elsewhere,Lars Von Trier, the controversial French director of films like Melancholia, premiered his latest film,The House That Jack Built, to a less than enthused audience. More than 100 people walked out of the screening in disgust as his graphic and violent film depicted a serial killer shooting children and murdering women in graphic ways. Both stars of the film, Riley Keough and Uma Thurman, did not attend the screening due to scheduling issues.
The festival isn't over yet, so we're sure to see more incredible fashion, bidding wars over top films, and other amazing moments!
(Top image via Andreas Rentz/Getty Images)
- Ali Shannon, YH Contributing Writer