The Met Gala 2022 Fashion Review!
05-03-2022 by Jordyn McEvoy & Katie Marzullo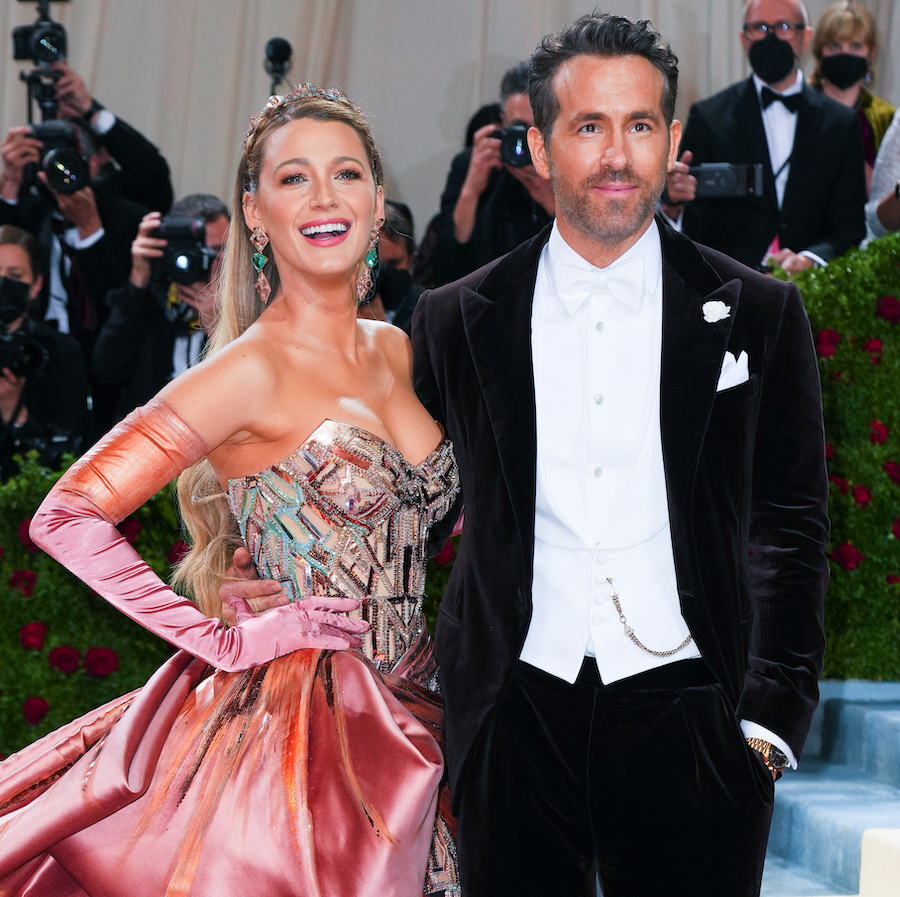 ( © Gotham/Getty Images)  
The first Monday in May has come and gone in a whirlwind night, complete with your favorite high-fashion celebrities to walk across the infamous ever-changing Met carpet, draped this year in a rustic red, white, and blue. This year's theme was "In America: An Anthology in Fashion", the second part to a collection of historical U.S. fashion trends supported by The Costume Institute of The Metropolitan Museum of Art. The official co-chairs of the event included Blake Lively and her husband Ryan Reynolds, Broadway bigwig Lin-Manuel Miranda, and the regal Regina King, but hundreds of celebrities flooded the halls of this historic museum to show off their best interpretations of American legacy. Here are some of our faves!
1. SZA
Singer SZA wore Vivenne Westwood, and the designer strayed from her current renaissance of slip dresses and muted colors to provide a brilliant fuschia gown for the singer; plenty of gathered fabric and textured color made for a stunning look. The accessories -- a larger-than-life hat, latex gloves, and thigh-high boots -- gave a general Western impression as a nod to the theme. 
2. Gunna
Drip, never drown – Gunna's traditional suit was accompanied by coattails and a pea coat-reminiscent cloak, decorated with gold thorns lining the general shape of the look. The outfit is simple, elegant even, and it creates an incredibly stately vision. 
3. Odell Beckham Jr. 
"Boring suit" wasn't in OBJ's vocabulary last night with his forest green outfit. The jacket and pants were offset by a draping hood, all of it made of the same deep suede, and the artistic tailoring allowed for the perfect amount of oversized chic. 
4. Lena Waithe
Waithe embraced the general good feeling of the '70s and '80s last night in a matching bold aquamarine waistcoat and trousers with a diamond-studded top. The concept was exuberant, bright, and represented a period that was severely overlooked among last night's attendees. 
5. Tessa Thompson
Tessa Thompson was a perfect dream in a positively darling Caroline Herrera dress, with tulle layering upon tulle layering and a sweet mini-dress underneath. The baby pink became Thompson's signature of the night, down to her trendy blush-to-eyeshadow makeup and satin boots.
6. Madelaine Petsch
More painting than celebrity at last night's event, Petsch looked lovely in a soft, yolk yellow gown by Moschino, particularly embracing her dignified look with painted flowers running up her intricately cut gown. Her loose updo and simplified jewels balanced out the serpentine look. 
7. Shalom Harlow
Harlow embodied one of the most earnest emotions present at the gala – glamour. While shiny things might hold our attention momentarily, Harlow brought us an old Hollywood, Marilyn Monroe smile; her overall Ralph Lauren look worked because she brought the personality to match. 
8. Kim Kardashian
Kimmy K.'s look might have seemed simple -- at least for her -- but it is actually a living piece of American history. Kim showed up the event in THE iconic dress first worn by none other than Marilyn Monroe when she sang "Happy Birthday" to President John F. Kennedy in 1962. She reportedly had to lose 16 pounds in order to wear the dress, as it was stipulated that the dress could not be altered in any way, shape, or form. What a bold way to pay tribute to the American theme of the evening!
9. Shawn Mendes
The singer was serving Doctor Strange-meets-"Bridgerton" realness in an oversized Tommy Hilfiger peacoat that made his look like he was off to lead an army of extremely fashionable rebels in the American Revolution. 
10. Blake Lively
And last but never least, the co-chair herself outdid them all with this eye-popping ode to the most recognizable of American symbols, the Statue of Liberty. What started out as a shimmering, art deco-inspired copper-colored gown was unfurled to reveal a cascading train of green, to represent the oxidization of the famous monument. Doesn't get more American than that!