The Hollywood Writers Strike Explained!
Written by Gabi Lamb. Published: May 09 2023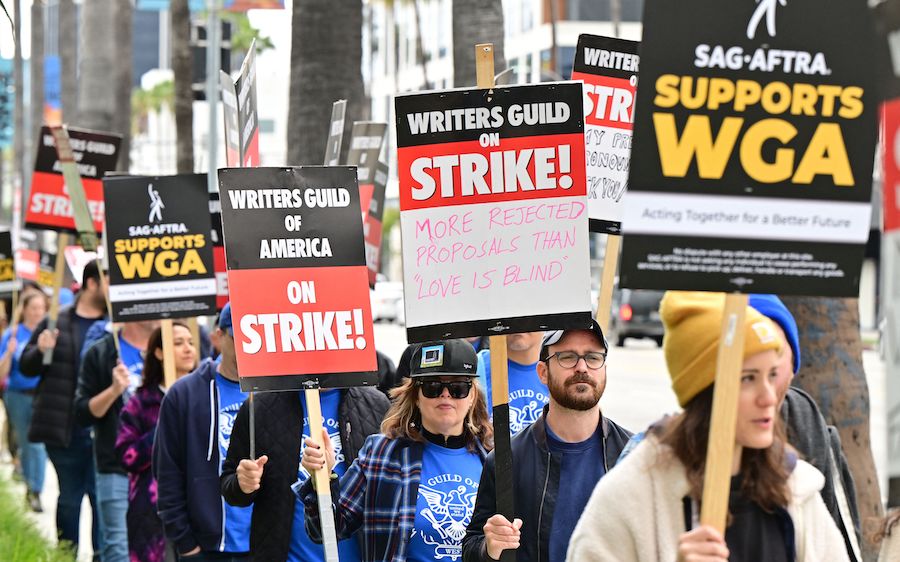 Starting on May 1st, the Writer's Guild of America voted to go on strike. You may have noticed certain late-night shows going off the air, but what's really going on?
Basically, writing for TV shows has changed a lot with the advent of streaming platforms. Writers get hired at a flat fee for however much work it takes to write a season, and typically the profit made by the show after its release never reaches writers' hands— it's also worth mentioning that, with streaming shows, the writers room typically hires less people than on a typical broadcast network or cable show. This means that writers are making less money, finding fewer jobs, and typically receiving no benefits in service of a gig-based career. Less stable job and less pay? Not ideal. Combine that with concerns over companies using AI to write scripts, and that spells disaster. It's the first writers strike in 15 years.
tv writers are not the reason teachers are underpaid.

teachers are not the reason nurses are underpaid.

nurses aren't the reason assembly line workers are also underpaid.

we are not in competition with each other. everyone deserves a living wage. #WritersStrike#wgastrongpic.twitter.com/zchy0YvxXG

— Franchesca Ramsey (@chescaleigh) May 7, 2023
So, what does this all mean for your favorite shows?
Every show needs writers, and so late-night shows have already shut down. Even the MTV Awards, without writers, was pre-taped and aired with little fanfare. "Severance", "Stranger Things", "Hacks", "Big Mouth", "Yellowjackets", and more shows are all paused in terms of writing and production; soap operas are set to be hit in the next month as they run out of pre-written episodes. It's a bad time for new television, and given that most television shows employ union workers, most will see a pause or hiatus should the strike continue for a long time.
The last time we entered a writers strike, there was a reality television boom because of the lack of new scripted content. It's likely we will see a reality TV boom again; major studios seem reluctant to give in to writer demands.
Writers, as behind-the-scenes talent, are often written off in favor of actors and directors. But they are the backbone of the industry — without writers, we have no television or movies, and the culture loses its new great stories. We can only hope demands are met, and that the strike ends soon. In the meantime, people wanting to support the strike can boycott streamers, send letters to streaming platform CEOs, or check out places here to donate time and resources.
Make sure to follow WGA West and East for more updates!