'The Exorcist' Getting TV Treatment & 5 Other Classic Horror Films That Should Too!
Written by Sarah Osman. Published: January 26 2016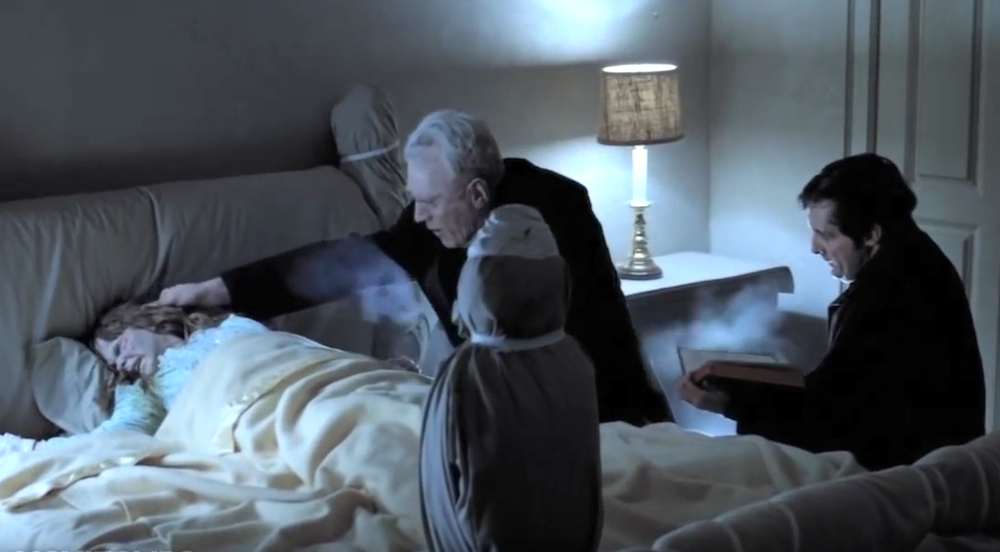 Get ready to shriek, horror fans, because yet another horror classic is about to get its own TV series! The power of Christ has compelled the executives at Fox to shoot a pilot for an adaptation ofWilliam Peter Blatty's book, The Exorcist. The book, which gave many readers the heebie-jeebies, isn't nearly as well known as the 1973 film adaptation of the same name, which of course gave us this infamous scene: 
The series has actually been in development since 2012, and Fantastic Four scribe Jeremy Slater is working on the script. It will be interesting to see if he pulls any inspiration from the little-known sequel to The Exorcist,Legion, which was released in 1983.
As a fan of horror (particularly camp horror), I am thrilled by this new development. However, there are so many more horror films that the networks could create series from. Here are five frightening films that should receive their own television adaptation:
Nosferatu, A Symphony of Horror(1922)
This classic vampire tale (it was released before films even had sound!) is widely appreciated by film aficionados but largely forgotten by modern-day audiences. Nosferatu follows a real estate agent who closes a deal, only to find out that his client is a vampire who is thirsting after his wife. Loosely adapted fromBram Stoker's Dracula, Nosferatuwas considered one of the most innovative films of its time. I think it's time that truly SCARY vampires make a comeback!
The Bride of Frankenstein (1935)
Frankenstein and Frankenstein's Monster have received quite a lot of cinema love over the years -- there have been endless films, spin-offs, and reworkings of the classic tale, in which Dr. Frankenstein creates a monster that just wants his master to love him. However, many audiences seem to forget that Dr. Frankenstein attempted to create a girlfriend for his monster in the 1935 film, The Bride of Frankenstein. While we remember Mrs. Monster for her fabulous hair, she just hasn't received the same amount of attention that her husband has. She is considered one of the great Universal monsters, so why isn't she treated like one?
Gremlins (1985)
In all honesty, Gremlins is technically not that scary -- it's more goofy fun. However, it seems like half of the episodes of "American Horror Story" have been borderline camp, so just because a work of art is in the horror genre, it doesn't have to be 100% frightening. Gremlins follows the older cousins of the 1990s toy Furbies (okay, not technically, but they do look a lot alike) as they wreak havoc on Christmas. Gremlins come with three simple rules: Don't expose them to bright light, don't ever get them wet, and don't ever feed him after midnight. Since this is a horror movie, our hero promptly breaks all three rules immediately and the gremlins have a great time. I don't think anyone is so emotionally attached to Gremlins that the idea of a remake is blasphemous, and a TV series would allow more time to find out the backstory of the mogwai (as well as feature more scenes of the Gremlins partying).
The Innocents (1961)
There is nothing creepier than little children... and the children fromThe Innocents take creepy to whole new levels. Based onHenry James's novella, The Turn of the Screw, the film follows a British governess as she comes to a Dickensian mansion to look after young Miles and Flora. Although the children seem adorable at first, the governess begins to suspect that they may be possessed after they continue to have evil outbursts. The film's horror lies not so much in the bleak estate or in the children but with whether or not this is all real -- or it's just in the governess's mind. Psychological thrillers seem to fare rather well on television, and this one is particularly perplexing.
The Orphanage (2007)
Produced byGuillermo del Toro, this Spanish film may be the most disturbing on this list. The Orphanage follows Laura, who, as a young girl, spent time in an orphanage. She decides to reopen the now dilapidated orphanage as an adult as a home for disabled children. However, getting the orphanage up and running won't be as easy as it seems -- something ominous is lurking in the hallways, and Laura's son, Simon, is beginning to act particularly strange. The film turns into a mystery as Laura attempts to solve why the orphanage is so darn creepy. There are a great deal of twists and turns to The Orphanage, and the filmmakers could easily go into even more of the orphanage's sordid past in a TV series.
What horror film would YOU like to see adapted into a television series?
(Screenshot via YouTube)
- Sarah Osman, YH Contributing Writer