The Best Press-On Nails You Can Do At Home For That Professional Salon Look!
08-27-2022 by Hayden Roberts and Katie Marzullo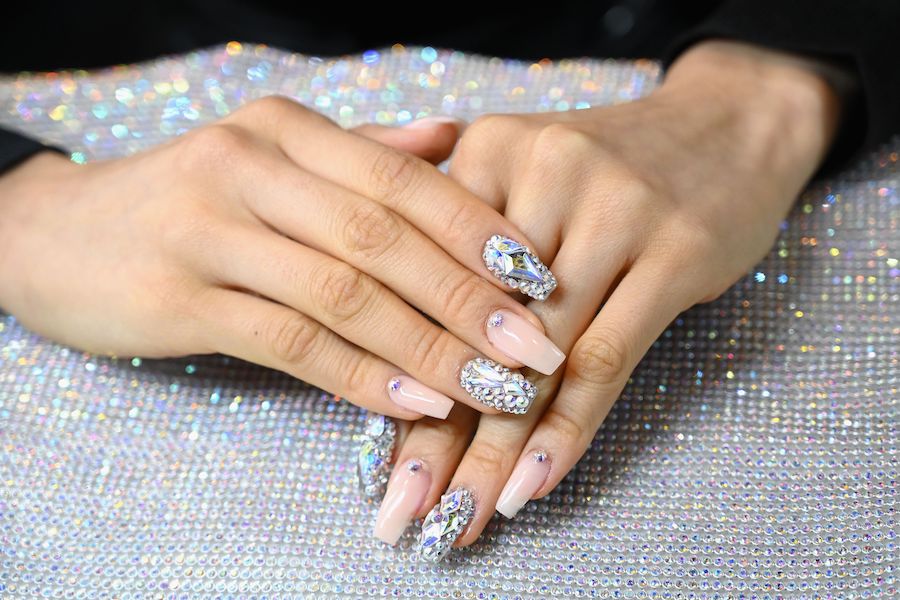 ( © ANGELA WEISS/AFP via Getty Images)  
Everyone loves a good manicure; but let's be honest, not everyone has the time or money for one. Although nothing beats the feeling of leaving the nail salon with a new set of acrylics, the reality is that many people can't afford the monthly costs for the upkeep required to keep their nails looking sharp. 
That's not to say that you shouldn't treat yourself to a mani/pedi every once in a while! A trip to the nail salon is never a bad idea. I mean, who doesn't love that mini foot massage they give you? However, it isn't realistic for everyone to make the salon a regular stop on their long list of things to do. But that doesn't mean you can't have a fabulous manicure anyway!
We probably all remember the struggle of trying to get our press-on nails to stick. Back in the day, sleepovers meant taking turns as we carefully stuck cheap, plastic nails to our friends. The excitement over our new manicures never lasted very long as we woke the next morning to find only three nails left.
So, I understand any skepticism toward the idea of press-on nails in comparison to a professional salon. I too was once wary to try any sort of press-on nail, fearing I would just be throwing away my money. However, over the years I have come to rely solely on press-on nails.
As someone who absolutely loves to have their nails done, but who can't afford to visit a salon very often, I have spent my fair share of money on assorted press-ons. As a result, I have found myself to be a recurring customer of quite a few brands that have proven themselves to be high quality, cute, and affordable.
Here are my top 5 press-on nail brands that won't break the bank (or break, period)!
1. KISS Nails
KISS is by far my favorite when it comes to drugstore press-ons. Their nails come in a variety of colors and patterns with options for matte or glossy nails. They also come in different shapes and lengths of short, medium, and long. Their basic nails kits are under $10 and include nail glue, a nail file, and a cuticle pusher. I've worn KISS nails on numerous occasions, and they always last at least two weeks with minimal reapplication! You can find these nails at Target, WalMart, Ulta, and at most drugstore chains (including Walgreens and CVS).
2. PaintLab
PaintLab is the go-to press-on brand for unique patterns and designs. Not only are their nails funky and vibrant but also reusable and recyclable in order to help limit PaintLab's carbon footprint. PaintLab nails are easy to apply and durable. Their nail kits are typically only $14.99 and can be found on their website or at stores such as Urban Outfitters, Macy's, JCPenney, Free People, and Aerie. 
3. Bizzy Nailz
I won't lie when I say that I've thought about gatekeeping this brand before! Bizzy Nails is a small business selling primarily out of Depop. While their prices are a bit higher than those of drugstore brands, the price is well worth it. Bizzy Nailz are custom-made, meticulously hand-painted, and, best of all, reusable. Their nail kits come with everything you need to keep your manicure looking flawless and range from around $40-$60. Bizzy Nailz doesn't sacrifice customer service either and is happy to answer any questions through Depop or Instagram.
4. ManiMe
ManiMe is a great option for those who are more averse to using nail glue. Using "3D model rendering technology", ManiMe is able to craft custom gel manicures to your exact nail size and shape! The gel strips are easy to peel off and apply within minutes. Furthermore, ManiMe has a community of nail artists that offer countless different designs to choose from. You can purchase their stick-on nails straight from their website for $20 (or $10 for standard fit nails).
5. Color Street
Another great option in the peel-and-stick genre of nails is Color Street, which is also a fave among drag queens, so you know they are legit! Color Street's peel-and-stick polish is so easy it's almost too good to be true. There are tons of color and design options available, and they can last for up to two weeks (if you're careful). Each set is around $13, but if you buy 3 sets, you can get a fourth one free! Also, if you want to make some extra money, you can apply to be a Color Street stylist and sell sets directly to your besties!
AmiHouseNails is an Etsy shop with over 10,000 sales. Shop owner Ami Peters guarantees that you'll "never go to the salon again!" AmiHouseNails currently offers 172 insanely elaborate designs at fair prices. Her sets are show-stopping and characterized by her use of gemstones, beading, pop art, and more. While prices differ based on the set, most nails are typically between $16 and $20. You can buy directly from her Etsy shop!