"The Bachelor" Recap: Episode 2 - Catty Fights and Romantic Flights!
01-12-2021 by Riddhi Chopra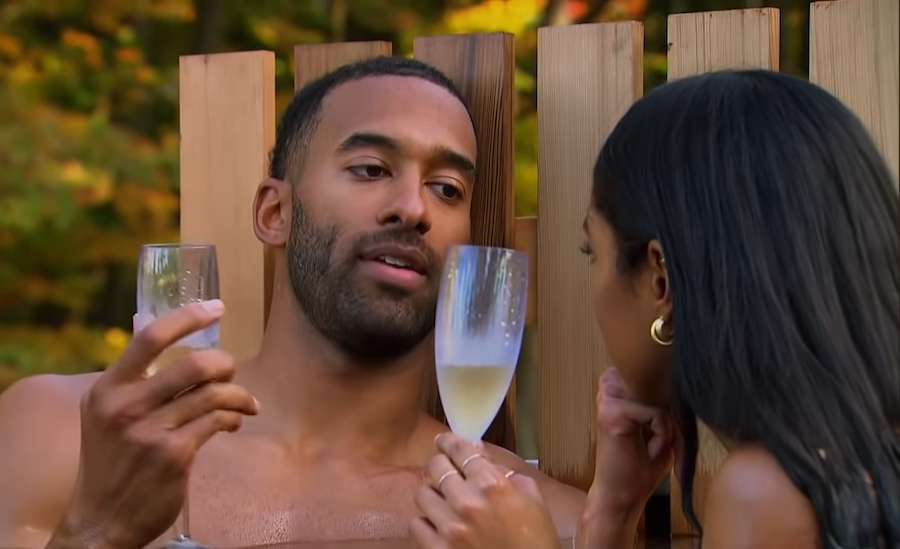 ( © ABC)  
Last night (January 11, 2021) saw the second installment of Matt James's season of "The Bachelor." With 24 women making a positive first impression on Matt and making it to Week 2, we got an amusing deep dive into the ladies' personalities -- and some stood out more than others.

Here are some memorable moments from the episode that are a must-know for anyone invested in Matt's journey!
1. It's Never Too Early To Shed Tears
Though we have only very recently met Matt and the women, some accusations are already being thrown around, resulting in emotions going wayward. We all remember "Queen" Victoria from the premiere episode, being carried in on a throne and immediately establishing her place as the villain of the season. Thus it should come as no surprise that the first major melodrama involved her and her pride. At the beginning of the episode, we see her and roommateMarylynn get into an argument over their living situation. As Victoria accuses Marylynn of being too emotional, she storms out of their shared bedroom to sleep on the couch, proudly proclaiming that a "queen should never have to share a room."
Later that week, at the group cocktail party, Marylynn and Matt have a romantic conversation, with him even gifting her white orchids (which he charmingly remembers is her favorite flower). This clearly hits a nerve with Victoria, as she is shown to be fuming with jealousy to the extent that she pulls Matt aside and acts as the victim of Marylynn's bullying, calling her toxic and manipulative (of course, both the audience and the other girls in the house clearly know who the toxic one really is). Poor Marylynn is left to defend herself in front of Matt, which she does admirably and calmly.
Being the unproblematic and mature adult she is, Marylynn confronts Victoria, who resorts to childish behavior by gaslighting everything Marylynn says and storming out of the room without finishing the conversation.
2. The First Dates That Set Our Expectations Way Too High
We see Matt go on 3 dates during this episode -- 2 one-on-ones and a group date. The first one-on-one date with Bri shows us an adventurous side to the both of them as they ride ATVs through the rural Pennsylvania terrain. They clean up and catch up in a hot tub afterwards, finishing off their day together with a romantic dinner where they bond over the similarities of their childhood upbringing.

The group date is next, with a whopping 18 girls in attendance. The women play make-believe and potentially practice for the near future as they dress up in wedding gowns for a wedding photoshoot with Matt. Though only half the girls are able to participate in the allotted time, Chris Harrison arrives to surprise them with part two of the date. In a more corny version of Capture the Flag, the girls play "Capture the Heart", splitting up into two teams and tagging each other with body paint as Matt watches from the sidelines. The red team wins and gets an invitation to the cocktail party that night, as the gold team heads back home in defeat.
On the last date of the week, Matt invites Sarah on a romantic biplane ride over the resort and its surrounding forests. Both cling on to each other in fear and excitement and chat over a glass of wine and a carefully-decorated charcuterie spread afterwards. Later that night, Sarah opens up about her father's health issues with ALS and how she sacrificed her career to become his full-time caretaker. Matt appreciates her vulnerability and is awestruck by her selflessness, giving her the date's rose without hesitation.
3. A Rose Ceremony That Will Make You Swoon (Literally)
As the girls line up to hear their fates for the next week, the anxiety and tension in the room sets a tone so stiff that the audience might as well be in the ballroom along with the crowd. Nine girls receive a rose, and just as Matt is about to hand out the next one, Sarah gets dizzy and has to step out of the room. Matt and on-site medics rush towards her as we are left with an incomplete rose ceremony and an ominous "To Be Continued..."
This week's episode gave us a glimpse into life on the Bachelor resort, as the women and Matt both seemed to be more at ease with this journey than their first appearance in the premiere. The producers love leaving the audience with cliff-hangers, so stay tuned for next week's recap to see how the frenzy unfolds!