Sweeping the Sweet Grammys Suites!
Written by Alexandra Melnick. Published: January 25 2014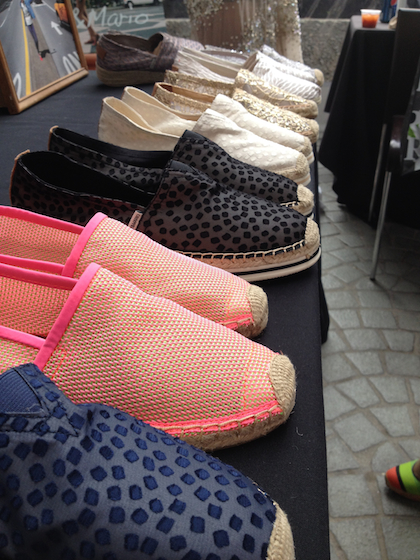 The 56th annual Grammy Awards are just two days away, and you know what that means -- Bring on more gifting suites! Not only do celebrity nominees have the chance to receive the best gift of all (a Grammym, duh!), but prior to the event, they get to see, sample, and take home all of the fresh new products from local businesses, upstart vendors, and entrepreneurs!
Celebrities and press alike made their way to the W Hotel in Westwood, CA, today for the Grammys Luxury Gift Lounge, and our names were on the list! This half-indoor/half-outdoor venue was the perfect setting to scope out jewelry, shoes, beauty products, technology, and more. It's the best way to market -- Get your products out to celebs and you're on the highway to success!
Where do we even begin? There were two rooms full of amazing gifts, but naturally we drifted towards the jewelry! We couldn't help but try on pieces from all of these fabulous designers, including: some totally unique and edgy bracelets by Ruby Roxanne Designs; dainty initial necklaces and pieces from Rafia Jewelry; earthy and one-of-a-kind necklaces, rings, bracelets, and hair accessories byVidakush; and elegant and dainty Guardian Angel Bracelets and cameo necklaces fromRonaldo Jewelry!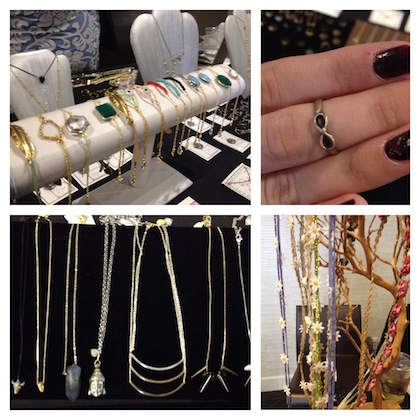 Vidakush Jewelry
Guardian Angel Bracelets
After getting our jewelry fix, we scouted out some of the top beauty brands that will have us looking fabulous for the Grammys! Tikkun Holistic Spa, located in Santa Monica, CA, is an incredible venue to get special massages and treatments. We were particularly intrigued by a seat with a hole in it located next to their message chair that looked a lot like those primitive toilets that Medieval royalty once used... And apparently we weren't too far off the mark! The chair is actually used for a service they provide called a V-Steam... and if you have to ask what the "V" stands for, you're probably too young to be reading this! Apparently, it cures everything from fatigue and nausea to digestive problems and acne! You can see the chair below, to the left: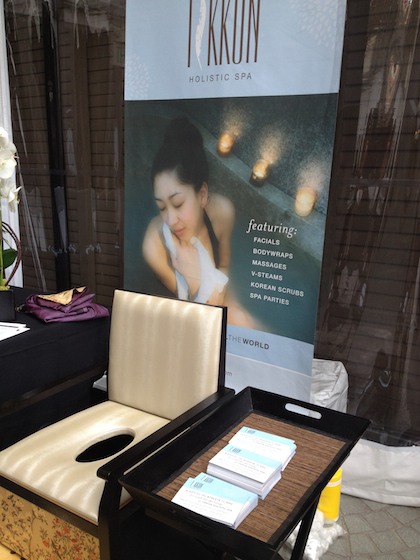 Elsewhere, the lovely ladies of Elin Bianco had us sample some of their fresh hair care products, including a hair perfume. One of the most interesting finds was from Worx Toys, where we saw and samples their Bo-Po, peelable nail polish!
From jewelry to beauty (with a few cocktails in between), we stopped over toGeek Eyewear to try on some chic frames, which made me want to have bad vision to wear them! Lastly, one of my personal favorites was from Joy & Mario, an adorable shoe brand! These comfortable and trendy shoes came in so many colors, and we managed to take home some of the amazing sparkle ones! We even wore them out of the event…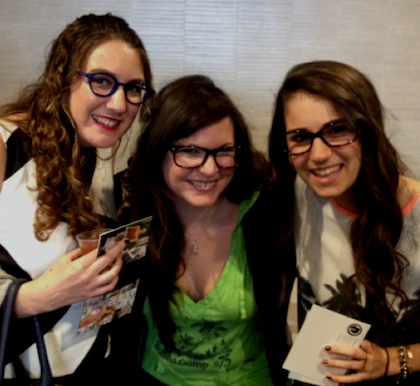 While all of this was more than we could have imagined, one of the best parts of this event was that it partnered with an awesome charity called theAfrican Millennium Foundation. This charity works to provide African women and children with the necessary tools to be self-sufficient, and thus working towards targeting poverty, hunger, and disease. Click the link to learn more about this amazing cause!
Thanks toRed Carpet Events LA, we totally swept up at these Grammys gifting suites! Tune in to see who snags the actual Grammy Awards this Sunday!
(Photos via Alexandra Melnick)
- Alexandra Melnick, YH Staff