SUNDAY MUSIC VIDS: Missy Elliott
Written by Katie Marzullo. Published: November 22 2015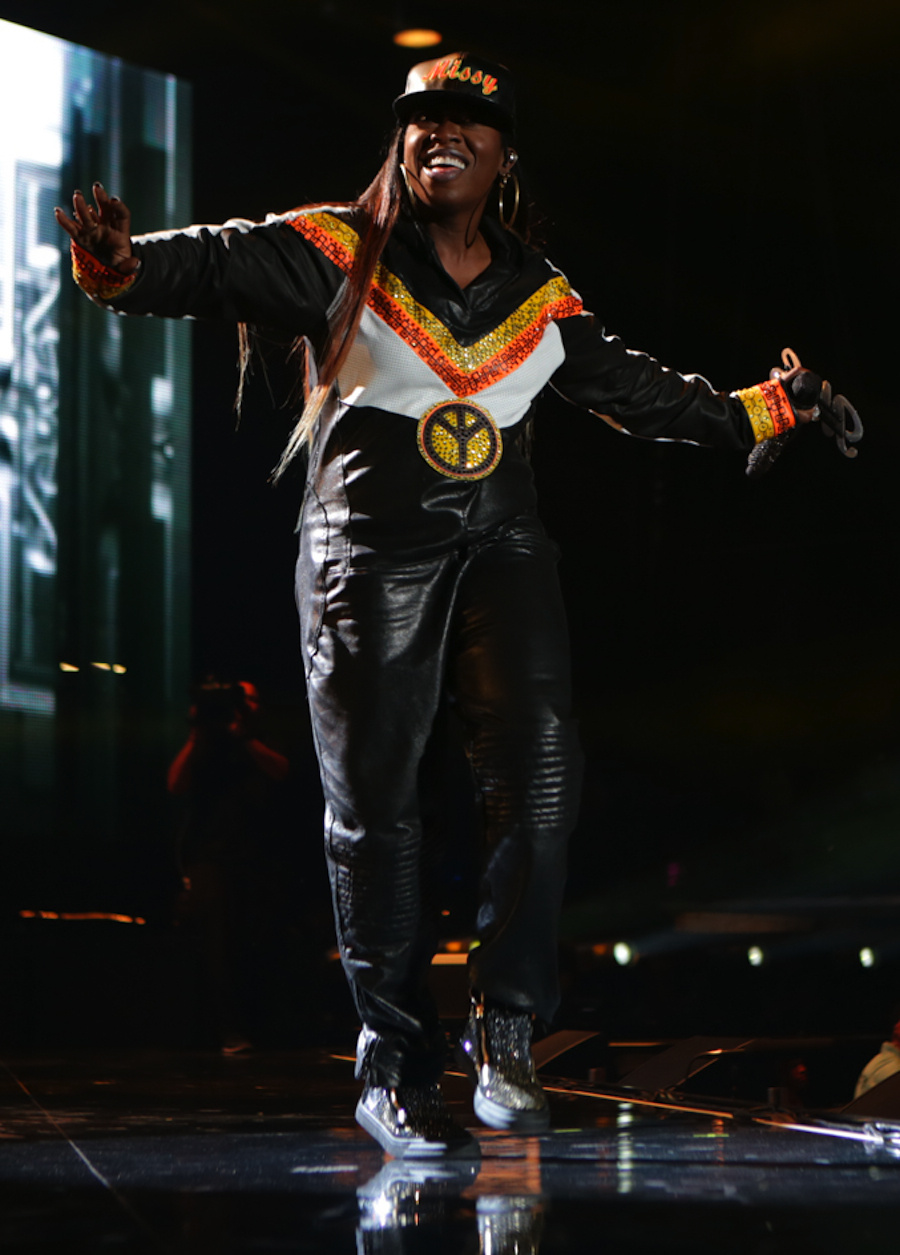 "Beep-beep! Who got the keys to the Jeep?"
I don't know about the Jeep, but Missy Elliott has the keys to getting perpetually stuck in my head at any given moment!
In case ya hadn't heard, Gossip Folks, Ms. Misdemeanor is back with a brand new music vid, "WTF (Where They From)", which incorporates all the things we love about her -- a crazy costume (in this case, a human disco ball), a pre-teen hip-hop dancer, and a sick hook. But being Missy Elliott, she had to turn it up to 11 in this clip and give us... MOTHEREFFING PUPPETS!
Ever since being diagnosed with Graves Disease, Missy's been taking it slower, but rest assured that she has every intention of staying at the top of the hip hop game!
Years beforeNicki Minaj was bringing a fresh and playful vibe to the hip-hop world, Missy was one of the first to realize that there could be so much more to being a female rapper than dropping f-bombs and wearing skimpy outfits. Thus she set out to infuse the genre with her uniquely sparkingly personality, dropping cool, infectious beats and whimsical lyrics. My personal favorite memory of Missy was during a "bonus" Lilith Fair concert back in Florida while I was in high school – Ms. Elliott was one of the featured acts, and I just remember how laidback and engaging she was – I don't even recall her singing that much; while her back-up singers took care of that, Missy worked the crowd, chatting with fans and asking roadies to find her a ladder so she could climb off the stage and into the audience to interact with them. It was pretty hilarious, and out of all the acts that day, her appearance was the one that stands out to me.
But more than just a purveyor of Timbaland-produced earworms, Missy is rather proficient in laying down some wicked awesome music videos. So, in honor of her long-awaited triumphant return to the music video game, may I offer to you some of Missy Elliott's very best visual efforts; not only amazing videos, but great jams too! We missed you, Missy!
(Photo via WENN)
- Katie Marzullo, YH Staff Editor