SUNDAY MUSIC VIDS: Ghostbusters
Written by Katie Marzullo. Published: March 06 2016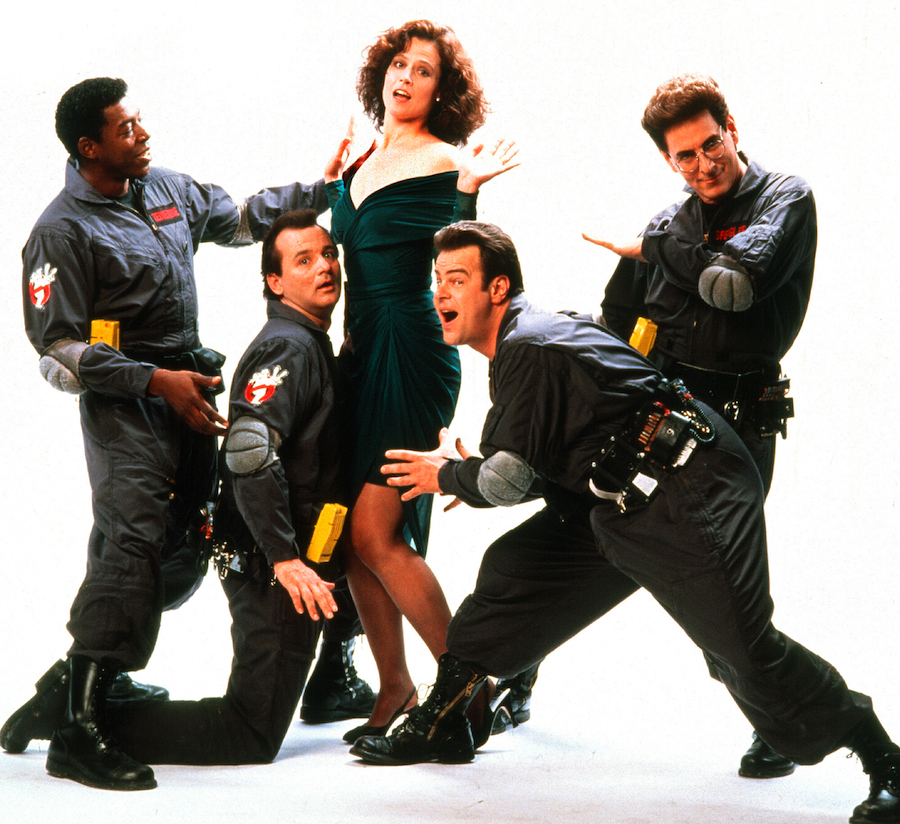 (Photo via WENN / © Columbia Pictures)
Like many others my age, I've been in love with the
Ghostbusters
ever since they
slayed
their first ghoul 32 years ago. And the one thing that probably stands out even more than Peter
Venkman's
dry humor or
Slimer's
penchant for hot dogs is that insanely infectious theme song!
Ray Parker

Jr

.
scored his only hit with this ode to the paranormal exterminators. And even though he was accused of scamming the memorable beat from the
Huey Lewis and the News
hit, "I Want a New Drug," go ask anyone over 25 to sing the lyrics to either song and see what the results are. Go on, I'll wait...
That was quick! It was
"Ghostbusters
," wasn't it? Sorry, Huey.
The music video that accompanied the theme song was everything you loved in the
'80s
all wrapped into one – super-cool soul singer, damsel in distress with big hair and an all-denim wardrobe, neon furniture, random celebrity cameos (actually, that one is still pretty popular), and, of course, a montage of scenes from the film. And, just because,
Bill Murray
breakdancing
.
Seriously, though, check out those cameos! Everyone who was anyone in 1984, including
Chevy Chase
,
John Candy
,
Irene Cara
,
Danny

DeVito
,
Teri

Garr
, some people even I don't remember, and the Cosby Kids (probably… maybe not).
Check out the classic below:
Of course, as everyone knows, five years later the boys were back in the appropriately-titled
Ghostbusters

II
. And again, a catchy tune got attached to the whole deal.
It may not have been as memorable as Ray Parker
Jr's
jam, but
Bobby Brown
's "On Our Own" was still pretty happening and got plenty of spandex-clad booties
shakin'
back in 1989. The music video seemed to try and duplicate the simplicity of the original but give it that magic
late-'80s
touch. There's still plenty of neon, clips from the film, and celeb cameos, though none nearly as dynamic as its 1984 predecessor.
The only actor from the film that shows up is
Rick

Moranis
, though he's not even in character. The video shifts from shots of
B.Brown
busting some moves with a scantily-clad lady (whom I somehow doubt is the actual voice of the portion of the song she is lip-syncing) and New Yorkers thoroughly enjoyed scenes from the movie as they are projected on tall buildings,
cuz
that's how the Big Apple rolls. Cameos include
Donald Trump
,
Christopher Reeve
,
Jane Curtain
, and
Iman
. I don't know why.
In any case, check out my good pal Bobby (he ate a sandwich near me once – that counts, right?) and his awesome
Gumby
'do getting funky for the
Ghostbusters
sequel:
Bustin'
makes me feel good!
-
Katie

Marzullo

,

YH

Staff Editor