Leprechauns, Blarney Stones, & Other St. Patrick's Day Traditions Explained!
Written by Amanda Baltazar. Published: March 15 2014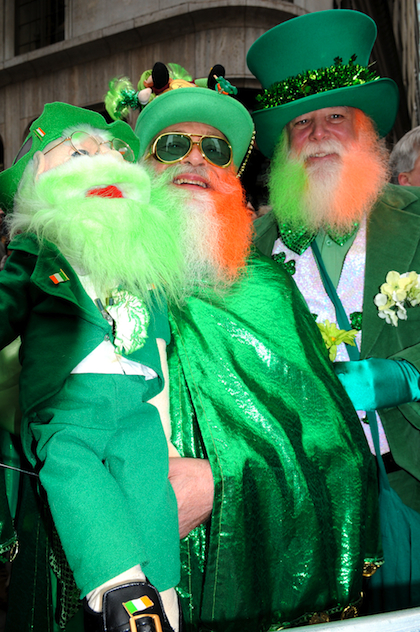 Better get your green outfits ready because St. Patrick's Day is coming!
Have you found your pot o' gold or your shamrocks? Or have you seen the sneaky little leprechaun pulling pranks on you? And what is a blarney stone anyway?
Alright, well, while you're all scouring your wardrobes trying to find something green to wear, let me tell enlighten you on some backstory behind this Irish holiday and its traditions.
St. Patrick's Day, the Holiday
St. Patrick's Day commemorates the life and teachings of one of the most famous patron saints of Ireland, St. Patrick. It also celebrates the arrival of Christianity to Ireland.
The Shamrock and Wearing Green
The shamrock, or the green three-leaf clover, is probably the most iconic symbol of St. Patrick's Day and Irish celebrations. This is because St. Patrick used the three-leaf clover to teach the Holy Trinity (Father, Son, Holy Ghost). People of the 18th century, then, started wearing the shamrock to show their Irish pride. Later this practice turned into wearing green on March 17.
The Blarney Stone
There is a village in Ireland where the Blarney Castle stands, and on the top story of the castle is a special piece of stone. Rumors say that those who kiss the stone will be given the gift of flattery, eloquence, or the gift of gab. Getting your chance to lock lips on the stone, however, is no easy feat. You must face away from the stone, sit down with someone holding your legs, and lean backwards so that you can kiss the stone with your head upside-down. A lot of effort just to be a little bit more articulate, but I bet it would make an interesting story... which you would be able to tell marvelously, thanks to the Blarney Stone!
Leprechauns
The story behind leprechauns today revolves around their pots of gold and granting wishes if someone captures them, but in Irish folklore, leprechauns came from Celtic mythology. They were supposed to ward people away from places they shouldn't go and from doing things they shouldn't do. But as Christianity came into play, leprechauns weren't as prominent in culture.
It's Paddy, not Patty
It's a common mistake to shorten the name Patrick to Patty, but in Irish parlence, the diminutive is actually Paddy. Just a tip for when you're sending out all your green-tinted selfies this weekend! #StPaddysDay
Now that you know the stories behind St. Patrick's Day and its traditions, I'd like to take this time to shout out to some of my favorite Irishmen from a little band known as The Script. Oh, their accents couldn't be anymore delicious.
Check out our interview with them where they try to guess whether some other very famous celebrities are Irish or Scottish.
I didn't realize how many handsome Irishmen have graced movies and television. I may not be Irish, but I wouldn't mind if some Irish cuties wanted to kiss MY Blarney Stone...
Happy St. Patrick's Day, everyone! Get your Shamrock Shakes while you can!
(Photo via IZZY/WENN)
- Amanda Baltazar, YH Staff