SUNDAY MUSIC VIDS: Coldplay
Written by Katie Marzullo. Published: March 01 2015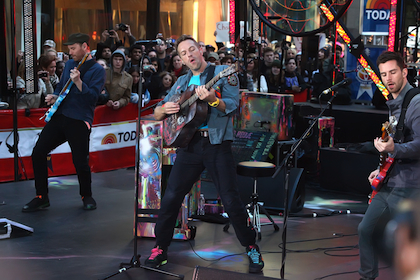 Happy (early) birthday,Chris Martin!
The singer and musician is the instantly recognizable face and voice of alternative Britpop group,Coldplay, and anyone who has seen him perform live, pounding the ivories, would agree with me that he makes playing the piano just as kick-ass as any guitar-shredding rock god!
As progressive and unique as their music is, it only stands to reason that they should be as equally cerebral and creative with their music videos, and they rarely disappoint in that arena. Music videos are, naturally, a marriage of two separate mediums – hell, two different senses – and any group that is able to master both has many ups in my book. I've featured Coldplay's visual offerings numerous times here, but since it's Chris B-day (or, it will be tomorrow), it's about time for a compilation, donchathink?
So, if you've had a long week and need to realign and find your zen, crank up the Coldplay and get transcendent, yo!
(Photo via WENN)
- Katie Marzullo, YH Staff Editor