Spider-Man Meets John Hughes?
Written by Greg McIver. Published: July 01 2015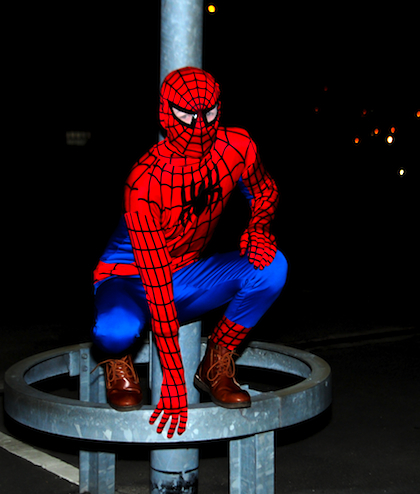 I don't want to sound too much like a madman here, as the news that I have may seem incredibly shocking and unreal. But I'm asking you to try to keep an open mind about what I'm about to tell you: Hollywood is making another comic book movie. I KNOW! And if that weren't crazy and wondrous in it's own right, the hero that will be swinging onto the big screen by way of Marvel Studios, and courtesy of Sony Pictures, is none other than Spider-Man. That's right, folks, Spider-Man is finally getting his own movie after all these months, and I think I'm not alone when I say that it's about damn time for this legendary hero to get the exposure he deserves!
Tom Holland is the young actor that has been tapped to play everyone's favorite web-head. You may remember Mr. Holland from that time it was announced that he was going to be the new Spider-Man, and from that other time when it was announced he was going to audition to be the new Spider-Man. Seriously, though, Mr. Holland's work in Ron Howard's upcoming whale epic, The Heart of the Sea, has been hailed as quite excellent, so I expect he'll bring some goodies to the table when it comes to resurrecting our friendly neighborhood Spider-Man after his incredibly long disappearance from our collective hearts and minds. Jon Watts is slated to direct the yet-to-be-named Spidey reboot, and his being chosen for the job continues Hollywood's latest trend of tapping raw independent talent to energize their larger-than-life franchises.
Knowing who will star and direct this flick is all well and good, but wouldn't it be even better if we got a sense of the kind of Spider-Man movie that we're actually going to get? Well, Kevin Feige (the Supreme Leader of Marvel Studios) recently answered this very question -- According to Mr. Feige, ifCaptain America:The Winter Soldier was a spy thriller and Ant-Man is a heist movie, and if you carry the two and account for the velocity of Space and Time, then you will come to the conclusion that the latest Spider-Man film will obviously be modeled after a John Hughes movie. Mr. Feige did comment as to which Hughes movie in particular the film would take after, but he did go on to say that the film would mainly focus on his high school years. In the world of this latest film, Spider-Man is just a kid, and one who lives in a time and place with other superheroes. Now that he too has powers, it's up to him to figure out where he belongs in the sprawling web of the Marvel Cinematic Universe.
And that's all very lovely, but I think what they are hiding is that the main story will have to do with Uncle Ben and Aunt May forgetting Peter Parker's 16th birthday. They're too busy entertaining the foreign exchange student that has come to live with them (possibly Iron Fist?) to realize that they've forgotten Peter's most special day. At the conclusion of the film, Spidey lends a pair of his undergarments for Harry Osbourne to display to the rest of the Sinister Six so that he might impress them, and the wacky evening ends with Peter blowing out the candles of a very special cake made for him by Kraven the Hunter.
OR perhaps the film will center around The Sinister Six, but they're all high school-age and are forced to attend weekend detention along with our misunderstood hero Peter Parker. After an initial fight, which practically levels the library, and a dance montage which practically levels the entire school, Spider-Man comes to an understanding after finding out about the sad backstories of our lovable villains. They all go their separate and amicable ways, while Principle J. Jonah Jameson quits his job in disgust and makes the decision to go into the newspaper business.
Okay one more... Peter Parker is a narcissistic sociopath who constantly lies to his school, his aunt, and his uncle about being sick. During his 9th time doing this, he convinces his friend Harry Osborne to borrow his dad's glider for the day and to smuggle Gwen Stacy out of school so that she can join them for a fun time in the city. Unfortunately, Principle Otto Octavius has a bone to pick with Peter and has four stainless steel tentacles to help him do so (yuck). I declare that Peter Parker's Day Off will be just the smash hit that finally puts Spider-Man back on top, and will finally convince movie studios to stop holding back and to finally make some more comic book movies for us all to enjoy.
As with any upcoming comic book film, pieces of information that will add up to approximately 100% of the movie in question will be leaked to the public everyday, so keep your eyes peeled for more Spider-Man goodness.
(Photo via Anthony Stanley/WENN)
- Greg McIver, YH Staff