"RuPaul's Drag Race" Season 7 Queens Ru-vealed!
12-11-2014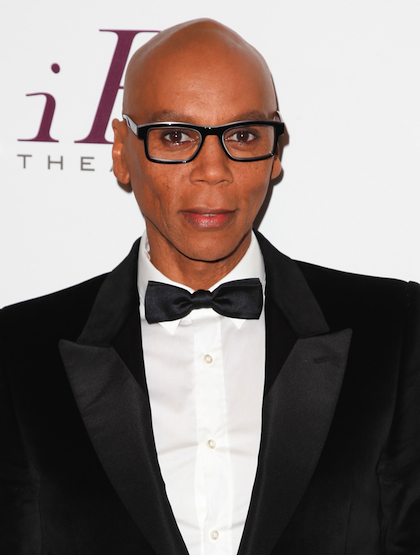 Here's some holiday cheer for you, squirrelfriends -- the queens of Season 7 of "RuPaul's Drag Race" have been revealed! The Supermodel of the World herself, RuPaul, will return with a crop of 12 fresh queens in January, 2015. This year's group seems to possess plenty of charisma, uniqueness, nerve, and talent required to shine on this competition, so this may be the most exciting season yet. Let's take a look at who is vying for the crown this time around:

Sasha Belle:
Sasha, who hails from Iowa City, picked her name after one of the world's fiercest queens, Sasha Fierce (akaBeyonce). In her introduction video, Sasha claims to own a Mystique (from X-Men, not RuPaul'sMystique) outfit and is known to paint herself as the mutant character. It sounds like Sasha may be a bit of a nerd, if dressing up as Mystique is what she considers to be her best look. It will be interesting to see if she actually uses her Mystique look in a challenge this season (although I think that if you are going to do nerdy drag, you need to go with Poison Ivy).
Ginger Minj:
Ginger seems to have a fun sense of humor--her drag name literally means "red vagina" in British slang. She's from Florida (like our own fabulous editor, Katie Marzullo!) and claims to be a "crossdresser for Christ." I'm curious to see if this means Ginger will lipsynch to a gospel song. I'm also intrigued by the fact that Ginger claims to love "Dance Moms" and fittingly looks a bit like Abby Lee Miller. Will she bring some of Abby's patented insanity with her?
Jaidynn Diore Fierce:
Jaidynn is another southern queen, hailing from Nashville. She gives off a Latrice Royale vibe, so it's fitting that Latrice is her favorite queen. Jaidynn seems to embrace her curves -- she is large, in charge, and fierce as hell, thank you very much. I particularly like the fact that Jaidynn doesn't remember her own age, and also her scarlet wig -- Jaidynn may be one to watch out for!
Jasmine Masters:
Jasmine's voice is a bit of a jolt -- she's got a bit of a Tyra voice in the sense that she sounds a bit like Morgan Freeman. She's representing Los Angeles, and claims that her best outfit is "seashells". Gurl, I gotta say, unless yourCarmen Carrera, you need to be putting on more clothes than seashells. I will not judge Jasmine until we see her on the show, but to quote Michelle Visage, "Stop relying on that body!"
Pearl:
I was a little taken aback by Pearl's makeup, as I immediately thought of Serena ChaCha, whom we all recall as the "art school" queen who was taken down byDetox ("I've had it! Officially!"). However, Pearl does seem a bit more creative than Serena -- one of her looks was that of a botched plastic surgery victim, which sounds like something Sharon Needles would come up with. Pearl comes from Brooklyn and worships Big Ang, the saucy Staten Island minx from "Mob Wives". Now that would be a celebrity judge!
Mrs. Kasha Davis:
I find it funny that Mrs. Kasha Davis is from Scranton, PA, home of the sitcom "The Office". I always forget that Scranton is an actual town that people live in, so it's amusing me to think that one of the contestants come from the same place as Michael Scott. Today, Mrs. Kasha Davis lives in New York and seems to have a quirky sense of humor. She mentions that she loves Liza Minnelli because they both love "gay men and booze." I actually can't think of another queen that Mrs. Kasha Davis reminds me of, which is probably a good thing -- this means she's truly unique!
Tempest DuJour:
I like that Tempest's name is inspired by the great Shakespearan play
The Tempest
(fellow Shakespeare nerds, unite!). My initial reaction to Tempest was that she resembles a
Tim Burton
character; she looks as though she could be Beetlejuice's sister. This Tuscon queen also seems to yell at random points when she speaks, which reminds me of
Billy Eichner
. Therefore, my theory is that if you like "Billy on the Street", than Tempest may be your gal.
Kandy Ho:
Kandy Ho is this season's token Puerto Rican queen. Her name represents her sweet personality, except for the fact that she is a hoochie -- thus: Candy + Ho = Kandy Ho. Kandy may be the first Puerto Rican queen to not have a distinct thick accent, but she certainly seems to have that Latina flavor. I'm intrigued by the fact that her favorite queen is Nina Flowers, since I think that Nina is probably one of the most underrated queens of all time. That girl knows how to beat a mug, so let's hope that Kandy does too!
Max:
Max reminds me of some of the kids I went to art school with. She appears to have some sort of drag mime look going on and introduces herself as being "102 years old and from Oz" (she's actually from Wisconsin). I'm not entirely sure what sort of persona Max is going for, but she certainly seems to gravitate towards old Hollywood -- she mentions a love forJudy Garland and Elvis Presley. I'm certainly curious to see a lot more from Max!
Kennedy Davenport:
Kennedy appears to be our token paegent queen this season. She is well polished and put together, a true Southern Belle. Orginally from Dallas, Kennedy gives off the poise of previous paegent queens such as Mariah, but minus the kookiness of the more unhinged ones like Alyssa Edwards (whom I love; she's like everyone's crazy aunt). I'm curious to see if Kennedy will bring more than just her beauty, although she does seem to make a few little jokes here and there.
Katya:
I get a little bit of a Willam vibe from Katya, but she's certainly one of a kind. Originally from Boston, Katya claims that her best drag look is getting wrapped in aluminum foil, covered in mayonnaise, and rolled down a hill. I particularly like Katya's desire to lipsynch to a funeral march -- now that would be a challenge. Due to her dry wit, I think that Katya is one to keep an eye out for this season.
Miss Fame:
Easily the most well-known of the queens, Miss Fame knows how to give some serious face. This New York-based queen has done make-up for quite a few celebrities -- which as you may recall was how Season 3's winner, Raja, got her start. Miss Fame doesn't seem to be quite as witty as Raja, but her talent for makeup and fashion does seem unmatched. It will be interesting to see the looks that Miss Fame comes up with, as well as what she brings to the acting and singing challenges.
Are you excited for the return of "RuPaul's Drag Race"? Which queen are you most looking forward to seeing more of?
(Photo via FayesVision/WENN)
- Sarah Osman, YH Staff