Rose Byrne Launcing an All-Female Production Company!
Written by Sarah Osman. Published: May 07 2015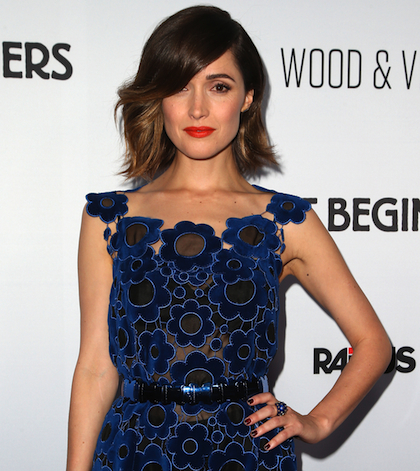 Here's some promising news in the ongoing quest for women to have their voices heard in Hollywood: Rose Bryne is currently working on setting up her own all-female production company, The Dollhouse Collective. The company will consist of Bryne and four other Australian women in the industry, including The Last Impresario director Gracie Otto, theater and opera director Shannon Murphy, emerging producerJessica Carrera, and actor Krew Boylan.
The Dollhouse Collective's main goal is to produce films that focus on women, as well as celebrate women. The ladies are currently taking action to make this dream come true -- they currently have three different films, all of which are written and directed by women, in pre-production. The first film, When all the Water, focuses on a woman who is obsessed with Dolly Parton. There aren't many details on the other two films, beyond the titles: Seriously Red and Girls in Hotels.
Bryne isn't the only Hollywood actress to push for more opportunities for women in film. Reese Witherspoon's production company, Pacific Standard, has already produced a number of successful films including Gone Girl and Wild, and will release their third film, Hot Pursuit, on May 8. Lena Dunham, already known for her female driven series, "Girls", has founded a production company of her own called A Fine Romance. Dunham's company is currently working on a documentary project focused on Bindle & Keep, a hot tailoring company based in Brooklyn that has become a hit among the LGBTQ community.
It's rewarding to finally see women getting to make their own films on their own terms that focus on women and are written and directed by women. Let's hope this is a trend that continues!
In the meantime, check out our two interviews with Ms. Bryne from this year's SXSW!
(Photo via FayesVision/WENN)
- Sarah Osman, YH Staff