Zac Efron & Adam Devine Team Up as Down-On-Their-Luck-In-Love Bros for New Comedy!
Written by Kevin Donaldson. Published: May 06 2015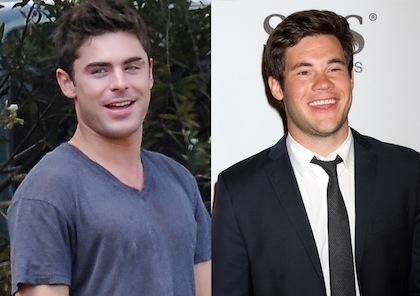 Someone help!Zac Efron and Adam Devine need wedding dates!
Wait -- teen dream Zac Efron and charming funnyman Adam Devine need help getting a date??
Don't worry, it's just a plot to a movie… now it all makes sense! The world is once again at peace. Obviously these guys have no problem getting dates in real-life.
The movie in question is named, appropriately enough, Mike and Dave Need Wedding Dates. That pretty much sums it up nicely, eh? But wait, there's more! The plot revolves around brothers Mike (Efron) and Dave (Devine) putting out personal ads on the Internet, like on Craig's List, to find dates to an upcoming wedding.
It's unclear at this time the specific reason they need to go to this wedding, who they are trying to impress by having dates, and why they can't find a date on their own. (Come on, I'm straight and even I think Zac is gorgeous. Google his eyes and you'll lose exactly three hours, 43 minutes, and 17-and-a-half seconds of your life getting lost in them. Yes, I timed it.) What we do know is who those lucky ladies will be: BFFs Anna Kendrick andAubrey Plaza.
Who will be whose date though? Probably Kendrick with Efron and Plaza with Devine, but it might be even funnier vice-versa. Either way, these two ladies together are hilarious, and we haven't really seen them onscreen yet, but their stalking of each other's Twitter accounts is a riot. Maybe we have seen it before, and maybe we haven't, but these girls have a something special going on… a true sis-mance and it's awesomesauce! Seriously, why are you still reading this? Go and check out their Twitter relationship right now!
Mike and Dave Need Wedding Dates is set for a July 8, 2016, release. In the meantime, check out our interviews with all four of the principle castmembers below!
(Photos via Cousart/JFXimages/DJDM/WENN)
- Kevin Donaldson, YH Staff