Revived In New York, Here Comes Saturday Night!
09-05-2020 by Paige Pfeifer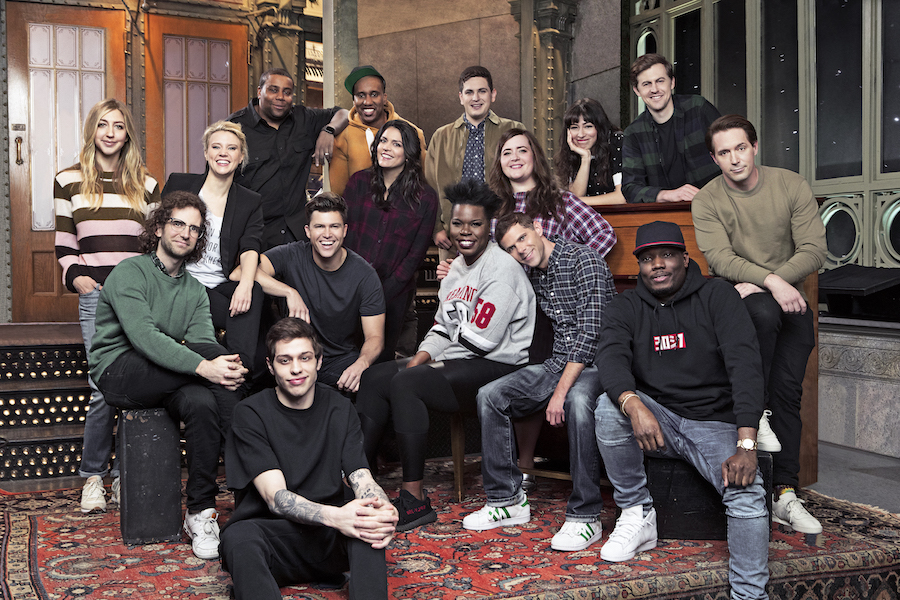 ( © Mary Ellen Matthews/NBCU Photo Bank/NBCUniversal via Getty Images)  
Life is returning to Studio 8H. Gone are the (three) days of Kate McKinnon's homemade set pieces, Weekend Update's corny canned laughter, and the abundance of Zoom-centric sketches that ended "Saturday Night Live"'s 45th season. Although the trifecta of at-home episodes gave the editing and post-production teams a chance to shine, the upcoming season will have the cast and crew going home to 30 Rockefeller Center, from where the show will broadcast live once again. 
This exciting revelation only brings about more mystery, unfortunately. Like Russian nesting dolls, one question leads to another, and another, ad infinitum. There is no premiere date thus far, although historically new seasons have debuted in late-September. Likewise, no cast list has been announced; any changes to the writers' room are also shrouded in secrecy. 
The one light shining brightly in this deadpan darkness we're being unceremoniously kept in is Kyle Mooney. In a recent interview with Collider, he revealed that the show would resume from the studio in "early fall" with plans to run the show "as close to the real thing" as possible. This means that at least Kyle remains on the cast, and presumably his "Good Neighbor" co-creator, Beck Bennett. 
Sure, the details are hazy, but the fact remains that late-night television is somehow surviving this critical period in entertainment's history. Jimmy Fallon and Stephen Colbert are back in their studios (or at least in the building), filming 'The Tonight Show" and "The Late Show", respectively, without live audiences. September marks the return of both Seth Meyers and Jimmy Kimmel, giving viewers hope that the era of at-home filming is finally coming to a close.
 

 

Mar 4, 2015 at 9:34pm PST
If '30 Rock" has taught us anything, it's that television is the true American art form, providing shared experiences for the masses and dreams for small-town pig farmers' sons. "Saturday Night Live" is more than a television show; it is a pillar of American society, one that has entertained generation after generation. Its return to Studio 8H brings about feelings of stability, normalcy, and, most importantly, distracting absurdity.