Reggie Watts Bows from "Comedy Bang! Bang!" to Become Full-Time Bandleader for "Late Late Show"
Written by Kevin Donaldson. Published: June 04 2015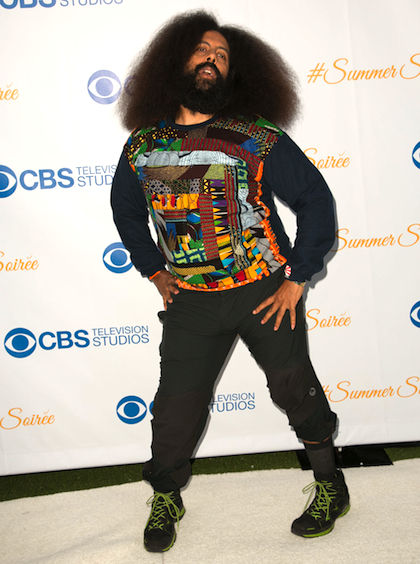 It seems like everybody loves a talk show these days, and IFC's "Comedy Bang! Bang!" is no different… despite it being pretty insane and completely offbeat from most other talk shows out there. This week, the show is sadly losing half of its regular cast members with the departure of one-man bandleader Reggie Watts. He is a simple man with simple interests but extraordinary musical talents. He's a human beat box with musicianship worthy of a non-deaf Beethoven and a voice like a warm summer day. Take a listen for yourself:
You can count on a show like "Comedy Bang! Bang!" to bring the tears for Watts's departure, as Scott Aukerman loses his good friend to that conniving Brit James Corden. (Watts is leaving the show to put his talents towards leading Corden's "Late Late Show" band full-time. A job you may have already seen him and his Afro working hard at.) Will Aukerman try to fight off Corden's advances toward Watts? Will Aukerman destroy all of Corden's tea and win the Reggilutionary War for America? Stay tuned for the answers to these burning questions.
Hey! You made it to this paragraph! Congrats! Those questions I left you with are going to remain unanswered until Watts's final "Comedy Bang! Bang!" appearance tonight. So stay tuned for that! In the meantime, let's take some time to fondly remember some Reggie's best moments from "Comedy Bang! Bang!", like that time Lizzy Caplanproposed to him. There was also that time when Reggie took the day off and was replaced by a police officer, leading to his untimely death… and then off-screen resurrection! But I think what we'll all miss most of all from Reggie Watts on "Comedy Bang! Bang!" is his music bumps, like the ones wonderfully put together in this video below:
I'm sure you're wondering, what will Scott Aukerman do without all this wonderful music provided by Reggie Watts?! I have news for you then -- a replacement has been chosen, and it's a previous guest/successful recording artist. Your new "Comedy Bang! Bang!" one-man bandleader is non-other than... rapper Kid Cudi! How does Reggie feel about this? Great, I'm sure, as they made music together for Kid Cudi's appearance on the show. Check it out:
How will Kid Cudi fill Reggie's shoes? Only time will tell when the show picks up again. Tonight is the "Comedy Bang! Bang!" mid-season finale, so Kid Cudi's first appearance as bandleader is yet to be determined. But will Kid Cudi make an appearance tonight for a passing-of-the-torch moment? I do know that Judd Apatow will be in the house, as well as Aukerman's daughters (Scott Aukerman and his wife Kulap Vilaysack do not have daughters or any children at all; these daughters may be played by Apatow's actual daughters as they have played Paul Rudd's and Eric Bana's kids in Apatow films). It's guaranteed to be a fun family reunion.
So, skip that NBA game and tune into "Comedy Bang! Bang!" to witness history as Reggie Watts works his final night of co-hosting duties! (But mainly tune in to see if Scott Aukerman cries.) And I'll see you at the movies!
(Photo via Brian To/WENN)
- Kevin Donaldson, YH Staff