Q&A: DJ/Producer Audien and Lady Antebellum
Written by Sarah Osman. Published: December 01 2015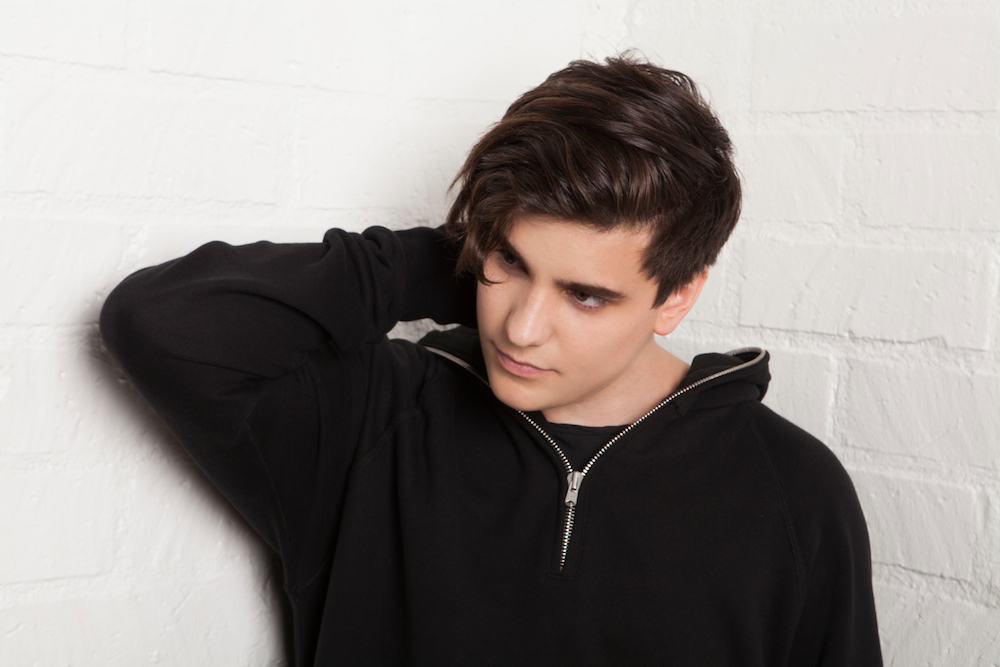 DJ/producerAudien recently decided to mix things up a bit and join forces with Grammy Award-winning country group Lady Antebellum for his newest single, "Something Better". The video for the song is a rather interesting and charming callback to extraterrestrial films of yore such as E.T. and Close Encounters of the Third Kind. In the video, a young boy gazes up to the sky, wondering what else is out there, when a meteor crashes and his life changes forever. "Something Better" is currently #1 on dance radio and is on the Billboard Club chart. Check out the video below!
Meanwhile, Audien just released his much-anticipated four-songDaydreams EP, which includes tracks "Something Better" as well as "Monaco", a house song featuring Rumors, and "Pharaohs", which features U.K. artistVoyageur. Audien has reflected thatDaydreams is about his evolution as an artist. In addition to the release of his album, Audien will continue to tour the hottest festivals and is currently the resident performer at the Marquee Nightclub & Dayclub.
We caught up with Audien and Dave Haywood of Lady Antebellum to discuss the video for "Something Better", how they came to work together, and what we can expect to see from them next:
YH: Where did the idea for this inventive music video come from?
DH: Yeah, the folks with Audien and his team really knocked this one out of the park. The video provokes a lot of ethereal and larger-than-life feelings, which help accent the lyrics so well. I think a great video is one that takes the lyrics and makes you think about the song a little differently, which they did so well on this one.
A: We wanted to do something a little unexpected. Sure, it would have been easy to do a "farm boy falls in love with raver girl" video -- but this is a more sophisticated and tasteful approach. The exact concept was conceived by the director, Will Joines. I think we are excited that the song has united fans from different musical planets, and this video reflects that.
YH: The video seems to have a few nods to supernatural films/TV shows, such as "Smallville" and "The X-Files". Are any of you fans of a specific supernatural film or TV show, and did you pull inspiration from it?
DH: The feeling I got was also from the movie E.T.; the video provokes a very supernatural connection between someone here and someone not from this world.
A: The video definitely nods to those as well as E.T., a classic movie for all generations. To be honest, I'm a bit of a conspiracy theorist myself and have spent more time than I would like to admit watching things like "Ghost Adventures" and UFO videos on YouTube. 
YH: How did all of you come to collaborate together on this song?
DH: Our manager presented this opportunity to us, and from the moment we heard this song, we absolutely fell in love with it. We immediately said "yes" and went into the studio a few days later to put our vocals on it. The song actually really hit us as something that could fit us very well within what we do musically, and now it's so cool to hear it molded and shaped into the huge EDM track that Audien has created. He is such a talent in the studio, and has such a tasteful ear for great production and dynamics of music. We are so honored to be asked to be featured on this and love Audien's work and are so proud of this collaboration.
A: I had produced the track around an amazing song I got from two songwriters named Taylor Bird and Peter Hanna. I knew I wanted to do something unique with it. A duet, or something with rich vocal harmonies -- something you don't typically hear with a dance record. I consulted with my team at Capitol, and one of the A&R guys suggested Lady A. In the moment, it seemed like a pipe dream, and I'm not sure anyone knew how seriously to consider the idea. I mean, it's Lady A -- Grammy winning, multi-platinum-selling, arena-filling Lady A! But, if you don't ask, you don't get. So, we sent the song, and fortunately the band immediately gravitated toward the song's theme as I had. We all stepped outside our comfort zone a bit, and that's when magic happens. Charles [Kelley], Dave, andHillary [Scott] have been so generous and supportive, and are so talented and humble. Working with them has been a career highlight for sure.
YH: Audien, How do you feel that your music has evolved on your latest album, Daydreams?
A:Daydreams represents where I've been, where I am, and where I'm going. The EP includes a few musical risks in terms of genre and tempo, but also stays true to what I produce best -- uplifting melodic music. 
YH: You are currently a resident DJ at the Marquee Nightclub & Dayclub in Las Vegas. Have you had any interesting experiences with fans while there (or any stories that could be considered rather unusual)?
A: It's Vegas, so there's always some hilarity, but I'm not a big party guy -- my first concern is that the crowd has a great time. I am, after all, there to work. One thing I will say that never ceases to amaze me is the amount of splurging. I've seen VIPs order a round of bottles for the whole club. That's not a bill I'd want to get under my door in the morning.
YH: What can we expect to see from you all next?
DH: I'm excited to see where in the world this song goes! It has been awesome to watch it reach so many people already, and can't wait to see how it continues to grow. We are taking some time at home and have already been working on a new Lady A record. We want to take our time with this record and really write and spend the time in the studio to make it great. And also, we've got a lot of really fun country fairs and festivals we'll be playing all next summer as well. Maybe one day our paths would cross to possibly perform this song live somewhere too!
A: I'm working on some exciting music right now to release at the top of next year. There will hopefully be a few more jaw-dropping collaborations. Also making my debut in South America next month at EDC Brazil -- from what I hear, the festival will be insane!
You can keep up with Audien and Lady Antebellum on Twitter!
(Photos via Capitol Music)
- Sarah Osman, YH Contributing Writer