PLAYLIST PICKS: Drunksouls
Written by Kate Ferguson. Published: April 30 2014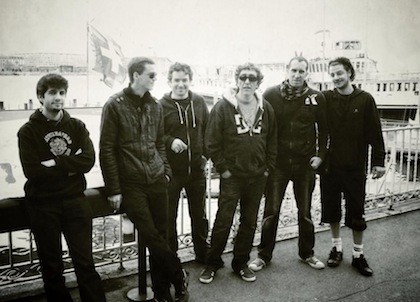 If you don't already have a favorite French "reggae infused pop rock" band, then you're in luck. Drunksoulshas been evolving and performing together as a group since 2002 and have some strong messages they'd like to get out. The group sings in English as well as French, and the vibes and style influences of their songs vary greatly. The group members includeDJaM (lead vocals), Julien Mur(guitars), Pierre Pesin (trumpet), Romain Morello (trombone), Adrien Coulomb(bass), Julien Heurtel (drums), and Jean-Marc Layani (keyboards).
They have an engaging and entertaining way of viewing the world that makes heavy topics approachable, and they seem to want to inspire their listeners to think about the world as well.
Their music covers a span of styles. Their song "Dernière Cigarette" is entirely sung in French but gives off a darker, almost sinister feeling through its rock vibe. This is mirrored throughout the video, which has clips of news headlines and sources of destruction. 
Their newest song,
"Chaos"
, is in English and gives off a busy vibe that's a little reminiscent of '80s pop/rock and throws in some cinematic guitar riffs throughout. "Comme Louise et Thelma" is a representation of their acoustic skills, using hand drums and what sounds like a flamenco guitar to tell a story. "No More Fighting" stands up for freedom.
Their music video for the song "Human Race" went viral, showcasing footage from the documentaryI Believe I Can Fly, which won awards for showing off the tightrope walking and mountaineering stunts of the French adventure team the Skyliners. (It's terrifying and hard to look away.) The video garnered over 2 million views, and their first album got over 100,000 downloads based on word-of-mouth alone. The song is full of large instrumentals, like trumpets, and you get a glimpse into the high energy and amusing vibe they bring into their music.
 
Most recently, the band released an album entitled
Revolution
 and will soon be releasing a compilation album called
Just Before Chaos
. They are in the process of putting plans together to embark on a U.S. tour to keep up with their growing fan base in the States.
(Photo via James Moore)
Kate Ferguson is a Los Angeles local and freelance writer for a variety of blog genres. Look for article links (and the occasional joke) on her Twitter @KateFerg or check out her personal blog ThatsRandomKate.blogspot.com