PLAYLIST PICKS: Aradia
Written by Kate Ferguson. Published: February 20 2015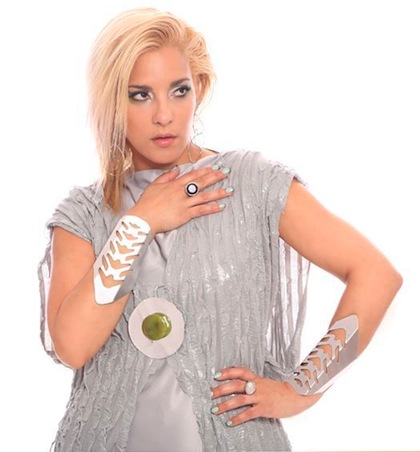 Seattle-based electronic/pop artist Aradia has recently released a CD entitled Citizen of Earth that fully fits into the electronic genre, without leaving behind its other musical influences that make it an interesting sound across the board.
For the most part, Aradia has been playing locally in Seattle, but she is planning a West Coast tour for the fall. Aradia has already been nominated for a variety of awards and has been listed in Music Connection's Hot 100 Live Unsigned Artists & Bands. She is the only electronic act to have ever been included in the Annual Seattle Wave Radio Jammin' Challenge, where she won Second Place.
One thing that sets Aradia apart from other musical artists is that she isn'tjust a musical artist. This creative soul not only writes and records her own music, but she designs her own costumes and does her own concept art and graphic design. A true DIY entrepreneurial type musician, and she has been that way since the beginning of time. Aradia was born to a musician/music therapist and a ballerina, so she got immersed in artistic integrity right from the start.
She initially attended the Aaron Copland School of Music at Queens College but found the classical world a little petty, so she dropped out to join the rock band Some Band and played around New York City. Eventually, she ended up in Atlanta as part of duo called Twelfth Planet but eventually felt a pull to take the solo route. It's safe to say she knows her way around the musical process.
As for sound, the electronic artist blends in both pop and rock sensibilities. Instruments you'll hear include the drums and the keys. The albumCitizen of Earth is what could be described as "roktronika". Her songs are unique with a point of view that isn't there to leave anyone out, but rather as an invitation into her world. There's something about her vocal quality as well as lyrics on the song "On Fire" that are as much speaking as singing, which adds to the uniqueness of her style. On "Today", we hear a bit of a lighter note and playful vibe. She definitely doesn't sound like anyone else, which, in this case, is a great thing.
Keep up with Aradia on Facebook, Twitter, Tumblr, and her Official Website.
(Photo via James Moore)
Kate Ferguson is a Los Angeles local and freelance writer for a variety of blog genres. Look for article links (and the occasional joke) on her Twitter @KateFerg or check out her personal blog ThatsRandomKate.blogspot.com