Our Favorite Moments From The 2020 MTV VMAs!
08-31-2020 by Wayne Sampson
  ( © Kevin Winter/MTV VMAs 2020/Getty Images for MTV)  
One of our favorite nights of the year, the MTV Video Music Awards, aired their annual awards ceremony last night (August 30) hosted by the multi-talented Keke Palmer. We love Keke because she can do anything; host, act, sing… did I leave anything out? And she is kind!

The 2020 VMAs went live from New York City, home of MTV Networks, in Times Square. The Weekndopened the show with an electrifying performance of his hit song "Blinding Lights"! Literally, he was high above Manhattan with views that would make you dizzy to look down. Imagine being there in person. Goosebumps!! Later in the night, The Weeknd took home Video of the Year and Best R&B. The artist used his acceptance speech simply to say, "Justice for Jacob Blake. Justice for Breonna Taylor."
Lady Gaga took home 4 awards, including Song of the Year, Best Collaboration, Artist of the Year, and Best Cinematography. She also took the stage to perform a "medley of her hits" and "Rain on Me" alongside the talented Ariana Grande. She had the best wardrobe changes, mask included. She should get an award for her many face masks she adorned. Additionally, Gaga was honored with the first Tricon Award, which, for the uninformed, is "something or a piece of creation with multiple values; multivalued; also known as Tricon." There you have it -- She is LADY MISS TRICON now! And it was a BIG night for Lady Miss Tricon! Congrats, Gaga, you deserve it!
Here are some of our other Faves from the night!
Best Dressed Woman: Miley Cyrus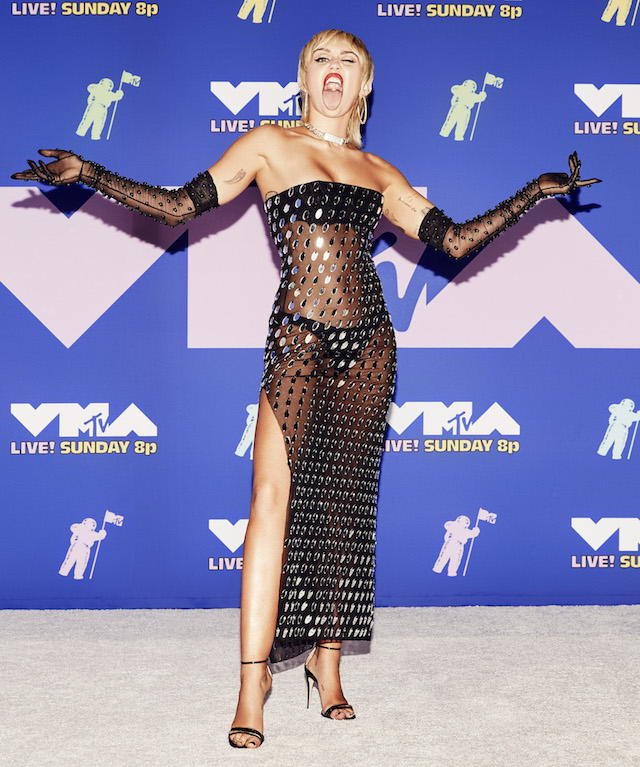 ( © Vijat Mohindra/MTV VMAs 2020 via Getty Images)
Best Dressed Man: Jayden Smith
(In my head, this is what I would wear to the 2020 VMAs.)
( © Rich Fury/MTV VMAs 2020/Getty Images for MTV)
Favorite Performance: Miley Cyrus
Miley performed her hit "Midnight Sky" and brought back memories of her "Wrecking Ball" days by swinging on a disco ball.
Favorite Theme of the Night: Diversity
Everyone was represented! Bravo, MTV!
Favorite Message: Lady Gaga, WEAR A MASK!
( © Kevin Winter/MTV VMAs 2020/Getty Images for MTV)
Check out the full list of winners here and let us know YOUR favorite moments from the night!