NPR's Tiny Desks Concert Series Keep Music Lovers Tuned In While on Lockdown!
08-30-2020 by Pearce O'Neal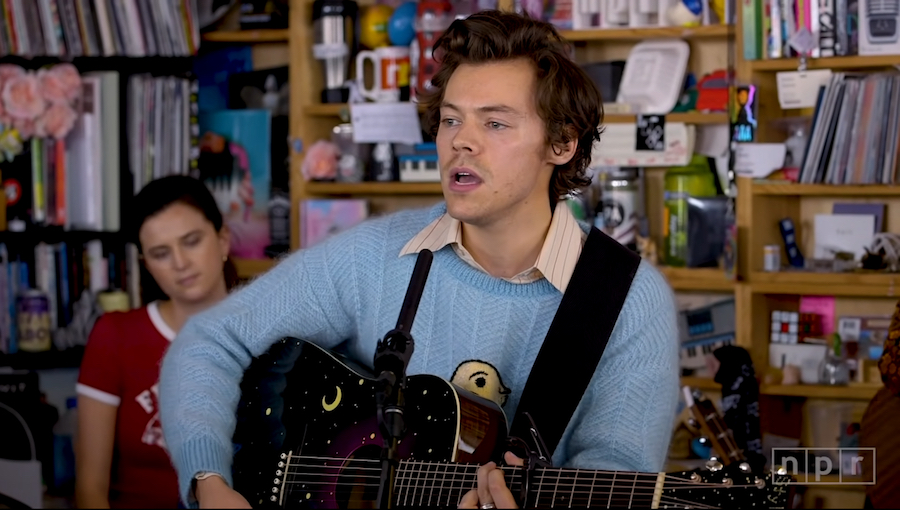 ( © NPR Music)  
After months of social distancing, those who normally spend their weekends at concerts and social events are going a little stir-crazy. While nothing compares to the rush of being in the crowd at a real concert, National Public Radio (NPR) offers a worthy second-place option with their Tiny Desk Concert series. 

Tiny Desk was started in 2008 after two NPR employees left a concert frustrated that the crowd was too loud. They said it made it difficult to hear the artist performing. They joked that the band should've just played at one of their desks. Boom! Tiny Desk was born. Since its creation, Tiny Desk has had over 800 artists, ranging from world superstars to smaller, lesser-known bands. 
One of the newer performances earlier this year was Harry Styles, who is definitely on the superstar side of the scale. Styles delivered a soft and intimate performance, much different and smaller than his typical stadium stops on his world tours. Singing songs from his new album such as "Cherry" and "Watermelon Sugar", Styles showed us a delicate and stripped-down version of them. Backed by his touring band, we still saw the chemistry we would get from a stop along his tour, without having to be far away in the rafters. 
Another Tiny Desk worth watching is T-Pain. When you think of T-Pain, you think of being in the club dancing. You don't think of a private and up-close concert. T-Pain admittedly said so, joking that he didn't think anyone was going to show up and that he has the autotune in his pocket. He was accompanied by his keyboardist and performed delicate versions of club hits like "Up Down" and "Buy U a Drank". He sang his heart out, leaving those watching wondering why he ever used autotune in the first place. 
Finally, the Tiny Desk that is maybe most sentimental, is that of the late, great Mac Miller. From August 2018, just a month before his death, Miller played 3 songs from his album Swimming. He was accompanied byThundercat, fellow musician and good friend the late Miller. The Tiny Desk concert brought more to the emotional aspect of Swimming and left viewers with a feeling of a sort of nostalgia for a more peaceful time. This was one of Miller's last live performances, adding to the tender feeling.
With the current state of the world, NPR has transformed their in-office Tiny Desks to an at-home series, where the artists record themselves in their houses and then send them in. They are also reposting older Tiny Desks. There are far more performances than I have mentioned here, and they all deserve to be checked out. You can watch all of them on NPR'sYouTube channel!