Motivational TikTok Accounts That Will Help Keep Your New Year's Resolutions!
01-07-2022 by Hannah Shariff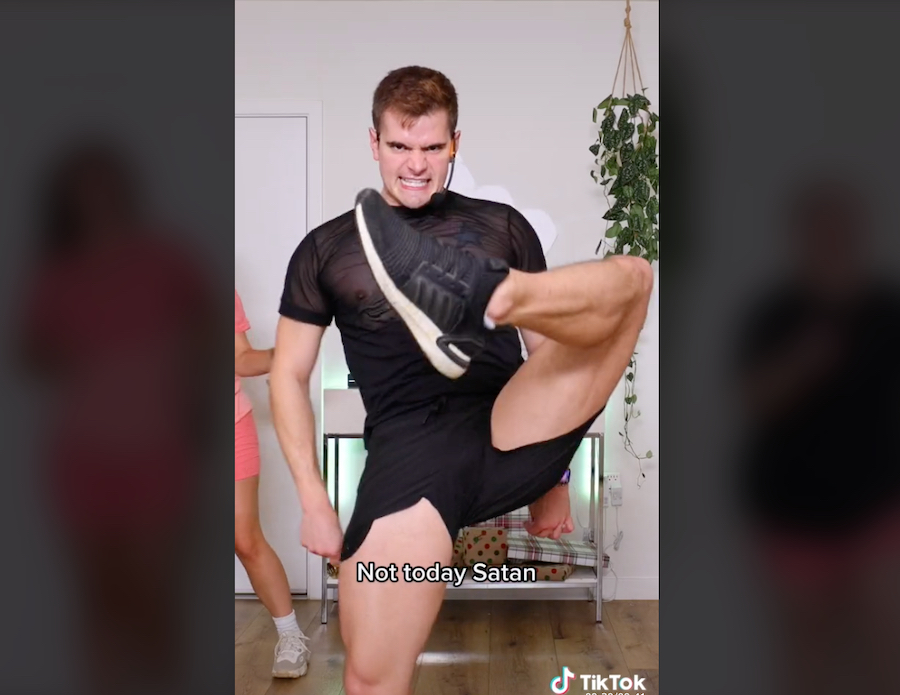 (The Fitness Marshall/TikTok/@thefitnessmarshall)
The festivities have come to an end, which means we are officially in the midst of 2022. The only thing we have left from 2021 is a set of New Year's resolutions, that, unlike last year, we totally intend to follow through on. Although some people say New Year's resolutions are meant to be broken, I have faith in us that we can meet our goals! All that's needed is a little motivation… Luckily, you don't need to look too far to find some inspiration! Here are a few TikTok users to watch when you're scrolling through the app that will help your resolutions become reality. 
1. New Year, New Fitness Goals 
Getting in shape is one of the most common New Year's resolutions out there — and one of the hardest to be consistent with! Let's be honest, dragging ourselves to the gym can be hard, especially when the couch is right there. That's where TikTok user @thefitnessmarshall comes in. Known for his Zumba-esque workouts, The Fitness Marshall pairs quick, high-energy dances that you can easily do at home with hilarious commentary. When you're doing one of his workouts, you'll feel the burn but also the motivation to keep dancing your way to becoming fitness goals! 
2. Channeling Your Inner Gordon Ramsay 
Doordashing breakfast, lunch, and dinner never gets old… That is, until you take a peek at your bank account! While you may think you just can't cook, it's possible that you haven't found the right food inspo that makes pulling out the Le Creuset pot you got for Christmas seem worth it. Enter: Hajar Larbah, otherwise known as @moribyan. Her page is full of beginner-friendly recipes for all types of cuisines and are paired alongside drool-worthy spreads that can't wait to be recreated. 
3. Saving Money For Your Next NYE dress
Has your airline ever lost your luggage and refused to pay for it? Do you always seem to miss out on the good deals? Becoming a resourceful person takes serious time and energy. Thankfully, there are people on TikTok dedicated to helping people get their money's worth. Erika Kullberg is the perfect person to turn to when it comes to finding hidden deals that companies don't want you to know about. There's a reason why her catchphrase, "She has no idea I follow Erika -- watch this", went viral! 
4. Developing a Soothing Self-Care Routine 
2020 was a stressful year. So was 2021. We have high hopes for 2022, but instead of leaving it up to chance, it's time to invest in a self-care routine that can help you withstand everything from everyday stressors to, like, a worldwide pandemic. As a mom, businesswoman, and avid beauty guru, Amy Chang, aka @bondenavant, is familiar with crafting a self-care routine that works with a busy schedule. From nightly facial massage routines to dealing with stubborn acne, Amy has got your back! 
5. Becoming A Fashion Icon 
Everybody has a Pinterest board begging to become more than just a wished-for aesthetic. All you need is a few creative fashionistas to help bring your 2022 fashion pins to life! @deepasoutfits, run by always-on-the-go Deepa, helps users hone their fashion sense by having them help her pick out an outfit for the day. Deepa's outfits are a combination of clothes from the stores we all love and are so spot-on with today's trends that you can't help but want to recreate them.
For those who want to dress like they're starring in a Vogue photoshoot, Wisdom Kaye, aka @wisdm8, is here to help. Called the "best-dressed guy on TikTok" by Vogue, Kaye puts together outfits from runway pieces that look like they belong in a museum. 
Hopefully, these TikTok accounts will help strengthen your New Year's resolve! Remember, all it takes is a few minutes of your time to reach your goals for 2022. Next January, we KNOW you'll be celebrating achieving your resolutions!