Love and Laughter: Nick Offerman and Megan Mullally Preview Their "Love Story"!
Written by Meagan Gitelman. Published: June 11 2018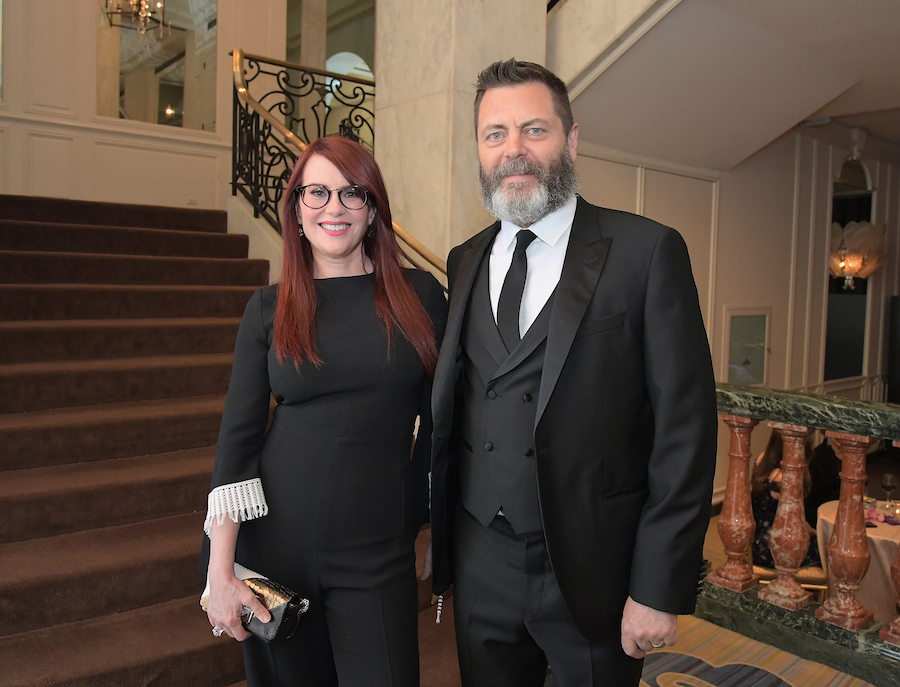 Soon we can get up close and personal with the private lives of Hollywood's funniest power couple,Nick Offerman and Megan Mullally!
The duo recently hosted the BookExpo America at the Javits Center in New York City, where big-name authors gathered to discuss their work. Notable celebs, from actress Viola Davis and Senator Bernie Sanders to novelistNicholas Sparks, all were guests at the convention.
Megan and Nick previewed their new book, The Greatest Love Story Ever Told: An Oral History, which will be released this October, an honest and sure to be witty account of their relationship.
"I think it is quite an accurate reflection of our actual relationship," Megan said.
The couple have never been shy from sharing their personal life on and off camera. When they're not co-starring on TV or sharing hilarious tweets with eachother, they're touring the world with their show Summer of 69: No Apostrophe, where they give us the uncensored inside scoop on what their relationship is really like through jokes and songs.
For the couple who doesn't seem afraid to share anything, Love Story is no exception. Megan revealed that they started writing the book by having conversations in bed and recording them on their iPhones.
"We started reading the conversations, they're full of irreverence and hopefully tasty repartee, and we said, 'We don't think we're going to improve on these conversations,'" Nick said.
The book promises laughs, love, and everything in between in the story of their "epic romance". And even though we know we're not supposed to judge a book by its cover.. .we're pretty sure this is gonna be one great read!
You can grab your copy of Nick and Megan's love story when it hits stores on October 2.
In the meantime, check out Offerman's visit to the YH Studio where he gave us more insight into the origins of his & Megan's epic romance!
(Image via Charley Gallay/Getty Images)
- Meagan Gitelman, YH Contributing Writer