Ladies & Gentlemen, We Have a Tie!
Written by Katie Marzullo. Published: February 25 2013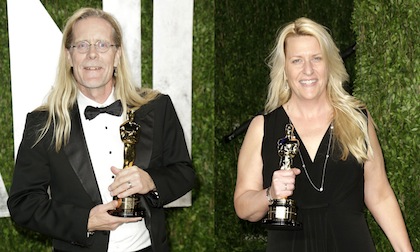 One of the more intriguing moments from last night's Oscars ceremony came while Mark Wahlberg was handing out awards for achievement in Sound with a talking teddy bear – but THAT was not the intriguing part!
The fun part came when Marky Mark opened the envelope to reveal the winner for Best Sound Editing and announced that it was a TIE! BothSkyfall and Zero Dark Thirty took home trophies for their work (the latter being that film's only hardware of the night).
It might have seemed strange, but it's not unheard of; In fact, it's happened FIVE other times in Oscar history!
1) 1931-32: BEST ACTOR
Back when the Oscars were still in their infancy (like, before they were even called the "Oscars"), both Fredric March andWallace Beery had to share the award for their respective performances in Dr. Jekyll & Mr. Hyde andThe Champ. These two were both Hollywood heavyweights in their day, so it's no surprise that Academy voters would have been split.
2) 1949: BEST DOCUMENTARY – SHORT SUBJECT
It's true, this category has been around for a while, and that year must have been a good one for short docs, as both "A Chance To Live" and "So Much For So Little" took home the prize.
3) 1968: BEST ACTRESS
Two divas, one award… What's the Academy to do? Split the difference! That's what happened in 1968 when voters just couldn't decide between (then) up-and-coming powerhouse Barbra Streisand(Funny Girl) and Hollywood legend Katharine Hepburn (The Lion In Winter). Babs may have felt slighted about having to share her first and only acting Oscar, but you can do a lot worse than sharing it with someone who had already won TWO and would go on to win a forth! Good company!
4) 1986: BEST DOCUMENTARY – FEATURE
Well, dadgumit, there's those pesky documentaries again! But this time, it was the long-form docs, and in 1986, it was a toss-up betweenArtie Shaw: Time Is All You Got, about the legendary bandleader, and Down and Out In America, which profiled middle American families hit hard by the '80s recession. Two VERY different sorts of films, for sure.
5) 1994: BEST SHORT FILM – LIVE ACTION
The last time the Academy was stumped was 19 years ago, when two short films took home top honors in their category: "Frank Kafka's It's a Wonderful Life" (uh, 'nuff said?), and "Trevor", which tells the story of the consequences a high school kid faces when he comes out of the closet.
Now, in 2013, sound editors Per Hallberg and Karen Baker Landers (Skyfall) and Paul N.J. Ottosson (Zero Dark Thirty) have the dubious distinction of being the Academy's sixth tie in their 85-year history! Congrats all around!
NOTE: For those wondering what the different between Sound Mixing and Sound Editing is, it's very simple – sound mixers are the guys who are actually on set recording the sound, while sound editors are the people sitting in dark, tiny editing bays putting the whole thing together in post-production. Boom.
(Photos via WENN)
- Katie Marzullo, YH Staff Editor