Oscars 2013 Shine Bright!
Written by Katie Marzullo. Published: February 25 2013
This past summer, I moved into an apartment that is literally around the corner from the Hollywood & Highland intersection, just a block away from the Dolby Theatre. It quickly occurred to me, as I unpacked a never-ending stack of boxes, that my neighborhood would become a zoo by February, when the Oscars would move in. A prophecy fulfilled!
I literally spent the entire weekend trapped within a square block, as all the streets around me were closed, including the freeways, bus stops, and train stations! The Academy does NOT mess around. After all, it is the biggest night in Hollywood, and has been for 85 years. I did, however, manage to do some snooping around and snapped a couple sweet behind-the-scene pics: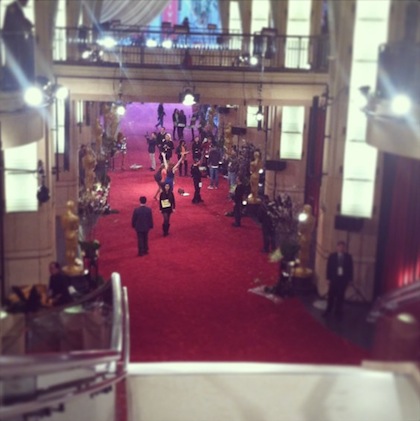 Back when the nominations were first announced, I predicted an interesting and varied evening, thanks to a plethora of quality, soon-to-be-classic films released in the past year. I was not disappointed! Les Miserables, Django Unchained, Silver Linings Playbook, Lincoln, Life of Pi,Skyfall, Amour, Zero Dark Thirty, and, of course, Argo all went home with some hardware last night, all of it well-deserved. Seriously, I don't think there was a single Oscar given out last night that people can find fault with. Life of Pi ended up being the "big" winner of the night, earning 4 awards, including a 2nd for director Ang Lee. Tying for second place were Les Mis andArgo at 3 a piece, and Lincoln, Django, and Skyfall (!) clocked in at 2 awards each.
But there were a few more "unofficial" awards that were given out last night… by me, mostly, but legit nonetheless. Including:
The Oscar for Most Award Season Wardrobe Malfunctions goes To… Jennifer Lawrence: The Silver Linings Playbook star followed up her weird flashing episode at the SAG Awards by pretty much face-planting as she attempted to climb the stairs to accept her Oscar for Best Actress in a Leading Role. But she recovered beautifully, and let's face it – if I won an Oscar, I'd eat stair too.
The Oscar for Most Touching Acceptance Speech goes to… Ben Affleck: After being snubbed for a Best Director nomination by the Academy, Affleck had the last laugh when his filmArgo took the top prize of the evening. And he used the podium to give a gracious, classy, and inspiring speech that would touch the soul of any artist.
The Oscar for Academy Prom King & Queen goes to… Daniel Day-Lewis and Meryl Streep: The moment it was confirmed that DDL was nominated for Best Actor for Lincoln, there was no doubt that he would win. The only thing left to speculate about was what would happen when he received his Oscar from last year's Best Actress winner, Meryl Streep. These two are movie royalty. And their on-stage brush did not disappoint, with DDL jokingly confessing that he was originally up for the lead role in The Iron Lady, whilst Streep had been Spielberg's first choice for Lincoln. You had to be there.
The Oscar for Best Eyebrows in a Supporting Role goes to… Jacki Weaver: 'Nuff said? Yes, I think so. Fierce, gurl.
The Oscar for Most Surreal Franchise Collision goes to… Daniel Radcliffe and Kristen Stewart: Yes, it's true, Harry Potter and Bella Swan together to present an award! And it went pretty much exactly how you would've expected.
The Oscar for Knowing Where Your Bread Is Buttered goes to… Christoph Waltz: It's official – if Waltz knows what's good for him, he will be in nothing BUT Quentin Tarantino films for the rest of his career. So far, he's 2 for 2.
The Oscar for Absolutely Freaking KILLING It goes to… Shirley Bassey: There's a reason this woman is a dame. Yeah,Jennifer Hudson got a standing-O, andAdele was lovely as usual… But Dame Shirley showed them both how it's done by bringing down the whole damn house with a rendition of her most famous hit, "Goldfinger". Goosebumps, y'all.
The Oscar for Best Use of a Famous Musical Composition goes to…Jaws Theme: The famous John Williams score was used to play off winners whose speeches ran too long. For this reason alone, I wished SO HARD that Spielberg would win and run out of time!
The Oscar for Best Hair Trend of The Night goes to… Middle-aged Guys With Long, Flowing Locks: Seriously, it was a great night for man manes.
The Oscar for Best Mulligan goes to… Catherine Zeta-Jones:When the actress won her Oscar for Chicago 10 years ago, she could not partake in any of the musical numbers on account of her being approximately 15 months pregnant. Last night, she got to make up for it by donning the bob wig once more and belting out her show-stopping number, "All That Jazz".
The Oscar for Kiss-of-Death Acceptance Speech goes to… Anne Hathaway: The world collectively winced when the actress gushed over her hubby after winning her (expected) Oscar for Best Supporting Actress… Girl, you saw what happened to Sandra Bullock! Abort, abort!!!
The Oscar for Best Nickname for a Film Legend goes to… Daniel Day-Lewis: The now 3-time Best Actor winner calledLincoln director Steven Spielberg "skipper". I have nothing else to say.
The ceremony on the whole was quite effective – in the Academy's attempt to mix things up and appeal to a younger, edgier crowd, they did so by going surprisingly old school! I've never pretended to be a fan ofSeth MacFarlane, but I have to say, he knocked it out of the park, finding that fine line between appealing to the audience AND appealing to the viewers and walking it beautifully. His jokes were off-color but smart and delivered with an endearing charm. He was completely self-aware without coming off as nebbish. Long story short, he did a great job.
A successful Oscars Night all around!
Do you agree? Let us know YOUR favorite moments from the night!
(Top image via WENN)
- Katie Marzullo, YH Staff Editor