Krampus Is Coming -- To a Theatre Near You!
Written by Kevin Donaldson. Published: September 18 2015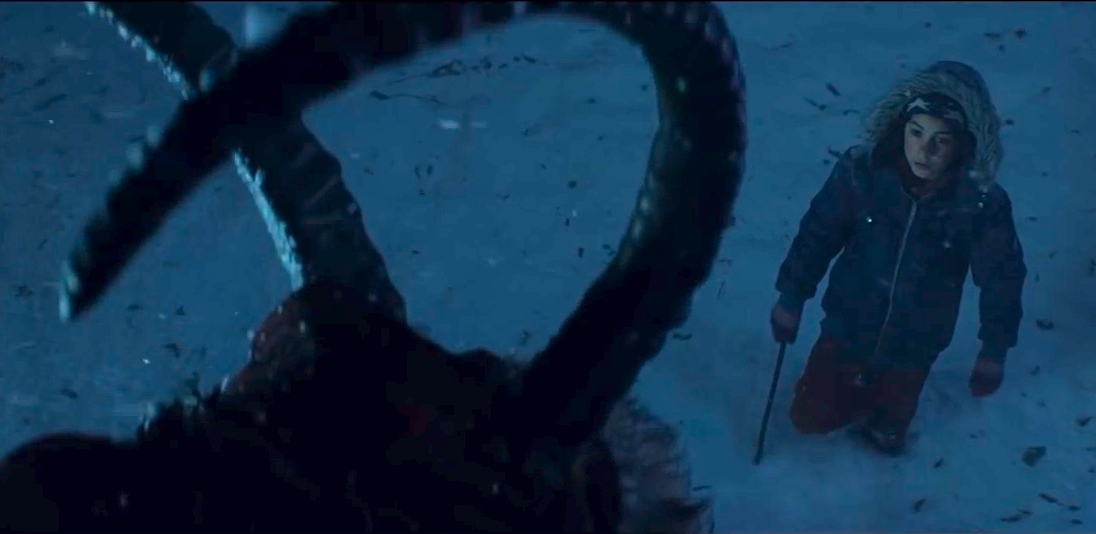 It's that special time of year when it's a little too early for Halloween yet there's already Halloween candy and decorations everywhere. We can forget about it being too early for Christmas, though, right? WRONG. Christmas is bleeding its way into our CVS and Walgreen pharmacies faster than we might expect. With Christmas and Halloween colliding, why not make a Christmas horror film for the whole family to enjoy? So let's take a look at the trailer for the upcoming Krampus starring Adam Scott andToni Collette and co-written and directed byTrick R' Treat filmmaker Michael Dougherty:
Looks like it'll be equally funny and scary, like Christmas Vacationmeets Alien. But if you were wondering what was going on with that kid ripping up a letter to Santa and evoking the wraith of Krampus, I can tell you why that is -- Krampus is actually a very old German Alpine folklore. This demon's origins actually pre-date Santa and even Catholicism, as Krampus was originally a pagan God of Witches. As the years went on and paganism lost its charm all over Europe, Krampus too adapted with the times. With the birth of Santa Claus folklore in Germany came Santa's polar opposite sidekick, the Krampus we know and love today. We all know that Santa has a Naughty and Nice List, and the good children would get presents while the bad children would get lumps of coal, but that's not how they do it in Germany. No, in that country, the Naughty List is Krampus's territorym, and the only lump of coal you'll be getting is the one you make when you poop your pants after seeing him, because Krampus kidnaps and kills all the naughty children. Talk about scared straight!
Things kind of vary on Krampuss' techniques, though, when dealing with naughty children. In some lore, he kidnaps the kids and eats them; in others, he kidnaps them and takes them to hell. No matter what manner in which Krampus captures you, when you've been naughty, it's clear that you aren't in for any visions of sugar plums dancing in your head… unless you replace sugar plums with hatchets or something.
But why would we make a movie about Krampus in America? Well, over the past few years, Krampus has been gaining some traction over here in the States. I even have noticed a trend that the Krampus obsession is present in all of my friends who do animation, and some of them are Jewish and don't even celebrate Christmas. So Krampus, in a way, is bigger than Christmas in some cult followings out there. This has brought some controversy here in America, where some people believe that this new fan following of Krampus is part of what they call "a growing movement of anti-Christmas celebration."
Do you know anyone who actually hates Christmas? Because I don't. But then again that might just be because I choose to hang out with people who aren't awful. Anyway, the people saying these things about Krampus and other non-traditional Christmas celebrations are probably lacking creativity when it comes to celebrating Christmas, or want everybody to honor it their way. Like in my family, we do the typical gift exchange, we have gag gifts, and eat Italian food. Not entirely traditional but still within the spirit of the season. Things take another turn later on when the real celebration comes at night. We all get drunk with friends and family and sing Christmas carols, usually "12 Days of Christmas" but normally only singing "5 golden rings" clearly. Then, at some point in the night, we give out a loving award to whom in our family has been the biggest douche all year. (Could my Uncle Jeff win back-to-back this year? Stay tuned!)
So, no matter how you choose to celebrate, or not celebrate, Christmas, remember two things… (1) HALLOWEEN COMES FIRST!!! And (2) check outKrampus in theaters when it comes out on December 4. Who knows, you may find a new holiday classic to celebrate with every year!
(Screenshot via YouTube)
- Kevin Donaldson, YH Contributing Writer