'In a World' of Hollywood Voice Over Actors...
Written by Katie Marzullo. Published: June 13 2013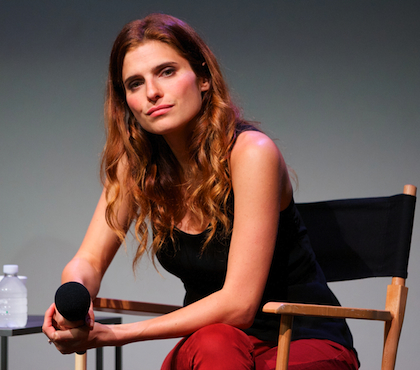 There are some things in this world that we just take for granted – breathing, toilets, Starbucks on every corner, that movie trailer voice guy… Now, imagine if, one day, those things were either just gone or replaced with something else. Like, say, a FEMALE movie trailer voice guy. What the WHAT??
I know, kinda blows the mind, right? We're just so used to hearing our usual trailer voice-over that we never even stopped to think what would happen if we plunked down into our theatre seats, saw that familiar green preview graphic, and then were greeted by a LADY uttering those three magical words, "In a world…"
That is just the sort of scenario a new film, appropriately titled In a World…, aims to explore. The movie, based on a script that won an award at Sundance, was written, directed by, and stars actressLake Bell and delves deep into the oft-overlooked world of Hollywood voice over talent. Bell plays a vocal coach who makes a pretty comfortable living providing her pipes and kooky accents to films and commercials and also helps other actors behind the mic… But what she REALLY wants to do is break that glass ceiling separating her from those movie trailers!
This certainly looks like a really charming/quirky slice-of-life piece, with Bell at the center of it all showing off her vocal acrobatics! That would be plenty enough for me, but her supporting cast includes Ken Marino, Nick Offerman, Demetri Martin, Rob Corddry, Geena Davis, etc, etc, which ups its appeal considerably. The film premiered at Sundance earlier this year and will be screened at the Los Angeles Film Festival this weekend. Here's hoping it gets picked up for national distribution – this is one flick that NEEDS to be seen in the multiplex!
(Photo via WENN)
- Katie Marzullo, YH Staff Editor