ICYMI: New 'Jurassic World' Trailer, Will Smith Teams with NatGeo, Ryan Reynolds Gets His Pokémon On, & More!
Written by Kevin Donaldson. Published: December 09 2017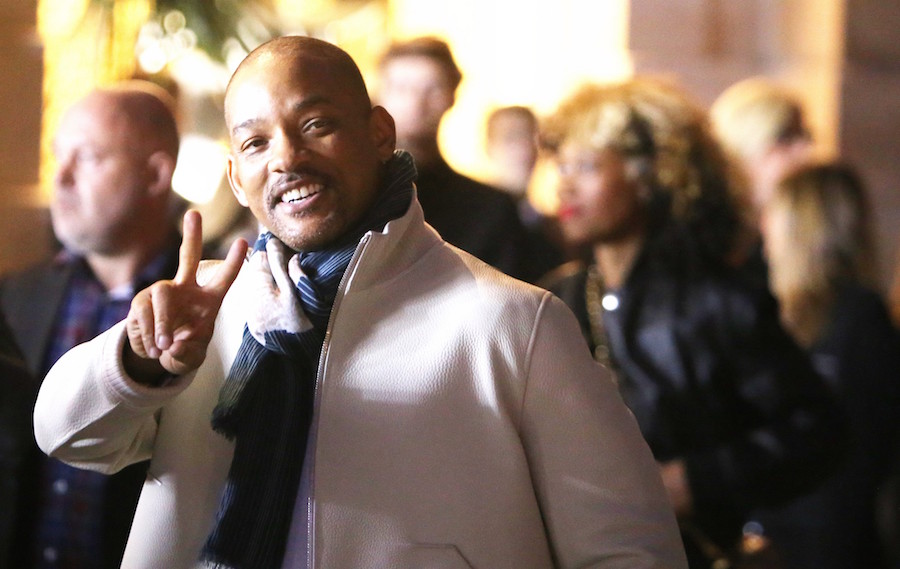 It may be getting hot in some parts of Los Angeles but it's also getting hot with new projects in the works. Let's take a look:
Will Smith Presents Us With "One Strange Rock"
Over the past few years, one thing has become apparent about the Smith family… they're kinda quirky. From strange interviews withJaden and Willow Smith on their upbringings and interesting world view, to the fact thatJada and Will gender-swapped their names for their kids, to Jaden's entire social media history, there's something otherworldly about these folks. Now it appears that Will Smith wants to bring you to a strange rock called... Earth.
NatGeo has teamed up with Smith, director Daron Aronofsky(you've all heard of this year's Mother!), and producerJane Root (former president of The Discovery Channel) to bring us a documentary called "One Strange Rock". Recently, Smith took to social media to post a teaser for the series, due out in March 2018:
As a fan of documentary series like "Planet Earth", that short clip gives me hope for something in a similar vein but possibly more on the trippy side -- almost like every episode will have the otherworldliness of the deep-sea episode of "Planet Earth". As far as Smith's involvement in the show, well, it's been announced he will have the curious title of Host. NatGeo previously did a docuseries on African wildlife where actor Alec Baldwin narrated, so this is nothing new for them to use a famous actor in their shows;, however, he was billed as a Narrator, not a Host. What Smith as "Host" means, I'm not sure. He could be narrating over all the visuals or it could be him popping up every now and then on screen à la Neil DeGrasse Tyson in "The Cosmos". Until whenever this drops in March of next year, we just won't be sure.
Freddie the Phoenix
Multiple times since its inception, the Freddie Mercurybiopic Bohemian Rhapsody has fallen and then been resurrected. This current fall season, it seemed like things were going forward just fine with lead actor and "Mr. Robot" starRami Malek already shooting scenes and having his singing voice mixed in with a Freddie Mercuryvocal impersonator. Director Bryan Singer was in the director's chair and all seemed poised to go well for the shoot… but there was a problem, and it was apparently Singer.
The details are all over the place as to exactly what happened, and a lot of finger-pointing has gone on with Malek complaining to the studio about Singer's unprofessionalism, crew saying that Singer went AWOL during Thanksgiving for three days, and Singer claiming he was taking care of a sick relative. Now, coupled with the fact that Fox has kicked Singer and his company Bad Hat Harry off their lot, it seems like only bad things are ahead for Singer, but what is to come will be seen soon I'm sure. For now, it seems thatBohemian Rhapsody is dead… except it isn't.
This all happened this week in a matter of hours it feels like. Singer was gone, Malek and crew were presumably happy but also quite possibly worried about their future, and that's when Fox hired directorDexter Fletcher. The UK-born director actually got his start in the business as an actor in the '70s to today, appearing in a wide array of films from Bugsy Malone toKickass, and as a result of his acting work, he even became great friends with the late Alan Rickman, who served as best man at Fletcher's wedding. Then in 2011, he directed his first film entitled Wild Bill, then another in 2013 entitled Sunshine on Leith, and finally his most recent in 2016 Eddie the Eagle, which ironically starred a former collaborator of Singer, Hugh Jackman.
As it stands right now, Bohemian Rhapsody is still scheduled to be released Christmas, 2018.
Little Mermaid Director Talks
While we're on the subject of directors, it appears that Disney is getting close to choosing a one for its Little Mermaid reboot. At this time, it is not finalized, but it has been reported that Disney is placing multiple-Disney director Rob Marshall as their top choice. His work with Disney has spanned films Pirates of the Caribbean: On Stranger Tides,Into the Woods, and the upcoming star-studded 2018 filmMary Poppins Returns. Marshall has also directed musicals both on stage and on film, with his most successful musical movie being the Academy Award-winning Chicago.
While things are possibly going ahead with a director, it still remains to be seen who will be cast. Not much news has come out on that front since Chloe Grace Moretz left her role as Ariel for unknown reasons; however, Beauty and the Beast co-starAudra McDonald has expressed interest in playing the villain Ursula. As of now, there is also no release date or year to speak of.
Detective Pikachu Finds a Cast
You may remember Summer 2016 as a time when people of all ages were glued to their phones and walking into oncoming traffic in pursuit of catching Pokémon, thanks to the Pokémon Go app. Around this time, the little pocket monsters and their franchise was seen as a hot commodity by Hollywood and immediately plans to make an adaptation of the Japanese-only released game Detective Pikachu got to work. Next to nothing outside of hiring two writers has come up until now, and it appears that the film will star "The Get Down" actor Justice Smith in an unknown role and none other than freaking Ryan Reynolds as Detective Pikachu.
Well, that was unexpected. Why Reynolds? Well, since we only have summaries and Japanese language videos to go off on for the Detective Pikachu game, we can gather that this Pikachu is very different from the one that is the face of the franchise. Unlike most of his other Pokémon counterparts, this Pikachu can not only talk but his voice is gruff, and the only reason I can think of is to make him seem more like a hardboiled detective like in old film noir movies. I've even read Detective Pikachu shares the womanizing nature of these classic characters he's modeled after, often wooing Pika-ladies during missions. So while from the outside Ryan Reynolds may seem like an odd choice, if you get to know this game, you will see he really is the perfect choice:
Are You Afraid of the Dark? Release Date
The film adaptation of the Nickelodeon's popular '90s answer to "The Twilight Zone" looks like it'll be released in time for Halloween 2019, with the official statement saying "October 11, 2019", to be specific. Outside of this film being made by Paramount, Itwriter Gary Dauberman penning the script, and now this release date coming out, not much is known about the production.
What we do know is a lot about the original show, which was actually Canadian, so it served as a launching pad for young Canadian actors likeRyan Gosling who have grown up to be... well... Ryan Gosling. While he's not the only one, it would be cool to see if any of them show up in a cameo or even a main role since actressElisha Cuthbert did have a regular role as one of the members of the spooky tale-telling club the Midnight Society.
trailers. Trailers. TRAILERS!!!!
Jurassic World: Fallen Kingdom – You may or may not have seen any or all of these. So if you haven't seen any of them since they keep coming out randomly, here's all of them so far. They need to put the whole thing out already:
Oh wait… they did!
"Black Mirror" – Finally, Season 4 is here and looks bigger than the last, but will it be better? Either way, this December 29 it's going to be a wonderful world… albeit a dark and tear- inducing one:
"Batman Ninja" – So anime isn't everybody's cup of tea, and there's plenty I don't like, but holy batcrap does this look great! A cool new reimagining that looks to stand alone on its own:
"Krypton" – Word is this is a prequel series about Superman's grandfather. Just so long as it's not about Superman, I'm good. We need something different:
California Fires
As I'm sure you have heard, Southern California is currently being plagued by wildfires. If you are local and would like to help, there are plenty of places like the Salvation Army and LA Kitchen looking for volunteers. Outside of California? No problem. From what I'm hearing, The Thomas Fire Fund is legit. Stay safe, everyone!
(Image via WENN)
- Kevin Donaldson, YH Contributing Writer