Demi Lovato's "Tell Me You Love Me" Video Brings All The Feels!
Written by Amanda Baltazar. Published: December 08 2017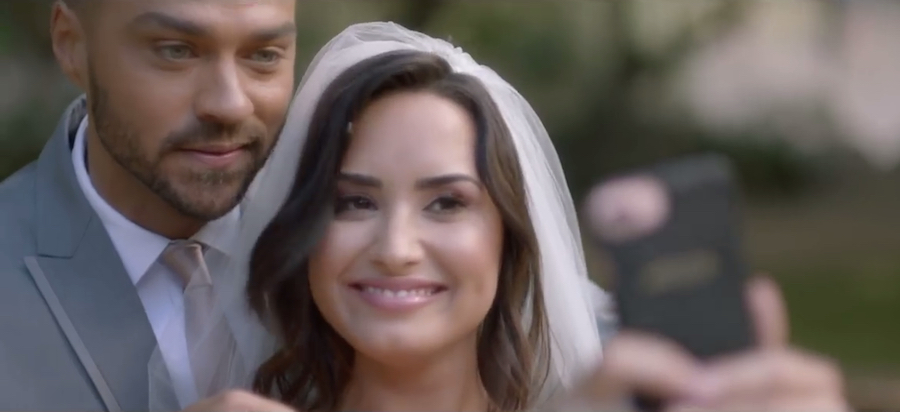 My queen,Demi Lovato, premiered her music video for her song "Tell Me You Love Me" on December 1st and I am absolutely sobbing. 
Quick background -- The video starts with Demi and her boyfriend, played by sexy "Grey's Anatomy" actor Jesse Williams[*swoon*]; he proposes to her with a beautiful ring and the video continues with clips of the two fighting, making us question whether the two will make it to the wedding. Demi whispers, "Tell me you love me," and cue the track. You can understand why this video hits so hard for a lot of people. 
Check it out for yourself here!
My heart...
I may have shed a tear watching this video, partly because of the heartbreak but also because of the power the story holds. 
The lyrics of the song clearly depict a story of a couple and how difficult it is to make things work. As the chorus progresses, you start to feel the dependency in the relationship and how love is such an important thing to hold on to by stating "you ain't nobody 'til you got somebody." The lyrics continue, "Everything I need is standing in front of me / I know that we will be all right..." At this point in the video, Demi and Jesse are exchanging rings at their wedding, and then Jesse explains that he can't marry her, they're not ready, and leaves her. 
MIC DROP
I died. 
The tone of the video has dramatically changed and Demi stands there in her wedding dress with an amazing choir behind her singing her soul. The anger, the sadness, the heartbreak is so powerful but this time the scene cuts to Demi in her room singing the same lyrics: "Everything I need is standing in front of me / I know that we will be alright." 
Although it's not clear who or what Demi is looking at, it's in this moment that I think that Demi is singing and looking in a mirror and talking to herself. I truly believe that she realizes that she doesn't need anyone but herself to be happy and that truly everything will be alright. Demi, once again, promotes self love and the importance of finding value in yourself because YOU are powerful. YOU are strong and YOU are capable. Everyone struggles with heartbreak but just as Demi inspires "everything will be all right."
If you watched her YouTube documentary, Demi Lovato: Simply Complicated, you get some insight into Demi's journey and how she has worked hard to empower herself and through this her fans. She is one amazing human being and we can't get enough! 
(Image via DemiLovatoVEVO)
- Amanda Baltazar, YH Contributing Writer