ICYMI: Netflix Debuts Animated Trailer For World Class Thief Carmen Sandiego!
Written by D.J. Rivera. Published: January 13 2019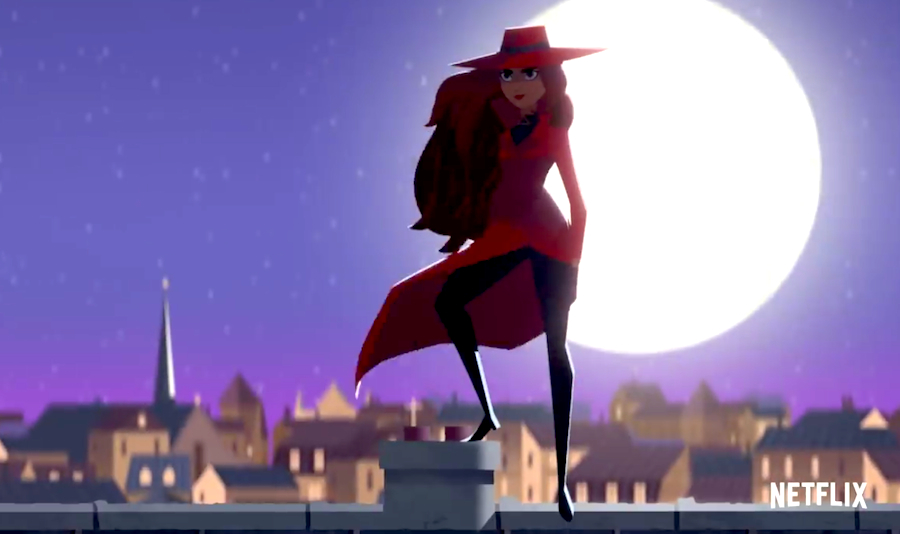 One of the greatest characters to come out of the '80s and '90s is not only getting a reboot but she's getting a badass new origin story. For decades, people have asked, "Where in the world is Carmen Sandiego?", but no one ever thought to ask, "Who is Carmen Sandiego?" Now, the red trench-coated super thief is about to make her triumphant return in live-action, but before that, Netflix has developed what looks to be an epic animated series exploring just how Ms. Sandiego became the world's most wanted woman in red.
This time around, we get to see when the legend of Carmen Sandiego began as we see how she got her start as a master thief. The Netflix series paints the globe-trotting criminal as somewhat of an antihero. During her time at V.I.L.E. Academy, where she trained to become a master thief, she learned that stealing isn't a game and it can harm people. So the only way to stop V.I.L.E.'s master thieves is to do what she does best -- steal what they are after first. While she is publicly perceived as a master criminal, she is in reality somewhat of a modern day Robin Hood. The story follows the journey of how she became the world's greatest thief, and it does so with great animation and a sleek new style.
"Jane the Virgin" star Gina Rodriguez will be voicing the titular character, which is probably the best decision ever made in the franchise's history. Rodriguez is blowing up right now, and who better to turn the infamous thieving villain into the type of figure kids can root for at home? She brings a brand new attitude to the character as well as her signature wit, which is bound to resonate well with audiences. And she will not be taking on the ACME Detective Agency and V.I.L.E. alone. By her side will be "Stranger Things" star Finn Wolfhard, who plays her pal Player. 
Most of us spent our childhood chasing Sandiego in the educational game played in school where she was always just outside of our grasp. Between the games and the 3 TV series that came along with it, it's no argument that she is a pop culture icon. Her infamous theme song would get stuck in your head for days where you would just bide your time until you got another crack at the master thief. She has been pursued all over the Earth, even throughout time, and now the world gets to see where it all began. So if you are still asking the question, "Where in the world is Carmen Sandiego?", you don't need any special detective skills to find out she'll be hiding out on Netflix. 
The first season of this animated take on Carmen Sandiego will be available starting January 18, 2019.
(Image via Netflix)
- D.J. Rivera, YH Contributing Writer