ICYMI: First Glimpse of Disney's Upcoming Live-Action 'Aladdin'!
Written by Brooke Sharland. Published: October 13 2018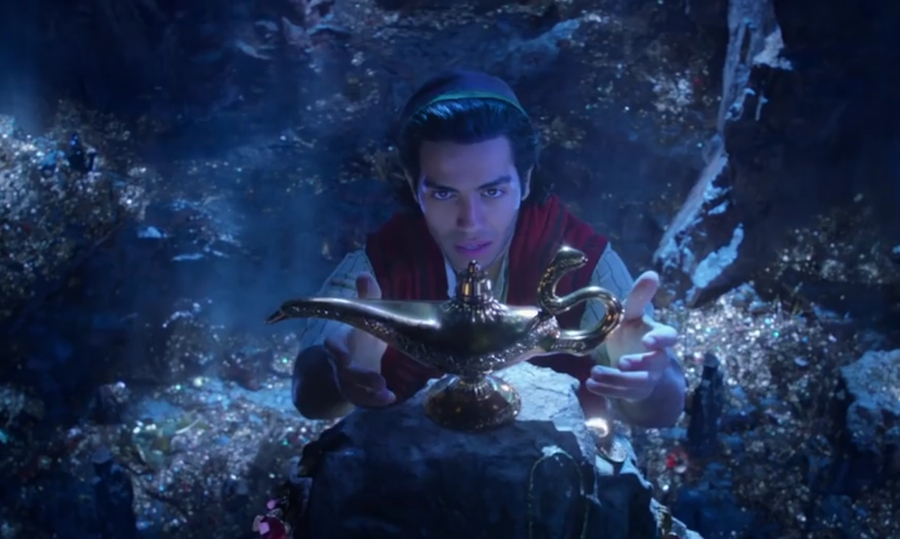 Okay, I'll admit it, I am a HUGE Disney nerd. It's in my bones! It's almost embarrassing at times, but I take pride in my knowledge of all things Disney. That being said, one of my favorite Disney movies of all time is the 1992 classic, Aladdin. The characters, the music, the comedy, it's all great. And I'm totally here for this new trend of turning the best Disney classics into live-action films! We already have some amazing Disney live-action adaptations of classic animations, such as The Jungle Book,Cinderella, Beauty and the Beast, and more. And in the next two years alone, we're gonna get Dumbo,Aladdin, and Mulan. CRAZY.
Anyways, we now have our very FIRST LOOK at the all new Aladdin.
This week,Will Smith, who will be playing Genie in the film, took to Instagram to unveil the first poster:
Let him out! We want to see him blue too. Besides, haven't you heard? 10,000 years can give you SUCH a crick in the neck. Let him out, now! I can't wait til we get our first glimpse at Smith's Genie.
Also worth noting is how similar it is to the 1992 poster!
The next day, Disney released the first official teaser trailer for the film. Watch for yourself and scream with me:
We see the dunes of Agrabah, with the palace off in the distance. A bird (Iago? Is that you?) is flying around. And then, slowly, "Arabian Nights" starts playing in the background as Iago flies directly over the kingdom of Agrabah and off into the night sky. We approach the Cave of Wonders. "Only one may enter here," it says. "One whose worth lies far within. THE DIAMOND IN THE ROUGH." So spooky!!! And then, BAM. The music so perfectly transitions from "Arabian Nights" into this darker, slower, more intense version of "Friend Like Me". It seriously gave me chills! We see the shiny insides of the Cave of Wonders, the famous lamp glistening at the top. And then, BOOM, we get our shiny gold title card as "Friend Like Me" comes to its intense ending. In the final shot, we see our diamond in the rough himself, Aladdin (hey Mena Massoud), reach for the lamp.
The film is directed by Guy Ritchie, with Disney legendAlan Menken writing the score and co-writing new songs with award-winning songwriters Pasek & Paul(of La La Land and Dear Evan Hansen fame). The film will of course include all of your favorite songs from the original, which were written by Menken, Howard Ashman, and Tim Rice, as well as two new songs. Honestly, I can't WAIT to hear Will Smith's version of "Friend Like Me". It's gonna be amazing, I can already tell. Also, I kind of hope one of the new songs is for Jafar, how cool would that be?
Disney'sAladdin hits theaters May 24, 2019. Get ready for it to take you to "A Whole New World"... (see what I did there?).
(Image via Walt Disney Studios)
- Brooke Sharland, YH Contributing Writer