Hulu's "Love, Victor" Is Almost Here & We Are Hype!
06-09-2020 by María Calvo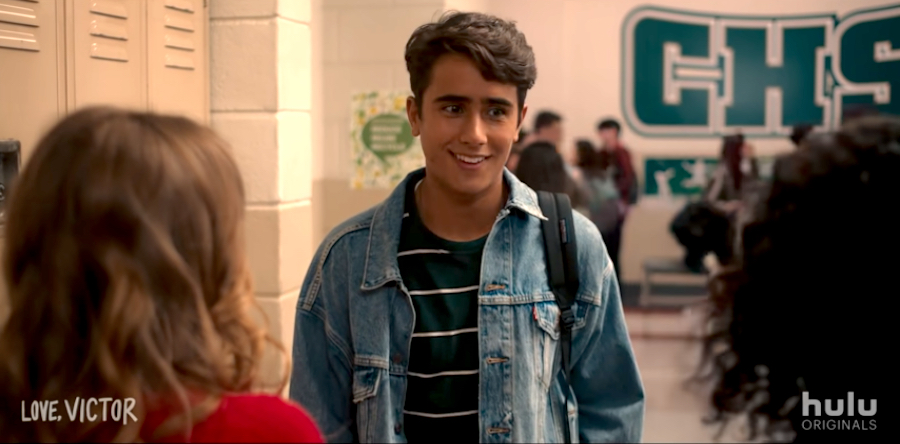 ( © Hulu)  
The coming-of-age rom-com series that we don't deserve but definitely need is out June 19 – and we're dying to watch it as soon as we can!

If you are wondering why this show is so necessary and how it came to be, then you've definitely come to the right place: let's talk about the plot, cast, and history of the "Love, Victor" series!
Most people are familiar with the "Love, Victor" story from the movie adaptation Love, Simon (2018) starring Nick Robinson and Katherine Langford. The project had all the tropes from a classic teenager movie, but with something special that made it stand out for the best: it was the first time a major studio focused on an LGBT character!
The original concept and first version came from the best-selling book Simon vs The Homo Sapiens Agenda by Becky Albertalli. While remaining faithful to its source, the movie explored relevant issues regarding today's youth while being absolutely hilarious – and, long story short, it was a total success!
So when a TV show was announced just a year later, everyone was pretty excited and ready to give it a shot. Disney+ had the rights, and it looked like the perfect opportunity to educate, normalize, and represent the LGBT community. But fans were soon faced with disappointing news: Disney had decided that the series was "too mature" for their subscribers and unexpectedly moved the project on to Hulu.
Although it's common knowledge that Hulu has created fantastic shows ("The Handmaid's Tale", "High Fidelity", and "The Great" are just a few of them), their reach is significantly smaller than Disney's, and international fans were upset that they wouldn't get to see "Love, Victor" come to life since Hulu isn't available in many countries.
However, once the first sneak peek and trailer were released, people were once again optimistic: it looked really good! Set in the same universe as Love, Simon, the series focuses on Victor, a new student who's trying to figure out who he is as he comes to terms with his sexuality.
Plus, the casting was on point: new, young actors were lucky enough to show their talent! Both Michael Cimino (who plays the shy Victor) and George Sear (who plays Benji, Victor's romantic interest and most recent crush) have great chemistry together; and you can tell that they were very comfortable in their roles just by looking at them.  
Also, whenRachel Hilson ("The Good Wife", "This Is Us") appeared in the first trailer, she quickly became one of the most anticipated characters from the series – her effortless beauty and tenderness won the fans' hearts right away!
But there is one last surprise for the fans of the original movie… Nick Robinson was back, but this time as a narrator and producer! It really feels like Hulu has taken this show's responsibilities and hopes pretty seriously, and fans have soon realized that perhaps this is the best platform for "Love, Victor" after all.
Honestly, we have nothing else to ask for, except maybe to indulge our impatience and give us another sneak peek (please)! Now, we only have to wait untill June 19 to finally watch the first season – But until then, you can check out the trailer below and tell us what you think on Twitter!