Highlights From The Weirdest Emmy Awards Ever!
09-21-2020 by Katie Marzullo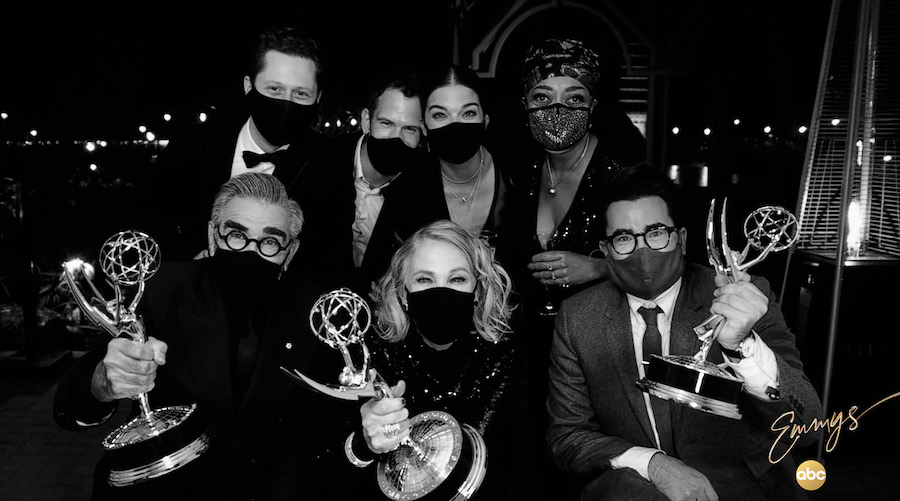 ( © Frank Ockenfels/ABC via Getty Images)  
Last night's Emmy Awards were unprecedented in many, many ways, and they will go down in history simply for existing. So without much further ado, let's jump right into the highlights!

Remote Control
For the first time in its 72-year history, the Primetime Emmy Awards were held remotely. What exactly does this mean? Well, for starters, the broadcast was moved to the (very roomy) Staples Center where hostJimmy Kimmel slung jokes at an arena full of empty seats (cheesy laugh track notwithstanding) with only a select few in-person presenters (like Jennifer Aniston, the entire principle cast of "Black-ish", and Ray Parkwith an alpaca, for some reason…) while the nominees waited for their big moment via Zoom. Several awards were announced remotely by essential workers out in the field.
There was no official red carpet, but that didn't stop stars like Regina King and Kerry Washington from striking a pose in their couture from wherever they were watching the show.
Likewise, many nominees moved the formal affair to their homes or elsewhere, dressing up with nowhere to go in their own homes or getting together with a select few of their cast and crew, as was the case with "Big Little Lies" and "Schitt's Creek".
The actual handing out of the award trophies was quite frankly the most bizarre, 2020-esque aspect of the whole evening. A team of people in hazmat suits were sent out to actually drive to wherever the nominees were watching the show, stand outside their door with an Emmy in their hands, and, depending on the outcome, would either hand-deliver the trophy to the winner or just wave goodbye and leave if they lost. If that sounds too weird to be true, well, nominee and star of Hulu's "Ramy", Ramy Youssef,recorded the proof and posted it on Instagram!
While watching the whole affair unfold, I couldn't help but weigh in my mind the pros and cons for the losing nominees – on the one hand, they still had to go to the trouble to set up a Zoom call, get maybe 5 seconds of screentime if the director decided to switch to their feed at any point, and then they were gone forever. They didn't even have the benefit of a red carpet or a dope after-party to make up for going home empty-handed. (I'm thinking specifically of "Marvelous Mrs. Maisel" nominee Alex Borstein, who set up an entire boudoir photoshoot on her back patio only to receive a few seconds of screentime before the show went to commercial.)
On the other hand, though, the commute was a lot easier, and if a nominee did lose, they only had to smile politely for a few seconds before the feed was shut off and then go back about their business, with no obligation to stick around and pretend to be gracious and happy for the winners for the rest of the night. So, you know… choose your poison!
#SchittsSweep
The big story of the night, other than the remote broadcast, was the absolute domination of "Schitt's Creek" in the comedy categories! In short, it swept them all – Best Series, all 4 acting categories, Best Writing, and Best Directing. It's never happened in the history of the Emmys, at least not in the Comedy categories.
The achievement is all the more impressive when considering the show's history. It was somewhat of a late bloomer, having a little cult following in Canada, where it was conceived, produced, and originally broadcast. But when POP picked it up for network syndication in the States, and Netflix started to stream the first couple seasons, the word got around, and slowly but surely more and more people discovered this gem of a series. The show ended pretty much at the height of its popularity; who knows how many more awards it could have won if it had stayed on the air!
Congrats toEugene Levy, Catherine O'Hara,Daniel Levy, Annie Murphy, and the rest of the cast & crew, who all watched the Emmys together at their own little shindig in Canada!
"Succession" is the Successor
For years – nay, decades! – HBO has dominated at the Emmys with powerhouse tentpole projects like "The Sopranos" and "Game of Thrones". With the latter bowing last year and no longer in contention, HBO has no plans of going with it. Their series "Succession" appears to be the new HBO property to beat, having already collected a Golden Globe for Best Drama Series earlier this year, and they made their dominance official last night, winning 7 awards, including Best Drama, Lead Actor (Jeremy Strong), Writing, Directing, and Guest Actress. Creator Jesse Armstrong accepted his award with something new – an "UN-thank you" speech.
The Age of "Succession" is upon us, fam!
Welcome to the Club, Zendaya!
We were all happy as could be when we found out that Zendayawas nominated for Best Lead Actress in a Drama Series for "Euphoria", but up against the intimidating likes of Sandra Oh, Jennifer Aniston, Laura Linney, Olivia Colman, and Jodie Comer? It was going to be a TOUGH uphill climb…
But NAH we should not have doubted our gurl! Zendaya not only won the Emmy but she set a new record, becoming the youngest ever winner in this category! Proving that her Disney days are long behind her and she is the Real Deal. Look out, Oscar, you're next!!!
Who's Watching the "Watchmen"? Emmy!
The other big winner of the night was HBO's limited series, "Watchmen", which picked up a whopping 11 Emmys, including Best Limited Series, Supporting Actor (Yahya Abdul-Mateen II), Writing, and a 4th trophy for Regina King to add to her growing collection! Creator Damon Lindelofdedicated their Emmy win to the victims of the 1921 Tulsa Massacre, which featured heavily in the series.
So yeah, this is an Emmy Awards that will be remembered for a long, long time, and not just because of who did and didn't win. For years, people have been complaining about the Emmys being "too boring" or expressing a wish that it be spiced up somehow… Well, be careful what you wish for!!!
Check out the full list of winners here. What were some of YOUR favorite moments from the night? Let us know!