HIDDEN ON STREAMING: "Terrace House"
Written by Kalia Kornegay. Published: May 23 2018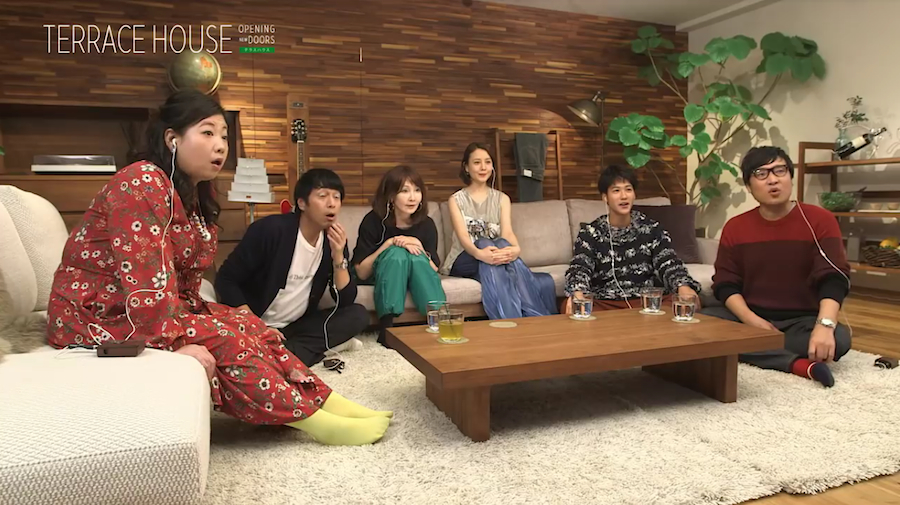 Reality show fans, are you looking for a break in your routine? Something different to watch in between your celebrity reality show of choice and waiting for Jersey Shore to come back? I've got the show for you!
"Terrace House: Opening New Doors" on Netflix follows six strangers, three male and three female, living out their best lives in a beautiful house while a panel of Japanese celebrities comments on their adventures in-studio. It is probably the most laid-back reality show to ever exist. Guests can leave the show whenever they want, find jobs within the location they're staying in, date other guests, and just generally do whatever. If you're asking "Where do I apply?" you're not alone!
The "Terrace House" franchise first came out in 2012 on Japanese broadcasting channel Fuji Television and then premiered as a co-production between Fuji and Netflix as a Netflix Original in 2015. Since the debut on Netflix, the show has had three seasons (including "Opening New Doors"), one subtitled "Boys and Girls in the City" where the contestants stayed in a house in central Tokyo, and "Aloha State" in Hawaii, its first overseas broadcast.
This season follows our new batch of housemates in Karuizawa, a winter sports wonderland a few hours away from Tokyo. The first round of six features three girls, Ami Komuro, Mizuki Haruta, and Tsubasa Sato, and three guys,Yuudai Arai, Taka Nakamura, andShion Okamoto. Time will tell if anyone decides to bail, but from the start everyone comes in with some relatable goals (shout out to Shion for hoping viewers would "swoon over" him this season).
This now Netflix classic is sure to be a hit for the reality show lovers out there who feel like switching things up a bit. After a long day sit back, relax, and enjoy the mostly drama-free hit that is "Terrace House: Opening New Doors"!
(Image via Terrace House/Fuji/Netflix)
- Kalia Kornegay, YH Contributing Writer