HIDDEN ON STREAMING: 'Justice League: War' (2014) & 'Justice League: The Flashpoint Paradox' (2013)
Written by Kevin Donaldson. Published: March 23 2016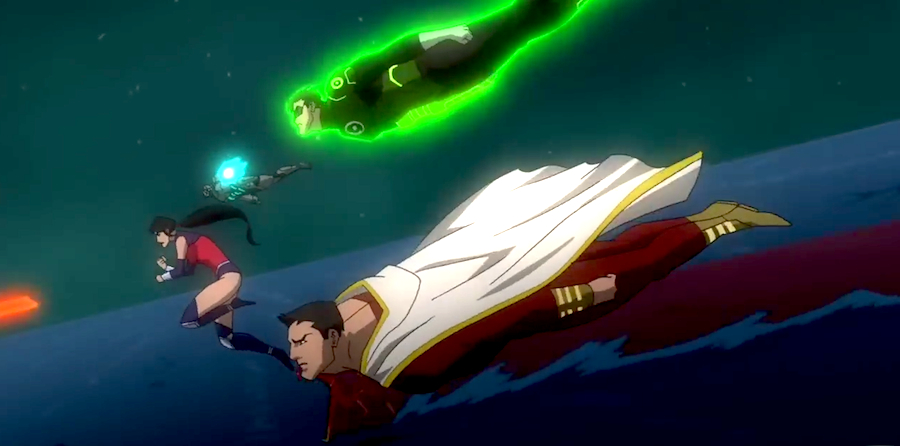 Batman Vs. Superman: Dawn of Justice is coming out this week, and while fans are anticipating what will happen with the prospect of a full-blown Justice League movie coming out, many may not know that there already are some great ones. We're going to check out, not one, but TWO such movies. Seriously. More than one but less than three. Okay, that's enough… Let's jump right into this with --
Justice League War
This is an origin movie about how the Justice League came together based on a comic book series of the same name, although there are some differences. Right off the bat, we're dropped into the DC Universe and we see how the superheroes are all universally feared by the public, yet when creatures descend upon Earth followed by their master -- the most feared DC villain of all, Darkseid -- only these heroes can save the day if they work together.
But this movie isn't just all about action. It actually has a great deal of humor, mainly coming from The Green Lantern saying whacky things, but also acting as the straight man to a hilariously deadpanned Batman, who amongst the other superheroes is an urban legend until they meet him. One by one, all these heroes with extraordinary abilities are shocked to find out the coolest, most bad@$$ one them is a regular human being. Check out the trailer:
It's interesting because this was a straight-to-DVD animated movie yet it stars a lot of mainstream actors. Some notable cast members include Alan Tudyk of "Firefly" fame as Superman,Michelle Monaghan of "True Detective: Season One" as Wonder Woman, and Sean Astin of The Goonies andThe Lord of the Rings as Shazam -- and even playing the little kid that turns into Shazam! If you're looking for a superhero movie that doesn't take itself seriously at all, yet at the same time does take itself seriously, then this is the perfect flick for you… and it's streaming for free on that Netflix account you have that isn't yours!!!
Justice League: The Flashpoint Paradox
Released almost a year before War, The Flashpoint Paradoxserves as a sort of stand-alone sequel, which mainly focuses on The Flash and Batman, but not Bruce Wayne's Batman. Let me explain. One day, after the Justice League thwarts a crime committed by many of The Flash's enemies, including his archenemy Reverse Flash, The Flash wakes up to see the future has changed. He no longer has his speed powers, Wonder Woman and Aquaman are in an all-out war with the rest of the world is stuck in the crossfires, Superman is no where to be found, and Batman fights with guns.
The most interesting thing here is that the superhero who is debatably the most against guns and murder is using a gun and shooting to kill. Well, it's because, in this universe, one of the changes is that Bruce Wayne is killed and his parents survived, leaving Thomas Wayne (Papa Wayne) to pick up the cape and cowl to shield his identity as he pummels crooks into oblivion. Take a look at the trailer:
As withWar, Paradox has a surprising plethora of mainstream, live action actors. The list includes Justin Chambers from "Grey's Antaomy" as The Flash,Michael B. Jordan from Creed as Cyborg,Nathan Fillion of "Castle" and "Firefly" as the Green Lantern, Cary Elwes of The Princess Bride as Aquaman, and Ron Perlman of "Sons of Anarchy" and Hellboy as Deathstroke. For voice acting fans, you can geek out that Hynden Walch, known for playing Princess Bubblegum on "Adventure Time" and Starfire on "Teen Titans", plays an alternate-universe Harley Quinn named Yo-Yo. That's not all, as the true Batman in my eyes and many who are fans of the '90s animated series, Kevin Conroy, deepens his voice as he throws on the cowl to play regular-universe Bruce Wayne/ Batman. Why don't they justalways let him do that?
Clocking in at about 80 minutes apiece, you'll finish both these in a night, but I will warn readers that they are both drastically different. The differences could be a little jarring for fans switching between the lighthearted War (has that sentence every been written?) and the heavily violent Flashpoint. Some cursing here and there in both, so it's up to parents if their kids can check it out, but if you do have kids, I would really only suggestWar. Things get pretty out of control and surprisingly gory in Flashpoint. No joke, I caught my roommate covering his eyes during some scenes, and it's a cartoon and he's 28 years old. Either way, both are great flicks and any fans of superheroes, especially DC, will have a blast checking out these rare gems hidden on streaming!
(Screenshot via YouTube)
- Kevin Donaldson, YH Contributing Writer