Giants Outfielder Hunter Pence's Most Inspirational Speeches!
Written by Nicole Koch. Published: March 12 2015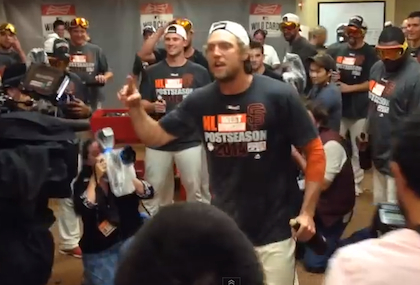 PoorHunter Pence, we can't believe you broke your arm so early in the season!
If you guys don't know who I'm talking about, Pence is an outfielder for the San Francisco Giants, and he's known for his crazy, inspirational speeches that always get the team pumped!
He recently broke his arm when he got hit with a pitch by Chicago Cub'sCorey Black. Unfortunately, they expect him to be out of the game for six to eight weeks. Ugh, NO! We need you, Pence, so heal up quickly!
On a happier note, I've created a list of his top inspirational speeches so we can send him positive vibes as he heals!
1. After clinching the wildcard in 2014, Pence let his team know how proud of he was of them! He drops f-bombs left and right (so be warned!), but he apologized afterward! Gotta love his enthusiasm.
2. Pence tells the crowd to envision themselves as World Series Champs in 2014. He's got a way with words! He tells the fans that are watching TV at home and can't make it to the games that they're still apart of the Giants Journey. LOVE it.
3. Pence accepts the Willie Mac Award in 2013, which is given to the most inspirational player on the team, in honor of Hall-of-Famer Willie McCovey! He tells the crowd that love is the best thing they've got. AWWW! Fast forward to 2:25 to hear his speech.
I LOVE him! Don't you just feel like you can do anything your heart desires?  His positivity and outlook on life is a talent for sure, and I hope he keeps his upbeat and optimistic views throughout this whole thing.
Check out the SF Giants boys doing their best Hunter Pence impressions! Hilarious!
Wishing you a fast recovery, Pence! And send his Twitter and Instagram some love so he can get back onto the field ASAP!
(Screenshot via YouTube)
- Nicole Koch, YH Staff