Pee-wee Herman Returning for All-New 'Big' Adventure Produced by Judd Apatow for Netflix!
Written by Kevin Donaldson. Published: March 12 2015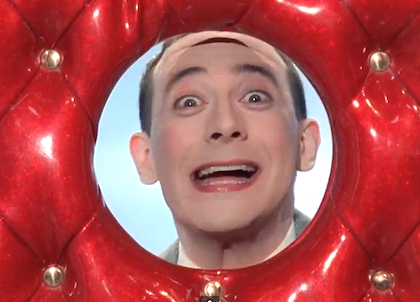 Pee-wee Herman AKA Paul Reubensis coming to Netflix with an all-new adventure that just so happens to be produced by comedy movie guru Judd Apatow. (You lucky magical house-owning man-child, Pee-wee.) This film will be called Pee-wee's Big Holiday and, as you may have guessed, will involve Pee-wee going on a crazy vacation for the first time ever. The main thing we have to go on is this quote: "InPee-wee's Big Holiday, a fateful meeting with a mysterious stranger inspires Pee-wee to take his first-ever holiday in an epic story of friendship and destiny."
Sure, Apatow isn't a bad person to have on your team, but he's just producing it and will not be directing nor, presumably, be involved in the writing process. So, how is this going to get made? Well, Apatow has scrolled through his Rolodex and has decided to give some funny and talented people, who haven't been totally tested in a film arena, their big-screen break chance.
The two people in question are director John Lee and writer Paul Rust. Lee's experience has been directing the very funny Comedy Central shows "Broad City" and "Inside Amy Schumer" (Amy Schumer happens to have starred in Apatow's latest directorial effort calledTrainwreck… coincidence?), while Rust is known for performing improv at the Upright Citizens Brigade out here in L.A., having his own section of the "Comedy Bang! Bang!" podcast called "no, no's" where he complains about stupid things he can't stand, wrote for the newest season of "Arrested Development" and "Comedy Bang! Bang!" (the TV show), starred in I Love You, Beth Cooper, and is working on another Netflix series with Apatow called "Love" where he will write and star opposite Gillian Jacobs. (Whew!) Rust was also in a band with the late "Parks and Rec" writer Harris Wittels calledDon't Stop or We'll Die. In fact, they released their last music video after Wittels' death, which you can check out here.
Rust is a whacky and zany guy with a similar sense of humor to that of Pee-wee, and if you look at the two side-by-side, they kind of resemble each other. With all of these great developments behindPee-wee's Big Holiday, I can't wait to see what's going to happen. Right now, I haven't heard anything else about the plot, but that makes me even more interested. Plus, Pee-wee always does everything BIG, hence the titles of all of his past movies, including this one. If you haven't seen his past movies or his semi-adult-oriented children's TV show "Pee-wee's Playhouse" (thanks, Mom, for raising me on that; it explains a lot), then do yourself a favor and watch everything you can relating to Pee-wee on Netflix today! To get you inspired, take a look at the opening to "Pee-wee's Playhouse":
Pee-wee's Big Holiday will start production sometime this Spring, and no release date has been announced yet. Recently added to the cast is "True Blood" actress Tara Buck in an unknown role. My guess is she is either the new Miss Yvonne or the person that inspires Pee-wee's big holiday.
How about you? Are you excited about Pee-wee's Big Holiday? Who do you think Tara Buck will play?
(Screenshot via YouTube)
- Kevin Donaldson, YH Staff