GBK Brings The Luxury to Oscars Weekend!
Written by Katie Marzullo. Published: March 06 2018
(© GE Lighting)
Oscars Weekend kicked off in full swing at the GBK Pre-Oscars Celebrity Lounge held at the swanky St. Supéry Tasting Salon in Beverly Hills. Taking place over the course of two days, attendees got to rub elbows with a number of celebs, including Oscar winnerViola Davis, "Black-ish" star Anthony Anderson, Oscar winning actress Susan Sarandon, Luke Skywalker himself Mark Hamill, Disney starlet Paris Berelc,Jumanji's Ser'Darius Blain, and even "The Goldbergs" star Hayley Orrantia  , who was rocking the cutest jumper and told us that she and the cast & crew had just wrapped fiiming on the current season the previous day.  
We were also introduced to a number of new and exciting goodies!
We were first greeted by none other than Alexa herself, presented in a new, aesthetically pleasing lamp form courtest of G.E. The C by GE Solreplaces the bulky Amazon assistant tower with a circular smart lamp design that features 2 different lighting settings as well as a digital clock and, of course, voice-controled Alexa.
We received a number of helpful beauty tips and tricks from 5-star Midwest-based (but explanding quickly across the U.S.) Woodhouse Spa, such as the fact that oily skin actually needs oil (it's recommended to put oil on your face!), and got to check out some of the beauty products they offer, including the Marshmallow hand cream, which is "so good you can spread it on toast", and VOYA, which is a favorite of the Royal Family!
Also on-hand to contribute to your personal wellness were the salt caves of Canada. Well, not the actual caves themselves, but the heated salt lamps from Healing Salt Caves Holistic Center & Wellness Spa provide relief from allergies and asthma. As we were standing there, we could indeed feel our sinuses opening up -- and the taste of salt in the backs of our throats! Indeed, we were told that some people are more "sensitive" to the healing powers of the salt lamps than others. Sadly, there isn't a spa in L.A. yet, so we will have to wait a while to try it in its full effects, but there are ones all over Canada and the rest of the U.S.
Dagoma USAblew our minds with their portable 3D printers, meant to bring the ingenuity of 3D printing into the home. The only limits are your imagination!
The lovely ladies of Living In Gratitude Today were on-hand to spread their message of positivity, in the form of #GRATITUDE T-shirts and inspirational affirmation bracelets to remind people to live a more grateful existance. We could all use a reminder methinks!
Safi Kilima Tanzanite was there to show off and raise awareness for their gorgeous, glittering jewelry made from the extremely rare tanzanite, a highly unusual blue and purple stone mined only in Tanzania which we were told will be instinct in just a few short years! Resembling the Heart of the Ocean gem from Titanic, tanzanite reportedly contains healing properties and can align your chakras, along with looking super chic and catching the light magnificently. We were definitely mesmerized!
The Artisan Group, a fixture at celebrity gifting lounges, was back with another collection of beautiful hand-crafted products created by small business artisans from all over the world. The sampler tote we were given included necklaces, earrings, and even a fake lip ring!
The fine gentlemen at Woodchuck USA (also based in the Midwest) showed off all their fine custom-engraved wood products, from journals to smartphone cases. Even their business cards were made of wood! They plant a tree for every product sold, and every product comes with that fresh, woodsy smell, ahhh!
If you were feeling a bit peckish, GBK had you covered there too!
Il Palato Italiano treated us all to samples from their finely curated menu of Italian classics care of Executive Chef Filippo Sinisgalli, including tiramisu, meatballs, lasagna, pesto pasta, and more. What was easily the most popular table (everyone wanted a taste!), Il Palato Italiano is an international club and restaurant that is focused on bringing awareness to Italian cuisine. Every bite was bursting with flavor, and we had to try everything! We were especially excited and impressed to bite into one of the arancini balls to discover it was made with saffron rice instead of just plain white rice! Hey -- how do you say "go big or go home" in Italian?
If you're into something a little more spicy, then dip your favorite fruits, veggies, and meats in O.G. Hot Sauce! The "O.G." apparently has a double-meaning: (1) it stands for the two main ingredients of the sauce, onions and garlic, and (2) it's the O.G., natch! The sauce comes in hot and mild flavors, and the hot version definitely has a kick but it's not so abrasive that it takes away from the flavor.
For a little after-dinner sweet treat (or anytime, really!), we got to sample of the Award-winning Hollywood-based John Kelly Chocolates, which are not only rich in flavor but come in very generous portions!
We washed it all down with a few sips of chocolate vodka, courtesy of Bouvery, which sounds strange, and even looks a bit strange (it's very thick), but is actually quite delicious (#TastefullyUnexpected indeed)! Even if you're not a fan of hard liquor (like me), this is an incredibly smooth and tasty little cordial, perfect for formal events like weddings!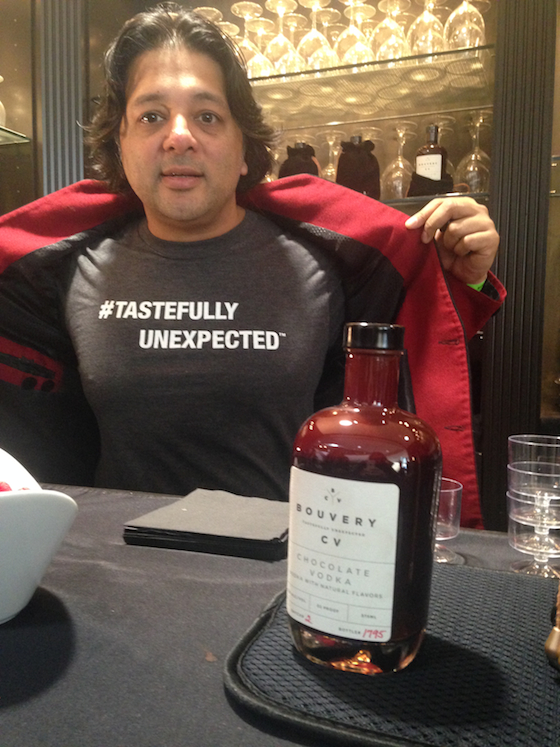 Rounding out the event were non-profits GAIN Foundation and Route 91 Strong, and ADM came all the way from China to introduce their products and promote their annual conference in November.
(Top Image via Illumination PR)
- Katie Marzullo, YH Staff Editor; additional reporting by Sarah Osman, YH Guest Contributor