Five Must-See The Lonely Island Music Clips!
Written by Sarah Osman. Published: February 22 2016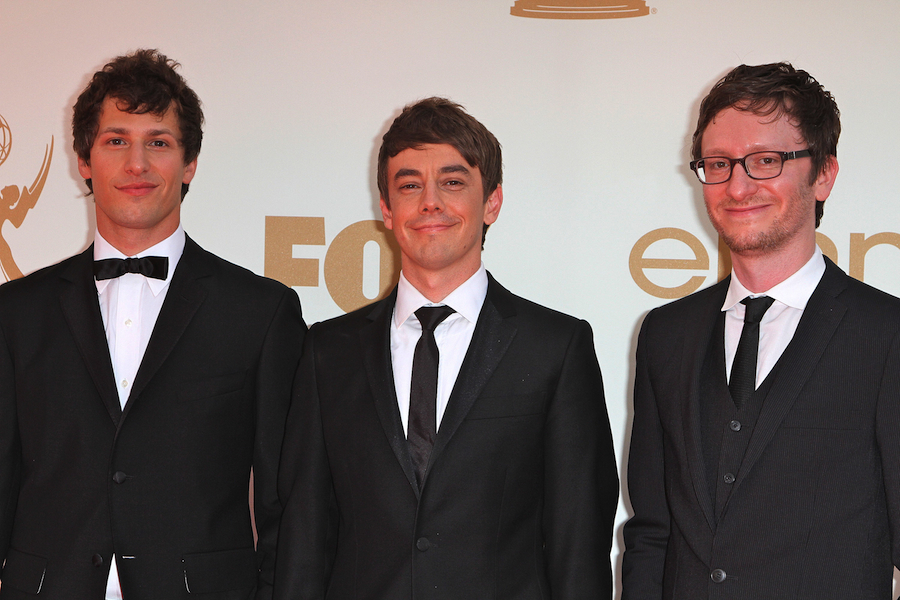 If you feel that there has been a dearth of The Lonely Islandin your life, then you're in luck, because the boys are back with their own sketch show! Seven years after the finale of "MADtv", Fox has decided that they want their own "SNL" again and have put the boys in charge of the aptly titled "Party Over Here". Andy Samberg, Akiva Schaffer, andJorma Taccone will not star in the show, but they will write and produce it, along with their buddy Paul Scheer. Cast members are set to include Nicole Byer, Jessica McKenna, and Alison Rich.
To get you in the mood for "Party Over Here", I have compiled a list of the must-see Lonely Island sketches! 
"I'm on a Boat" (NSFW): "I'm on a Boat" embodies The Lonely Island -- it's a fairly dumb song but the lyrics are actually quite clever. Although the song just repeats the phrase, "I'm on a Boat" over and over, the later verses touch on nautical-themed pashmina afghans. The video is even more ridiculous, as the boys have a raucous time on -- you guessed it -- a boat. This song singlehandedly made it impossible for anyone boarding a sea-faring vessel not to scream this at the top of their lungs.
"D** In a Box" (NSFW): Featuring SNL's favorite host,Justin Timberlake, "D** In a Box" may be the most absurd song The Lonely Island team has ever written. "D** In a Box" is exactly what it sounds like -- it is literally about a some private parts in a box. The song is a clever parody of early-'90s love songs, as both Timberlake and Samberg promise to get their ladies something "real". Their oversized suits and perfectly wrapped "packages" complete the video.
"Ras Trent": Although this song features lyrics such as "Ba-da-da-ding-ding-whoa", it's actually one of The Lonely Island's more satirical songs. Samberg plays a caucasian (emphasis on the caucasian) Ivy League student who has decided to become a Rastafarian. He has dreadlocks he never seems to wash, plays hacky-sack with a soccer ball, and doesn't interact with any African-Americans. "Ras Trent" carefully satirizes Rasta-wannabes without ever insulting actual Rastafarians. 
"Natalie's Rap": This is a song that doesn't predominantly feature at least one of the members of The Lonely Island. However, that doesn't make it any less amazing. In "Natalie's Rap", Natalie Portman reveals that she's a lot more badass than we ever thought, revealing that she smoked weed at Harvard every day and that she drinks and drives (obviously none of that is true). The video is hilarious since Natalie Portman is such a respected actor, and because Natalie is clearly in on the joke too.
"I Just Had Sex": What may be my favorite Lonely Island song, "I Just Had Sex" is a simple premise that works so well. FeaturingAkon, "I Just Had Sex" focuses on two virgins recounting how amazing it was to just have sex! The girls' (played by Jessica Alba and Blake Lively) reaction to their joy is hilarious. I particularly like Alba giving a pointed Thumbs Down. Considering how many songs focus on how much one has had sex, "I Just Had Sex" expertly parodies them. 
Be sure to tune in for "Party Over Here" when debuts on March 12th at 11pm on Fox!
(Photo via WENN)
- Sarah Osman, YH Contributing Writer