Experience The Mind-Bending World of "Black Mirror: Bandersnatch"!
Written by D.J. Rivera. Published: January 08 2019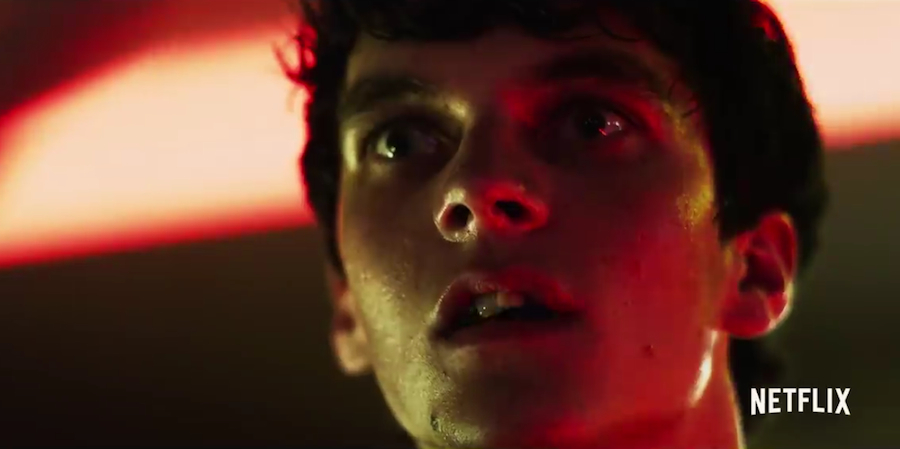 "Black Mirror" was a serious gamechanger when it premiered back in 2011 on the U.K.'s Channel 4. This made it really no surprise when the streaming giant Netflix scooped up the series to add it to its impressive line of content. Now the anthology series that tells some pretty dark tales revolving around the topic of tech escalation paranoia has now made its way into the world of the "choose your own adventure" genre. And like most "Black Mirror" episodes, there is plenty in this one to intrigue your darkest thoughts and traumatize you into being deathly afraid of technology. 
The latest installment takes place in 1984 and follows a young video game programmer named Stefan played by Fionn Whitehead. He gets the opportunity of a lifetime to develop his game with a big-time company. The adventure takes you across a mind-bending Odyssey as he attempts to turn the Jerome F. Davies novelBandersnatch into the next hottest selling game. During this, the viewer will choose where the story goes. Some of the choices are as mundane as which cereal to eat in the morning all the way to deciding on how to get rid of a body. From murder and government conspiracies to trippy hallucinations, this is truly one of the craziest ordeals "Black Mirror" has ever subjected its audiences too. Along with Whitehead, the cast includes Will Poulter, Asim Chaundry, Clark Parkinson, and Alice Lowe.
WriterCharlie Brooker's take on the "choose your own adventure" genre definitely stands out amongst the rest and fits perfectly into the style and tone previously established by the series. Not only is it unlike anything you've ever seen in this medium, but it also provokes questions only a show as dark and existential as "Black Mirror" can. With this, the streaming giant has found a fresh means to explore the illusion of choice. In giving the viewer the idea of choice, the show's most disturbing episode yet argues that none of us are really in control of anything, and no matter what we do, we are a slave to our reality. This enlightening yet morbid story arc is as addictive as it is mysterious, making it have some serious replay value and could be the start of a new trend within the industry.
This idea of creating your own path for a character with the chance of several different endings coming to fruition isn't exactly revolutionary, as it has been done before to some degree of success. But the technology for consumers to enjoy this type of storytelling hasn't been ideal in the past. That has changed with the birth of streaming services. Netflix's first adult-oriented live-action interactive experience took 35 days to film and has so many different outcomes that it may take more than one sitting to finish. While the official runtime lists 90 minutes, this could actually take up a solid amount of time trying to experience everything "Bandersnatch" has to offer. Also unique to this experience is the fact that Rewind and Fast-Forward options are disabled, as well as the timecode. 
The only downside I can see to "Bandersnatch" is the fact that there will be several endings in which some people may not get to see. The thing that makes this so engaging is the number of endings and the paths that are taken to get there. So, while some binge-aholics will make sure to leave no path untaken, those who don't get the full experience are missing out on something truly fascinating. Besides that, this seems like a home run for both "Black Mirror" and Netflix. And for those that want to take the full journey, there is a map -- well, a diagram -- of the entire arc which can be useful for those navigating the tech-based nightmare in order to fully experience the "choose your own adventure" process.
But do "choose your own adventures" work? Is "Bandersnatch" a global sensation? No, not really. The reviews are very mixed on this topic. While some revel in its innovation and darkness, others have dismissed this as a cheesy gimmick that will inevitably fade out, like 3D movies or Google Glass. But before everyone reads this and thinks all hope is lost, I believe that this type of criticism comes whenever something new tries to work. "Bandersnatch" is the first step into this somewhat uncharted area of entertainment, and it is not always easy being first. This has opened up the doors for many opportunities to tell great stories and engage audiences everywhere, and with everyone and their mother getting their own streaming service, it is hard to believe nobody else will try to make this happen. While the choosing your own adventure fix may not last forever, it is safe to say we will definitely see more of it in the foreseeable future.
Experience the dark Odyssey and take control in "Black Mirror: Bandersnatch" streaming on Netflix now.
(Image via Netflix)
- D.J. Rivera, YH Contributing Writer