Chloe Moretz Tapped for Grown-Up Role in '80s Remake
Written by Felix Kay. Published: May 13 2013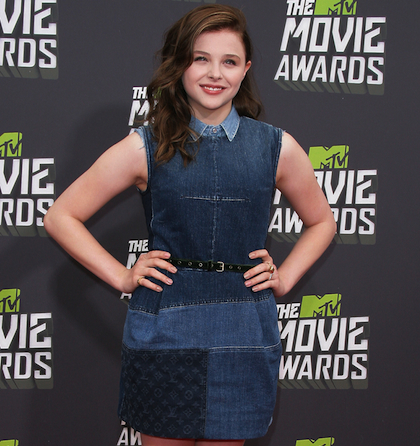 "Got a problem? Odds against you? Call The Equalizer." Growing up in the '80s, I loved watching "The Equalizer". The show followed a former CIA agent-like character who is seeking redemption for his darker exploits, so to relieve himself of his guilty conscience, he decides to put an advertisement in the newspaper classifieds asking people who need help to call him.
But the thing is, if you ask for The Equalizer's help, you're not just getting a friend to come over to move furniture... Think of the show as an early version of CBS's hit series "Person of Interest". By mixing ingredients from popular spy films and private investigator shows with violent realism, "The Equalizer" was a head of its time.
When the news broke that they were making the long-running television series into a feature film, I was ecstatic. With the help of acclaimed directorAntoine Fuqua (Training Day), he will once again reunite with buddy Denzel Washington, bringing the classic out of the 20th century and into the 21st.
As it stands, Washington will be reprising the role of the mysterious man who helps people in trouble while the young and talented actressChloe Moretz has been offered the female lead, playing a teenage prostitute.
At first, I wasn't sure if Moretz could live up to the role (which was original written for someone in her 20s), but after thinking about it, that little girl from Kick-Ass is growing up fast and has been taking on some of the edgiest roles in town. So, I figured, maybe picking up aJodie-Foster-in-Taxi-Driver-esque role might be a good move for her. Many leading ladies in Hollywood have have gone on to win Oscars for playing such a role (Donna Reed, Elizabeth Taylor,Jane Fonda, Mira Sorvino,Kim Basinger, and Charlize Theron, to name a few).
For 16 years old, I believe Moretz is a wonderful actress coming into her own, and I can see her doing justice in the role. And who knows, she might even win an Oscar for it. But whatever the outcome, as long as Fuqua stays true to his Training Day filming style, I'm sure I'll be first in line at the premiere.
The Equalizer is scheduled for an April 2014 release. What do you think of Moretz taking on the role of a young prostitute? 
Chloe Moretz and her Kick Ass co-star Chris Mintz-Plasse where the first-ever guests to the YH Studio!
(Image via Adriana M. Barraza/WENN)
- Felix Kay, YH Staff