Cady Groves's Favorite Winter Fashions PLUS Video Premiere!
Written by Cady Groves. Published: December 22 2015
Ladies and gentlemen... girls and boys.. goys and birls... it's my favorite time of the year! It's winter! You know what that means? No, it doesn't mean you crank the heat up inside, eat an entire pizza, and ugly-cry to Hallmark movies. it kinda means that, but it ALSO means you get to break out all those cute scarves, boots, sweaters, and coats and really show your personality with every single warm and cozy layer.
Here's how I stay fashionable even though I can't feel my toes and my skin is whiter than Cool Whip. God love the winter, y'all!

I love scarves! People I know even make fun of me for how many I have. I don't know, just let it go! But my favorite chilled-out, get some coffee, lazy-day look is a simple pair of trendy boyfriend style jeans (loose, low-sitting, and holes on holes) and a thermal V-neck colored shirt paired with a scarf that brings it all together. And of COURSE my new favorite brand of shoes -- a nice comfy pair of minnetonkas! This is my ultimate Midwest look!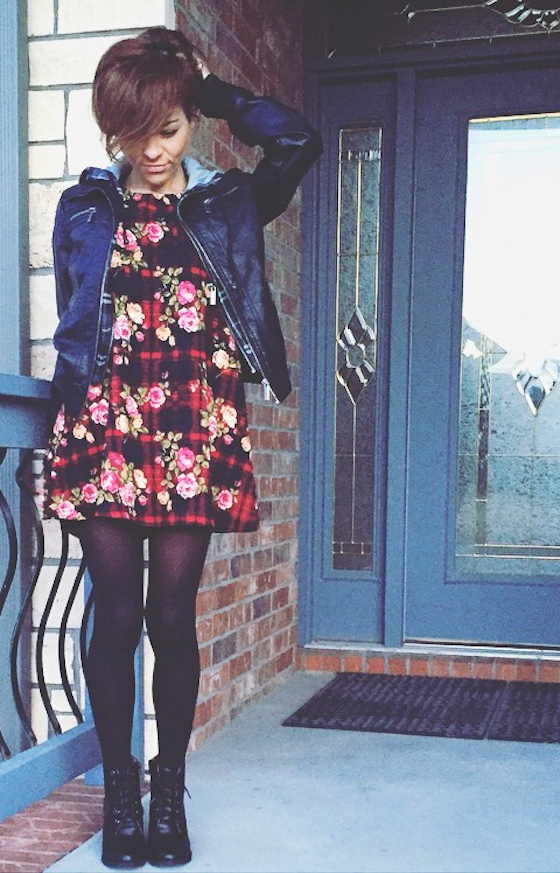 In the winter time, you go home and see a lot of old friends. I don't know about y'all, but mine always want to go out and catch up! So I need comfortable but cute outfits to go downtown in! This dress is basically like the cutest tent you could ever wear. Seriously, it's so big and comfy that I don't even notice it there. I dressed it up with my favorite form-fitting leather jacket to give the dress a little shape! I also have a slight obsession with tights and feel like they bring any dress up a couple notches! The shoes are a new find from Tillys, and I actually got them on clearance (I'm such a bargain shopper), but I love love them!

Sometimes you just need a lazy Sunday. Or Wednesday. Or week. And that is exactly what this outfit is for! I just finally found the best pair of acid-washed jeans (I've been looking since I first saw the movie Joe Dirt and fell in love with David Spade), and now I want to wear them all the time! I like to tie my flannel shirts at the bottom to make them a little more feminine, and then cap it all off with a simple pair of black canvas shoes which I feel like everyone should have in their closet (as they are only $5-$10). This is the perfect comfy and trendy outfit for a slow day at home getting things done!
Since I have two different lives (being home and being on the road working), I have to have clothes for both! This is the kind of outfit I would (and do) wear for meetings in New York or a vocal session or dinner in L.A. I guess you could say this is my "artist style"! I love plaid and jeans right now. So, this is a girly take on that! A plaid skirt with my favorite jean jacket and -- wait for it -- a plain black turtleneck! Who decided that turtlenecks aren't cool? 'Cause I think they are the coolest. I look for them everywhere! I also wore my favorite "infinity" silver necklace that has a sentimental meaning for 'em and to soften the look a little more! And, of course, a huge pair of platform Mary Janes because queen.
Check out the premiere of Cady's acoustic video for her song "Dreams", exclusively on YH, below!
Oklahoma-based rising pop star Cady Groves is currently signed with independent label Vel Records. She released her debut EP Dreams for free download in October of 2015, gaining over 5.5 million YouTube/Vevo streams, and over 1 millionSoundcloud streams. Follow her on Twitter and Facebook.