Best Looks From the Punk-Themed Met Gala!
Written by Katie Marzullo. Published: May 07 2013
Last night, a who's who of Hollywood turned out for the annual Costume Institute Gala at the Metropolitan Museum of Art in New York… or, as it's simply referred to, the Met Gala. As creative artists, it's little surprise that the cream of the crop of the entertainment industry would flock to this event like very well-dressed moths to a flame to show off their fashion acumen to the world (and Anna Wintour).
This year's theme was "PUNK: Chaos to Couture", and while we waited with bated breath to see the most stylish celebs around strut their punky-est best, I have to say, I was left a little disappointed. For the most part, it seemed like the ladies figured their contribution to the theme would be to smear on some thick eyeliner and call it a day. Even those whom you would think would revel in this theme, likeKelly Osbourne, Florence Welch,Gwen Stefani, or even Heidi Klum, also were kind of a letdown.
However, there were some attendees who definitely got the memo. Here are my picks for the most on-point looks from the Gala!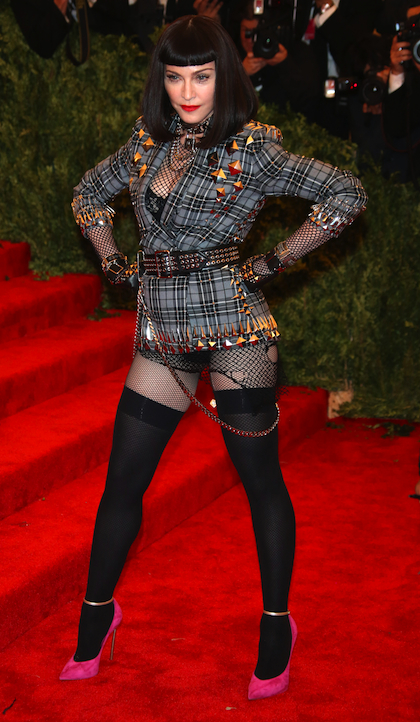 Well, this was a no-brainer. Leave it to Madonna to come out with all guns a-blazin'! She virtually invented the "punk" look we all know today, so this could be considered her natural habitat. She must have been pretty bummed out, though, when she showed up, looked around, and thought to herself, "Where all my punks at??" She must have felt an awfully lot like me when I went to her concert several years ago in Florida and found myself the only one in the joint dressed like, well... like she is dressed here! C'mon, people, seriously??
At first glance, Jessica's Biel's ensemble seems pretty tame and safe, but once you notice the small flourishes, then you can see how she really put some thought into this look. From the spiked heels to the webbing pattern on her train and leggings, she is definitely channeling her inner punk princess. As a finishing touch, if you look closely, you will notice that she is wearing a small septum ring!
This is what a punk goddess would wear to the Grammys. Ginnifer Goodwin is rocking the hard-edged, androgynous look here, with a black-and-silver gown, tousled black locks, and a severe smoky eye. She looks downright scary in fact! In a good way.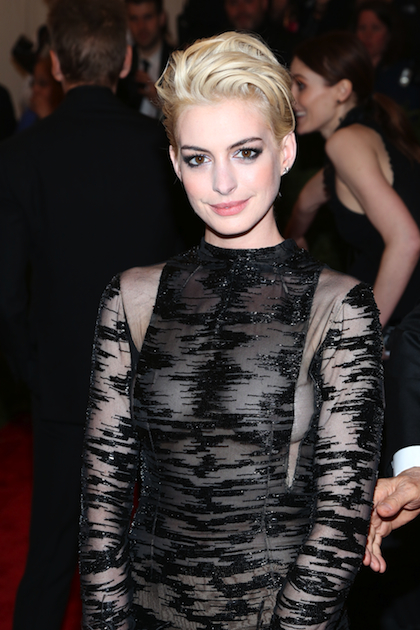 Anne Hathaway chose the perfect occasion to debut her new platinum blonde 'do! Paired with the obligatory black liner and a daring, body-hugging gown (and obligatory peek-a-boo side-boob), the recent Oscar-winner does the evening's theme very proud!
This Ballerina Gone Bad look is perfect for Julianne Hough's aesthetic, with the flouncy, uneven tulle skirt paired with studded heels and edgy jewelry. Serving Black Swan realness!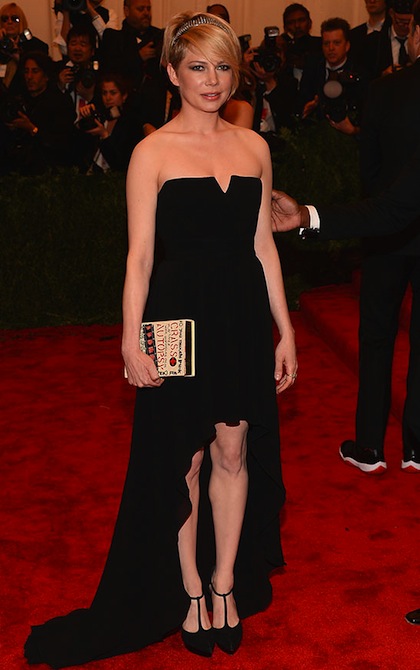 On the flip-side of that coin, we have Michelle Williamsand her Punk Girl Trying To Reform look. The evening gown belies the slightly tousled hair and spiky headband, but look! She's trying to go straight, okay? She's even catching up on some reading! Okay, so it's a book about autopsies, but it's a start, right??
Right up there with Madge and Hathaway was Ms. January Jones, handily tipifying punk rock couture in her shimmering black mini-dress, structured up'do, and killer eyeliner. Just add a low-hanging guitar for punk perfection!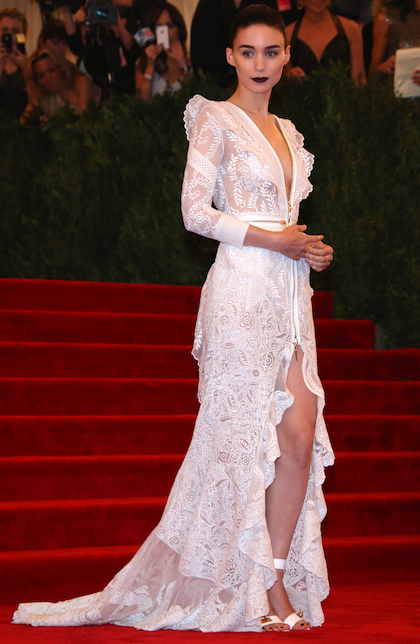 Another one that should have been a no-brainer is Rooney Mara. One could make the argument that this is more Goth than Punk, but I think it definitely has that punk edge, with the dark lipstick and toe polish contrasting against the bright white gown flourished with lace, zippers, and buckles. A punk princess on her wedding day!
Again, no-brainer. Miley Cyrus has been basically LIVING the punk lifestyle ever since she chopped off all her hair, so we wouldn't have expected anything less from her on this occasion. I would call this look Johnny Rotten In Drag.
"Once Upon a Time" star Jennifer Morrison is another one who blurred the lines a little between Punk and Goth, but her faux-hawk up'do puts her a toe over onto the punk side!
Representing the menfolk, Zachary Quinto channeled his inner punk king with a satin suit and a jaunty little blue streak in his hair! Could have used more guyliner though...
Sienna Miller served up some Courtney Love flavor with a pretty white sheath dress beneath a be-studded leather jacket, a fistful of rings, spiked headband, and messy blonde locks. Someone's been watching Sid & Nancy!
HONORABLE MENTIONS:
Okay, so, this Kate Beckinsale ensemble is more '80s Rocker Chick than Punk, but I can't hate it. Especially those fierce earrings.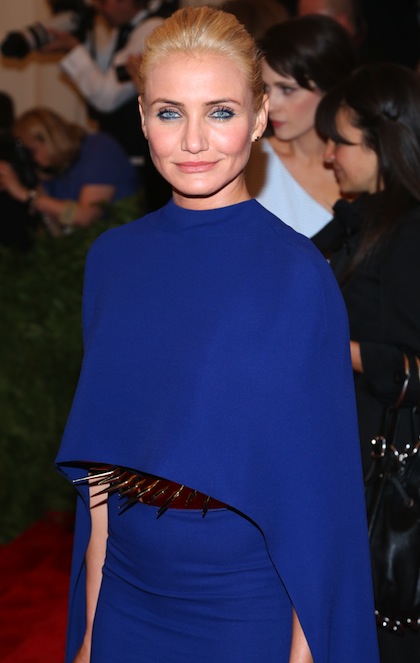 Again, at first glance, this looks like any other red carpet couture. But when Cameron Diaz turns to the side a little, WHOA LOOK OUT! That spiked belt is NO JOKE, you guys! Talk about being "dressed to kill"!!
BothFanning sisters were at the event, but it was younger sib Elle who caused the most chatter, with her Jem & The Holograms eye make-up and tie-dyed frock... Okay, so tie-dye isn't really punk, but she gave it a good shot! (Fyi, that's Dakota on the far right there, in case you're curious as to what she wore.)
Well, sure, okay, if Punk is all about shirking the norm and dancing to the beat of your own drummer, then Katy Perry has technically followed the assignment. Here she is giving us some Medieval Haus of Carolingian realness that would certainly be welcome at any event with the word "Costume" in it.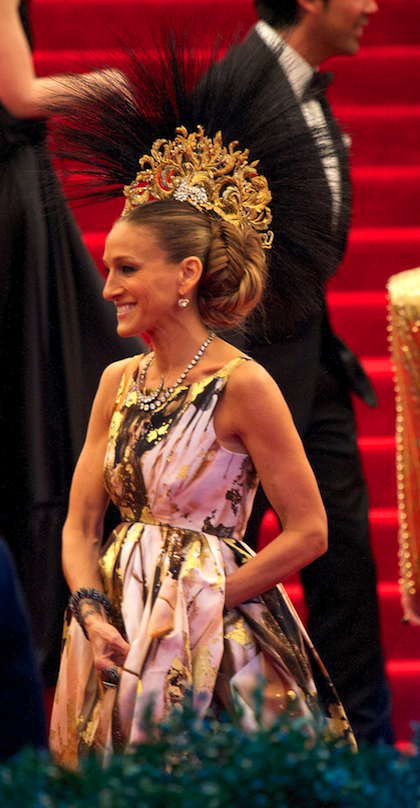 Sarah Jessica Parker's frock is pretty demure, but that headpiece gives "faux-hawk" a whole new meaning! Leave it to SJP to find a way to turn punk into haute couture!
(Images via WENN)
- Katie Marzullo, YH Staff Editor