ARTIST TO WATCH: Skate
Written by Brittany Taormina. Published: August 06 2015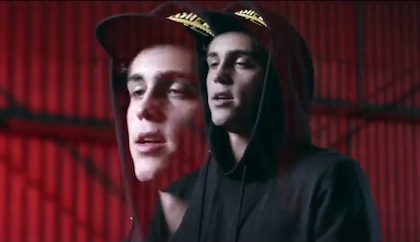 Listen up, guys -- Nate Maloley, AKA Skate, is the next big thing in music, so you better get on board! This Omaha, Nebraska, native has always had a passion for hip-hop music and it shows. I was introduced to him in the summer of 2014m and soon aftemr he was on Digitour with good friends Jack & Jack. He performed an array of songs with Sammy Wilk, such as "Nothin To A King", and even collaborated with Jack & Jack on their song "Like That".
In case you can't tell, I'm a pretty big fan of the Omaha Squad!
If you haven't seen Skate perform, you are missing out. This guy puts in 110% into every single performance and it is absolutely incredible! The crowed feeds off his energy and the fans love every second of it.

His sound is fresh and new, while still managing to pay tribute to classic hip-hop. The variation in his sound is phenomenal. Just take a listen to his offerings on SoundCloud -- You definitely want to check out "I Have A Dream" and "Penthouse". His new song, "Little Bit", just dropped oniTunes along with a music video. Nate's career continues to grow, as the song is featured in The Chosen, a film from Supergravity Pictures that stars YouTube sensation Kian Lawley.
What I love about Nate is that, when he has a dream, he chases it, no matter what! It is a constant reminder that no dream is too big or too small. The fans seem to agree because he was just nominated for a Teen Choice Award for Choice Music: Next Big Thing! We are extremely proud of him and we wish him continued to success. Don't forget to purchase his song "Little Bit" and let's get him that TCA!
Can't get enough? Follow him on Twitter and Instagram and check out his Official Website!
(Screenshot via YouTube)
- Brittany Taormina, YH Contributing Writer