ARTIST TO WATCH: Novelette
Written by Raffy Ermac. Published: December 16 2013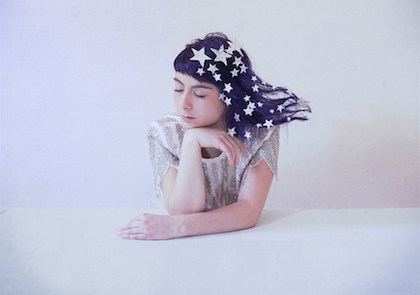 After garnering writing credits that include songs for artists like British pop superstar Cheryl Cole and sharing the stage with other well-known songwriters like Ingrid Michaelson and Mat Kearney, it's natural to want to have some of the spotlight for yourself. I mean, who could really blame you after working with some really big names in the industry?
Fortunately enough, grabbing a fair share of the spotlight will be easy for one New Jersey-born singer/songwriter extraordinaire-turned-hip Brooklynite named Cara Salimando and the band she fronts called Novelette.
Salimando, the 21-year-old with a lot to prove, also shares the band withBilly Libby and Patrick Meese,and although still very young, she knows what she wants and how she is going to get it. Her gumption allowed for the release of the band's debut album via the fundraising site KickStarter, and not only was she able to meet her monetary goal for the album's self-release, but she nearly doubled it, proving that, not only is she good, but she has a decent fan following who want to see her and her band succeed.
The latest single off of the debut album Everything is Happening Nowis entitled "Younger Hands" and is somewhat fitting considering how much of a young'un she is in the music business. But then again, what artist or band doesn't start out really young these days?
With a slight upbeat feel to it, her vocals are almost reminiscent to that ofLana Del Rey... that is, if Lana decided to sing indie rock. We're not complaining, though. Novelette's sound is really good.
Other notable tracks include "Lost Boys", a track that almost sounds like the stuff of early Paramore, and a personal favorite among fans, "Violet Night".
This is just the beginning of the next chapter of Salimando and her bandmates' careers, and slowly but surely, the pages won't stop turning in the right direction for Novelette!
(Photo via Lissy Laricchia)
- Raffy Ermac, YH Staff