ARTIST TO WATCH: Escape to New York
Written by Raffy Ermac. Published: March 21 2014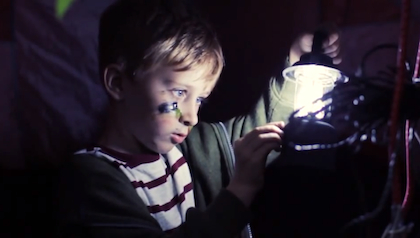 Not to be confused with the 1980s Kurt Russell action movieEscape From New York, U.K. band Escape to New York is a very under-the-radar indie quartet that are just a bunch of modest lads from Derbyshire hoping to take over the world with their music and a charming and obvious passion for their craft.
Not much is available from them at the moment, but what they do have to offer listeners is their first single "Growing Pains", a cryptically chill, guitar-laden record that is as impressive as it is humble and soft-spoken. The best thing about "Growing Pains" -- aside from the music video that makes most viewers want to feel the adventure of being a kid again -- is that it is such an easy listen, unpretentious and not insisting upon itself like a lot of new alternative/indie acts these days. If you like material from modern bands like The 1975 and The Neighbourhood, then you'll most definitely be able to get into Escape to New York.
(In case you were wondering, vocals for the group are courtesy of Dan Burchell, and responsible for the guitar, bass, and drums are Ben Gurer, Drew Davis, andJohn Bullock, respectively.)
According to their social media and the interwebs, the band (whose influences include the likes of Arcade Fire,Silversun Pickups, and The National) are set to release their debut EP A Long Time Between Monsters very soon, so if you love new music and being a fan of a band that has the drive and talent to make it big from the very beginning, you'll be hard-pressed not to fall in love with Escape to New York!
(Screenshot via YouTube)
- Raffy Ermac, YH Staff