ARTIST SPOTLIGHT: Silk Sonic
04-13-2021 by Amanda Almonord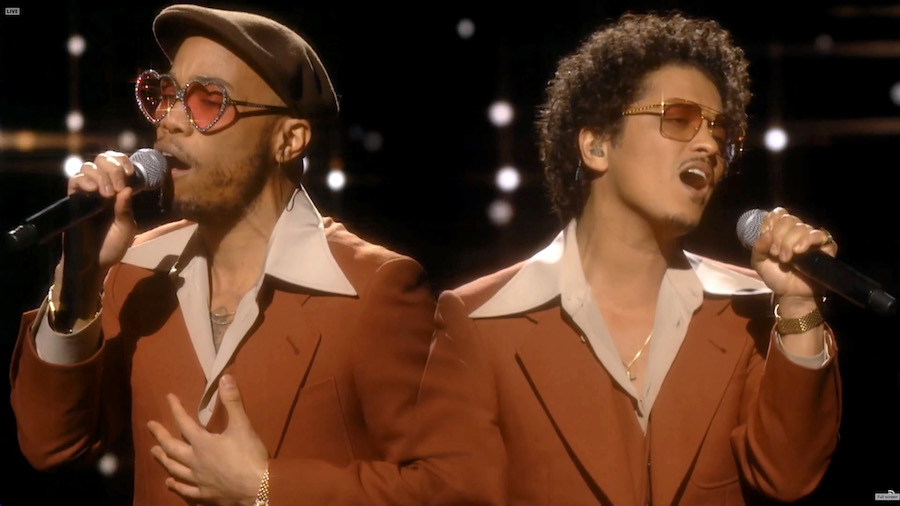 ( © Theo Wargo/Getty Images for The Recording Academy)  
If you watched the Grammys this year or are a regular user of social media, chances are you've probably got Silk Sonic's newest single "Leave the Door Open" stuck in your head -- not that you mind, though, because that song is silky smooth (see what I did there?). 

Silk Sonic is a new R&B band created by Anderson .Paak andBruno Mars. In a recent interview, they said they wanted to release an "intergalactic force of funk" with their upcoming album An Evening with Slik Sonic. Legendary funk artist Bootsy Collins also provides vocals for the group.
They're clearly already on their way there. "Leave the Door Open", their lead single, is the most nostalgic, soulful, cheeky R&B song we've heard in a long time. It's quickly become a fan favorite to sing and dance to on TikTok. 
Their music video is just as beautiful. It takes place in a recording studio, with the band recording a session of the song. The aesthetically pleasing, warm gold color palette makes the video feel rich and sultry as the band sings flirtatiously. Paak sings the verses, playing the drums smiling as he sings, while Bruno accompanies him on piano with the chorus. 
In addition to bringing the funk to the scene, they also seem to be planning on introducing the '80s and '90s to a new generation.
There's no word yet on when Silk Sonic's album will be released. Bruno Mars and Anderson .Paak haven't released solo albums in the last four years, so hopefully, we won't have to wait too long for their joint album, because An Evening with Silk Sonic is gearing up to be an album that we won't forget.