ARTIST SPOTLIGHT: Sia
Written by Amanda Baltazar. Published: February 18 2015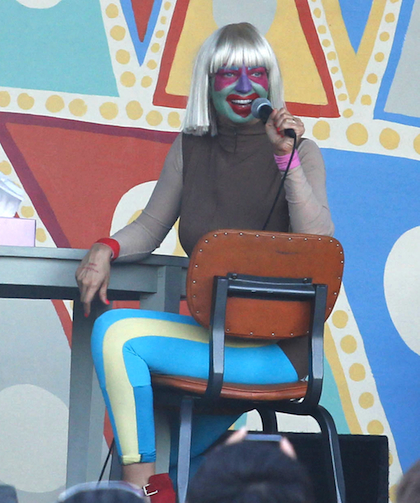 Of course we all know Sia. But who is Sia, really? Who is the woman behind the vocal powerhouse that is quickly taking over the music industry?
Australian singer/songwriter Sia's music career started in the mid-1990s when she was a singer in a jazz band called Crisp. They disbanded in 1997, but Sia went on to release her debut studio album called OnlySee. She continued to sing and release albums that became popular in Australia, as well as writing hit songs for names like Beyonce ("Pretty Hurts"),Rihanna ("Diamonds"), Ne-Yo ("Let Me Love You") and Katy Perry ("Double Rainbow").
Her beautiful and distinct voice has truly mesmerized everyone. Like me, I'm sure you will remember the first time you've heard her voice. It was probably in this little song.
But it wasn't until 2014, after releasing her sixth album, 1000 Forms of Fear, that she came out with a single and music video that took over mainstream music.
Most known for her hit single "Chandelier", Sia is only rising in popularity despite her attempts to turn the attention away from herself.
Sia recently performed at the 57th Annual Grammy Awards and, following her usual live performance style, didn't show her face and kept all the attention focused on the dancers and the performance as a whole. (FYI, she keeps her face hidden due to a bout of social anxiety, which we love the fact that instead of trying to force herself to do something that makes her uncomfortable, she keeps it real!)
Yeah, that'sKristen Wiig. Who knew she had that in her? Besides literally everyone?
But Kristen Wiig isn't the only celeb that has brought Sia's music to life through dance/movement. Check out her newest memorizing music video for "Elastic Heart", featuring Shia LaBuffLaBeouf:
You can also hear Sia on the Fifty Shades of Grey soundtrack.
Sia has gone through her own personal tragedies, and you can feel them poured into her music. She is one talented lady, and even if we never see her face again, we can't wait to hear whatever else she has in store for us! 
For more Sia, check out her website.
(Photo via RHS/WENN)
- Amanda Baltazar, YH Staff