ARTIST SPOTLIGHT: IM5
Written by Amanda Baltazar. Published: July 18 2014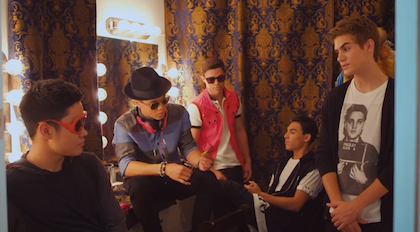 If you have boy band fever like me, then you need to check outIM5, if you haven't already.
This quintet was put together by Simon Fuller from "American Idol", Perez Hilton, and Jamie King through a talent search. And thus, IM5 was born.
The band originally consisted of Dana Vaughns, Gabe Morales, Will Jay, Dalton Rapattoni, and Cole Pendery, and after a rigorous vocal and dance training boot camp, they started to get the attention of Radio Disney with their song "Everything About U".  We were lucky enough to have them come in the studio and perform their song last year:
Recently, they have been posting up covers on their YouTube channel, including a mash-up cover of Sam Smith songs and it's beautiful.
We love IM5 so much that we crashed one of their recording sessions earlier this year:
Seems like a great group of good-looking lads, right?
Anyways, IM5 really won me over was their collaboration with Todrick Hall, who got his start as a contestant on "American Idol". If this doesn't convince you, I don't know what will.
There's also a pretty hilarious sequel to "Disney Dudez" that also addresses some real-life band news dealing with the departure of band member, Dalton Rapattoni.
IM5 has been picking up some momentum over the past year, so it was surprising to hear that Dalton would be leaving to pursue other artistic opportunities. We will miss Dalton, but IM5 made it clear via Twitter that they would always be IM5, not IM4. So, as you see in the video, they found their new member, David Scarzone.
This setback won't be holding IM5 down. Earlier this month, they released a new cover on YouTube with a complete five-man band in tact! Check out their take on "Problem" by Ariana Grande ft.Iggy Azalea:
But wait, there's more! IM5 and Todrick just released "Disney Dudez 3" with the latest Disney songs! Check it out:
IM5 will be touring throughout this summer, hopefully to a city near you! Check out tour dates, latest news, and a bunch more on their website.
(Screenshot via YouTube)
- Amanda Baltazar, YH Staff